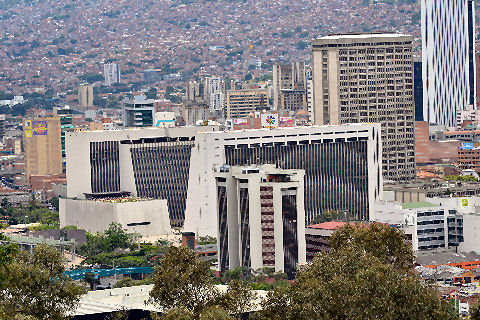 Oh, let me just be upfront. We, I, didn't particularly like or enjoy Medellin. It's a big, bustling, noisy, dirty city, with way too much traffic crowded into way too little space. There's a small section of the city in the south, El Poblado and immediately surrounding it that's got lots of greenery, fancy apartment buildings and hotels, and bars and restaurants. Basically, it's the area where tourists are generally recommended to stay, and it's the home of the local and expat wealthy community – it's their playground, and if they don't have to leave it, they don't. I'm not sure that any other city I've seen in Latin America has quite so obvious a divide between the haves and have nots (Lima, with Miraflores, gets close, but there's still more overlap). The rest of the city… ain't so nice.
There's also not a lot to do, or at least it feels that way. We wandered, we took a city tour on one of those hop-on, hop-off buses, we relaxed. We could have gone to the aquarium, the botanical gardens, there were a couple of expositions going on in the city. We could have gone up to the top of one of the surrounding mountains and snapped pictures (and we did a small one on the city tour). But no one seemed to have much in the way of other suggestions, other than, "take day trips or overnight trips out of town to places that are actually interesting". And that, by the way, includes locals, and the tourist information center at the Plaza Mayor in the middle of town.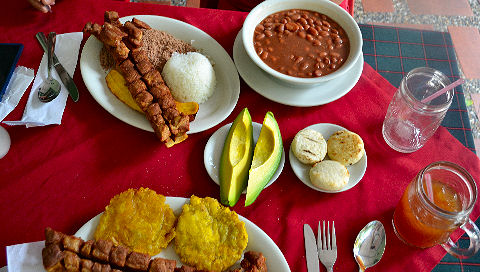 Food-wise, it was a mixed bag. At the casual end, there are some great local dishes, like the bandeja paisa I mentioned in the last post, though most of them are served in portions that are simply enormous. Our last lunch we went to a place called El Trifasico in one of the southern suburbs, at the urging of Santiago Macias, the chef of iLatina back in BA. Online reviews basically asserted this to be the best place on the planet to get chicharrón – deep fried pork belly. And it was quite good. But how were we to know that the regular portion was more than the two of us could finish together, let along each of us having a slab in front of us. Yet, meanwhile, at the table to one side of us, a grandmother, mother, and two kids inhaled a platter apiece and then ordered dessert. To our other side, a quartet of elderly folk, not one of them a day under 80, not only did the same, but ordered a platter of fried yuca to "supplement" the plates. We packed up more than one full portion and gave it to the security guard in the building we were staying in.
At the higher end, to be honest, we only tried one place, that I talked about in the last post. I was thinking about it, and along with Cartagena in particular, my sense is that the high-end, reinterpretation of Colombian cuisine, is in its infancy. Most fancy restaurants are French, Italian, Spanish, or steakhouses. And my take on this new movement is that it's mostly young chefs trying to break out of that mold, and they're creating dishes to "challenge" diners with the ideas of what might be possible using local ingredients and flavors. The flipside is, that most of them just don't seem to be experienced enough to pull it off – they're producing visually exciting plates, with interesting combinations of ingredients and techniques, but the balance and seasoning and proper cooking is missing. Bogotá seems to be further along in the process. If you've been a long time reader of these pages, it's pretty much the same thing I've gotten to witness, report on, and perhaps even be a small part of, over the last decade in Buenos Aires, and I'd put the modern Colombian food scene maybe 5-6 years behind BA, except possibly for Bogotá which is maybe 1-2 years behind.
On to the Medellin video…