There's an area in the southern part of Colombia in the province of Meta, called La Macarena. It's a small town, but it's famous as the gateway to a several square kilometer area called Caño Cristales. Basically a series of streams that cascade down from the mountains, with mineral rich and crystal clear waters that are noted for a plant that grows nowhere else on earth, the Macarenia clavigera. Although known about for a long time by locals, this plant has only recently come to the attention of the outside world and little is known about it. Partially, that's because the area around La Macarena was, until 2009, completely under control of FARC, the anti-government "terrorist" or "guerilla" movement, and was inaccessible to anyone else. Now it's under tight military control (the underground crude petroleum has, I'm sure, nothing to do with the government incursion and tight controls), and a few intrepid tourism companies have started taking small groups into the area to see this plant.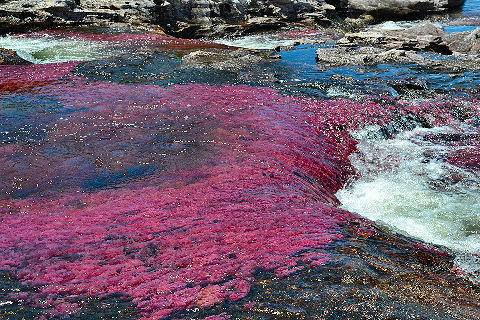 What's special about this plant? It looks like clusters of large grapes, but in many colors – the majority are pink to red, but there are also patches of yellow, green, blue, and black, giving the area it's second moniker, the river of five colors. Now, we were scheduled to fly in early one morning – 5 a.m. at the airport to get on a small charter plane with roughly 25 people aboard, which didn't leave until nearly 8:30, as some folk just simply showed up hours late, having slept in, or whatever, and the tour company wouldn't leave without them. The majority of us, who were on-time, weren't overly thrilled. But a short flight and we landed in La Macarena, got distributed to hotels, except for Henry and I, who got stuck in a converted garage that's in the middle of being converted and built upon, to a series of rooms for rent – also on the opposite side of town from the hotels. Not thrilled, we asked to be moved to one of the hotels, which the company agreed to do for our second night, but not the first.
We met back up with the group and headed out on a several hour venture – a combo of a 15 minute boat ride, half hour (7km) 4×4 bone rattling trip into the brush, and then a fast march 2km to one branch of Caño Cristales. There we got to see the plant and wander for several hours. There are a couple of spots where the plants don't grow that they allow you to enter the water and splash around a bit, and with the heat and humidity, that was needed. We ate lunch (grilled pork, rice and plantain wrapped in a banana leaf that we each carried along). We wandered more. We headed back – it was beautiful, nothing to disparage it, but it's a lot of slogging through mud and water, up and down hills, at a fairly fast clip – you need to be ready for it. Later on, meeting up with the rest of the group for dinner at a local restaurant – nothing special about the fare – choice of roast chicken or more grilled pork, a variety of salads, potato or rice. Fruit juice. Henry and I stopped in at a neighboring bar for a couple of beers before heading back to our garage.
Massive, flooding thunderstorms all night long. Impressive, and the rain continued intermittently light and heavy into the morning. Henry was massively sunburned, I was at least moderately so. The thought of a repeat of the previous day, but this time with a 7-8km hike, but now in rain and mud and puddles to slog through (and us with just tennis shoes, no boots, and no rain gear), with a statement of "you'll be able to see some of the other colors of the plant where we're going, but they won't really shine and show well unless the weather clears up." We decided to opt out and asked the coordinator if, rather than just sitting around in a rainy village with nothing to do, could we manage to grab a couple of seats on one of the flights going back to Bogotá that day. He worked it out, we got on the flight, flew back, and checked back into our hotel, Henry got to spend more time with his dance friends, we ate out, and relaxed. Dry. To the video (recommended to click on the full screen viewing option)….