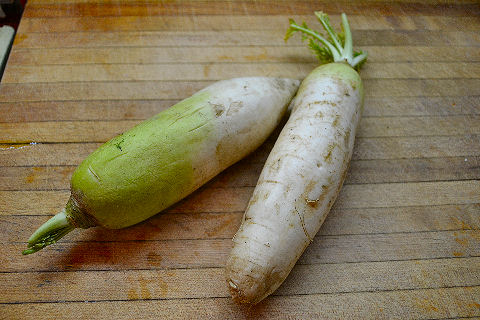 We all know the daikon, or, as it's generally called here, nabo japonés (japanese turnip), from the shredded stuff that comes with our sushi. Most of the time we just ignore it and it goes back to the sushi bar or kitchen, hopefully being discarded and not rinsed and reused. I'm just sayin'. On and off I've used it in other ways – generally either a simple puree with brown butter and balsamic vinegar (which I'm going to include in this post), or roasted in a little olive oil with salt and pepper alongside some sort of meat. It's not really a "go to" vegetable, but my favorite little verduleria had about eight of them sitting out on display for a couple of days and Guillermo, "my guy", handed them to me the other day and said, "take these, nobody's going to buy them, do something with them and tell me about it." So, a perfect in for our next vegetable creativity day. I was joined in the kitchen for lunch by our friend Lucho who worked with us about eight years ago, then went off to culinary school and on to a series of cooking gigs – these days he's the new chef at Sugar Bar in Palermo.
I was reading through the book Relæ: A Book of Ideas by Christian F. Puglisi – here's my Goodreads review: Interesting ideas, a nice story about how he and his restaurant got where they are. A little stiff in the writing and a little too much "I thought of this first" kind of feeling for thing that probably predated his birth. But enjoyable nonetheless. There are no "recipes" per se – there are descriptions of dishes with general outlines of how they're made, but no proportions or measurements or detailed methods. It's more of a chef's workbook.

Oops – I have to edit this. It was a vagary of the Kindle format – when it hit the end of these chef's workbook notes, it flipped to "rate this book" as if it was over. I was about to delete it when I realized that it showed I was only 60% of the way through the book – I went back into it, and all the recipes are there, detailed, as an appendix, which the Kindle format had coded as outside the text of the book. So, there are recipes!
He was talking about an idea for one of his dishes where he'd dehydrated turnip slices and then reconstituted them, giving them a texture he described like al dente pasta. I thought, hey, there's a starting point for the daikon, let's make noodles!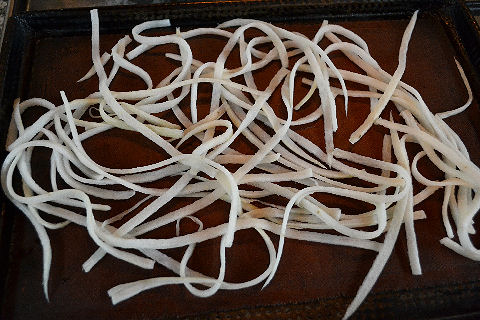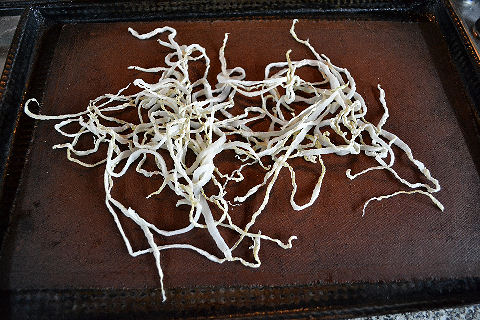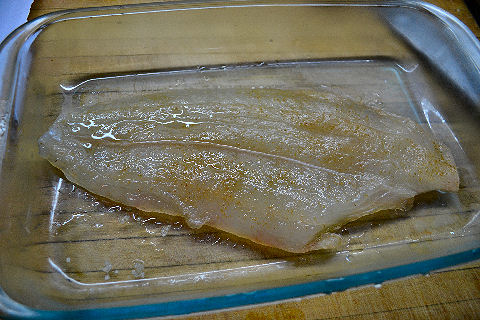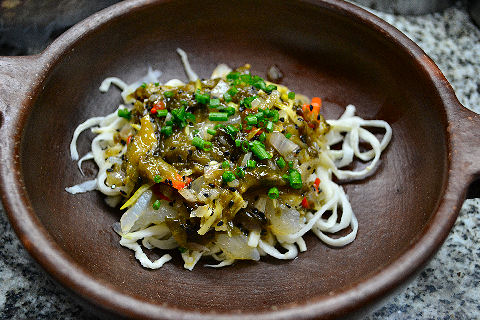 First off, the idea works. We used the mandoline and cut basically fettucine of daikon, laid them on a baking sheet and stuck them in the oven at 60°C (140°F) with the ventilation fan going for about an hour and a half. I didn't want to dry them out completely, so I went with a texture that was more or less like a semi-dried, fresh pasta. When ready to put up the dish, we just tossed the noodles into boiling salted water for about a minute. Great texture, not quite like pasta, there's a little edge of a crunch to it, but delicious. We cured a fillet of lenguado, sole, gravlax style more or less (I have a step by step version with salmon here) – with just coarse salt, raw sugar, and ground coriander seed. It's a delicate fish, so an hour on each side and then out of the rub.
I wanted to do a beurre blanc sort of sauce, but with brown butter, so first I made brown butter then chilled it so we could use it. Classic beurre blanc – shallots cooked in a mix of white wine and rice vinegar (I didn't have any white wine vinegar in the house), reduced to minimal liquid and then whisked with the cold brown butter to create an emulsion, seasoned with salt and white pepper. Kept hot, and at last minute mixed with threads of ginger, lemon zest, sliced chilies, a little wakame seaweed, and black sesame seeds – just to warm them through and give the butter sauce a little hit of other flavors. The fish was sliced and left out to come to room temperature about twenty minutes before we put this in the bowls, and heats up from the heat of the noodles below and the sauce spooned over the top. Some chopped chives sprinkled over the top, and done.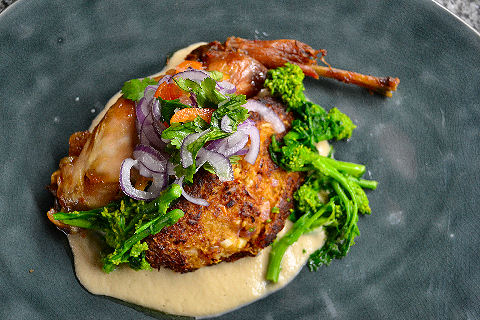 We'd decided to make this a three course lunch. Confit of rabbit leg quarters in olive oil, garlic, chili, and cinnamon. Browned at last minute to give it some color. Puree of daikon underneath – this is the one I've done before – simmered the daikon in salted water until soft, about half an hour, then puree with some of the browned butter, a splash of balsamic vinegar, and some mascarpone cheese, salt and white pepper. Blanched, shocked, and quickly sauted broccoli rabe with garlic. Now, I will say upfront, the next step was a mistake – in hindsight I'd just roast some daikon in olive oil, salt, pepper and garlic and put them on the plate with this dish – the flavors would work. A little "salad" of red onion slices soaked in salt water for a little while to take the bitter edge off, then tossed with rocoto chili slices and cilantro.
The part that didn't work: I was trying to recreate a sort of pan-fried daikon cake – more or less I used this recipe. It's really good, but, is so assertive, so strongly flavored, that it just took over the plate. I'd do it separately and serve it up with something like a hoisin sauce as a little appetizer on its own.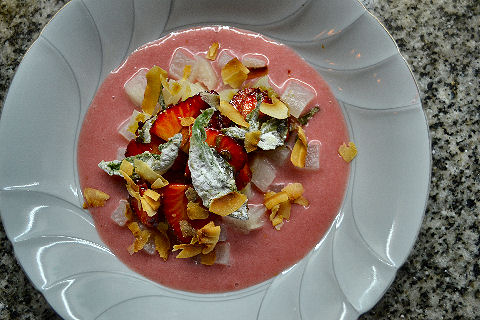 Here was the big question. Could we make a dessert out of daikon? An online search only turned up one dish with a recipe, and one that someone had once taken a picture of with no description, and a sort of halva that sounds weird. But we were determined. Cut the daikon in small cubes and put them in the pressure cooker with coconut milk, coconut liqueur, and sugar, and cooked them for about 15 minutes. They kept just a touch of a crunch and hint of bitterness, but absorbed all that sweetness and coconut flavor – it was almost like using little cubes of coconut jelly that had a bite to them. Pureed some of the cooking liquid with fresh strawberries and spooned that in the bowls first, then the cubes (everything chilled down first). Sliced strawberries tossed with a brandy and pink peppercorn caramel (caramelize some sugar, add some molasses, brandy, and crushed pink peppercorns and toss the strawberries with it, then chill). Toasted flakes of coconut. Quickly fried basil leaves that were then dredged in confectioner's sugar. You know what? It works. I'd happily serve that to anyone, though I might not tell them it was daikon until after the fact.
A last note – and I realize it may be a "TMI moment", but I don't recommend serving up a 3-4 course meal based on daikon unless you're interested in yourself and guests experiencing a methane powered peristaltic wave a few hours later that will leave you cleaner than a Fleet enema.