There will no doubt be more and more potential hotspots for really good hamburgers opening up in BA, so I have no doubt there will be further round-ups and the list will just keep getting longer!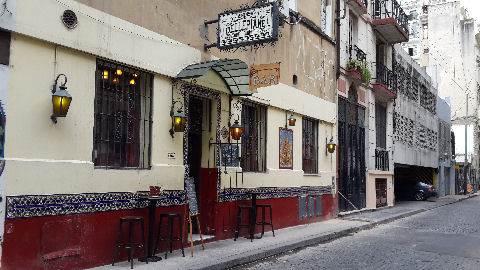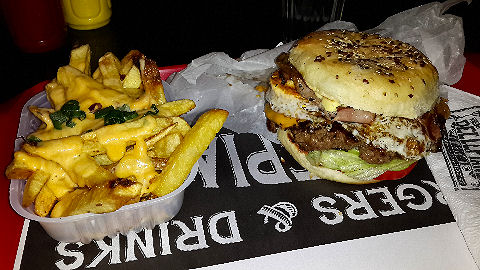 In response to my last round-up, someone from Dellepiane Bar, Pasaje Luis Dellepiane 685 in San Nicolas, not a far walk from home, as the commenting person pointed out, suggested I come by and check out their burger (not an on the house invitation, but just suggesting I come try it). As it turned out, I ended up popping in the very next day – it was convenient, and I was on a roll. The place, a bit of a dive bar look (that's not a negative in my book), on a little cobblestone side alley – in fact, it's a space that Henry and I looked at for moving the restaurant quite a few years ago – it was some sort of cafe in between as I recall (and prior to us looking at it I think it was a little Spanish restaurant with flamenco music). A nice looking lineup on the menu of sandwiches and burgers, and several norteamericano folk have commented that they have the best Philly Cheesesteak in the city – I think they may actually have the only Philly Cheesesteak in the city, so that may or may not be a selling point. I ordered up their bacon and egg burger, and had them add jalapeños to the mix. The burger came out in a reasonable amount of time – maybe 15 minutes. It's a decent size, I think they say 160gms, so just under a 6-ounce burger. It was properly cooked, perhaps a trifle salty for my tastes, but not overly so. Good, fresh toppings – I could have used more than the four or five little rounds of pickled jalapeño atop, and I couldn't find the cucumber (or pickle, it wasn't clear – most people use pepino for the former and pepinillo for the latter, this was listed as the former, though my commenter made it clear they have pickles available). Straightforward condiments available – ketchup, mayo, mustard – on the table. The fries, a beautiful golden brown and tasty, but really soft (admittedly, doused in cheddar, and they even have bacon-cheddar fries). So – quite good burger, okay fries, nice selection of beers available, limited selection of non-alcoholic drinks, but hey, it's a bar. I'm not overly excited by the presentation in a wrapper, like a takeout place, or the fries in a plastic container – especially as the folk around me having other sandwiches, or the day's special of burritos, got everything served on plates – it's just an odd touch, but I'd go back, especially for a night when they have some good live music to go with the food!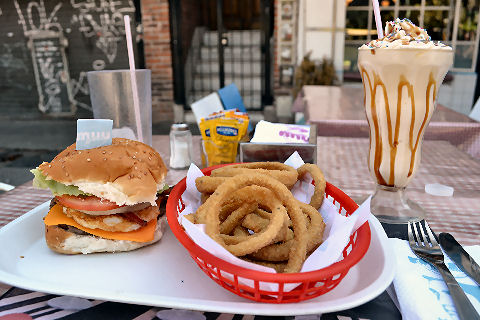 I've walked by Muu lecheria, Armenia 1810 in Palermo (along the main plaza, officially called Plaza Palermo Viejo, but often referred to as Plaza Armenia or Plaza Costa Rica), many times without much of a glance. But, it came recommended for its burgers and milkshakes, so one recent Sunday I plopped down at a table on the sidewalk to check it out. The general recommendation seemed to be for the "Big Elvis Burger". I decided discretion was the better part of my waistline and didn't order the Super Big Elvis Burger at 250gm (tomato, lettuce, onion, bacon, fried egg, cheddar), more than half a pound (all the burgers are named after 50's era music connections). Interestingly, for those thinking more burger for your buck, the Super is only 10 pesos more, but is double the size of regular one. The burger itself, decent but nothing special, a tad salty for my tastes. The onion rings, quite different than the usual doughy breaded things here, these are thin, and coated with a herbed breadcrumbs – really quite good. The milkshakes are a bit overly sweet and made more so by drizzles of caramel and candy sprinkles, and are really small. One of the common complaints I read about this place is that it takes forever to get served – I can only speak for a one time visit – I was greeted and given a menu within a minute of arriving, my order was taken a couple of minutes later, and the burger arrived in under ten minutes. Oh, and another place that calls them "burguers" – I finally realized that it's a nod to the Spanish way of making the "g" a hard one, rather than a soft one which it would normally be in front of an "e".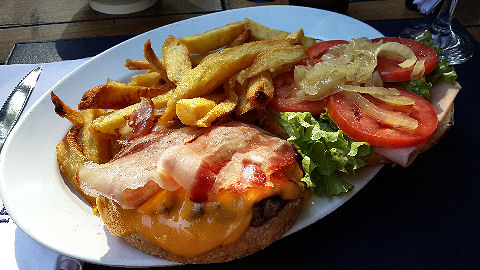 There are two places in town named The Oldest, I'm assuming based on decor and general setup that they're the same ownership. The fact that there are two brings into conflict the possibility that either of them actually is "the oldest", plus, neither of them has the feel of being a place that's been around any great length of time. At Av. Elcano 3410 in Colegiales, I made my first venture inside one. Here, it'd been asserted, I'd find one of the best "bar burgers" in town. I'm not sure if that's something to shoot for, it sounds too qualifying, like "we're the best, but only of a group of places you might otherwise not be considering". Off the bat, I like the place, it's got a nice feel, and, being a beautiful day, I opted for the outdoor seating. Nice selection of beers available, albeit a tad pricey – standard sized bottles ranging from 60 to 100 pesos. A trio of burgers on offer, though all minor variations – I went for the "American", which was supposed to have lettuce, tomato, onions, bacon and a fried egg. No egg in evidence, and the addition of ham on the burger, when it arrived. What impressed me was a) the size, and b) the fresh, abundant toppings. What didn't impress me was a) unseasoned, over-cooked burger, b) the missing egg, c) squishy fries, and…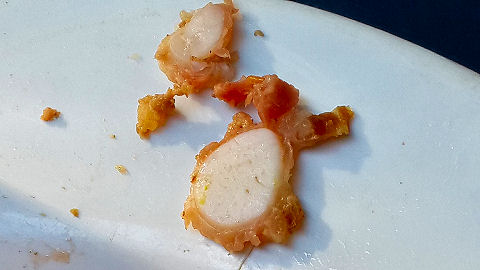 …bones. I got just about a third of the way into the burger when I crunched down on something hard, which turned out to be this little bone to the left. I set it aside figuring, oh well, it happens, only in the next bite to encounter the larger one to the right (you can't tell from the photo, but that's roughly 1cm in diameter). I set them aside, called the waitress over, and pointed them out. She whisked the plate away to go speak with the kitchen. She returned a few minutes later with my bill (no offer to replace the burger, to give me something else, nada) which she'd taken the burger off of, so I was just paying for the beer. Quoting, "The kitchen says the bones aren't in the chopped meat, they're in the bacon. When they fry the bacon really crispy the bones usually fall out and it isn't a problem." Okay, let's parse just what's wrong with those sentences – first off, looking at the photo, they're right, these are from the bacon, I can see that. But, if you know that the bacon has bones in it, why not remove them in advance? And if you truly believe that the bones will fall out when the bacon is crispy (doubtful), why isn't the bacon cooked until it's crispy? And why didn't you look? (Looking back at my picture above, it turns out I can see them in the front right of the burger photo, I just didn't notice as I was piling everything on.) Not that the burger was much of a success to begin with, so no loss to simply not recommend it, nor, I imagine, will I bother with trying the other location.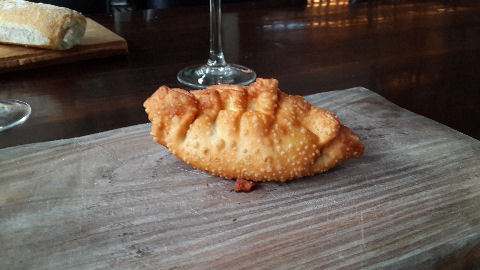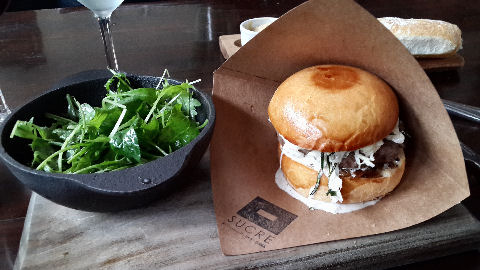 It shouldn't come as a surprise that a higher end restaurant like Sucre, Sucre 676 in Belgrano (which I've reviewed twice, in 2011 and in 2007) that specializes in grilled and roasted meats, would offer up a burger. It's also not a surprise that they'd go for a quality, Black Angus beef burger. So, before one of my shopping trips to Barrio Chino, I popped in for a quick lunch (the burger is, at least officially, only available at lunchtime). I'll be upfront, and save you the reading if you wish, I was disappointed. First off, I thought I'd grab an empanada while awaiting the cooking of my burger. It's fried, it's half the size of a typical local empanada, and it's filled with salty squash puree and a little knob of barely melted cuartirolo cheese. It costs 35 pesos. I asked for the burger to be cooked rare to medium rare. And there it sat a la plancha, I could just feel it seizing up and getting grey-brown. I tried to get someone's attention to get it pulled off the heat, to no avail. It came out well done and dry. It probably weighs in at 100 gm, or roughly 3 ounces. It's salty. The "confited onions" are barely softened by heat, not lovely and caramelized. There's lots of chopped iceberg lettuce on it. The garlic and rosemary dressing seems to be a sort of completely liquid, faintly garlic flavored cream just liberally poured over the burger, soaking the bottom bun to a paste. The rosemary isn't in the dressing, but rather a whole layer of raw leaves of the herb just packed on top. Basically, the whole thing tasted of nothing but rosemary and salt. It came with a choice of potatoes or salad. I opted for the latter which came as a mix of greens doused in lemon juice out of a squeeze bottle and a little oil. No salt, no pepper, just eye-watering acidity. The burger costs 130 pesos, though that's misleading, because they tack on a 15 peso cubierto charge, so 145 pesos. A last thought – I've always drunk wine at Sucre, but thought, hey, with a burger, how about a beer? This is a place with hundreds of wines on a well thought out list, with a back bar that reaches seven shelves high requiring a ladder to reach many of the great liquors and liqueurs offered. They have Stella Artois and Corona beers, nothing else, and it turned out, they only had Corona in stock. Come on. My waitress offered a glass of house wine. It turned out to cost 75 pesos – lunch in total, $280 including tip. All in all, very disappointing, especially given how much I've liked past visits.