You already know how this works, so I'm going to just jump right in.

Otaku has two locations in the city (plus three in the 'burbs), one in Belgrano, and a new one that just took over the space vacated by Leandro Varela's excellent, but short-lived bakery (after he closed down Due Resto Cafe, one of our favorite lunch spots), at Juncal 2391, right off the corner of Pueyrredon. With the relatively recent departure of Koi, local sushi choice had reverted to Maki, which I quite like, but it's nice to have options. Ordered up a more or less typical sushi delivery order – a quintet each of salmon, octopus and prawn nigiri (no other fish of any sort available on the menu other than canned tuna, a bad sign), and half each of a cucumber roll and a surimi roll. Delivery was quick, which I'd hoped given the four block distance from home. The quality was decent, not exceptional. I'll stick with Maki. [Didn't even last 6 months before it closed up.]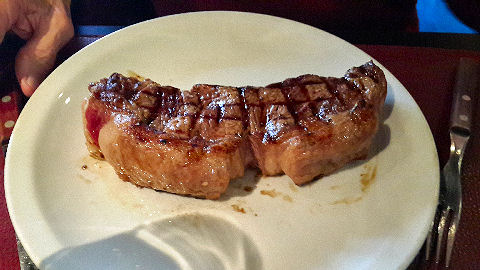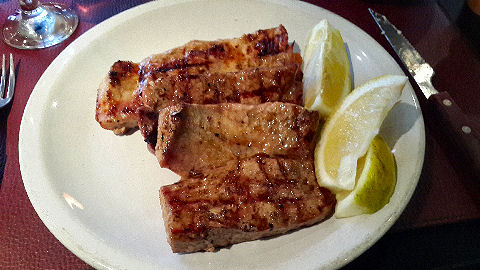 I don't usually go out to parrillas, I'm just not that big of a steak eater. When I do, it tends to be limited to ones that I either know and am taking visiting friends to, or have a particular reason to go to, like when I'm working on the Fodor's dining section. But I was meeting up with a friend who would probably happily exist on nothing but meat if he could, and I thought, why not? It's been awhile since I've gone out for a steak or anything similar. We were meeting over Palermo chico direction, and the place we'd planned on turned out to be gone, so a quick Foursquare scan of the immediate area showed one we weren't familiar with, Tupe Parrilla Urbano, Tagle 2621. It's a cute little place, looking like a sort of upscale cafe more than a steakhouse. They have a daily lunch special of one or another cut of steak that comes with salad, mash, a beverage, and a coffee, all for a quite reasonable 125 pesos if I remember correctly. We decided to order of the menu, which is fairly reasonable as well. My lunch companion ordered the lomo, sirloin, cooked blue – and it came out pretty much right on point, though, unseasoned and a bit on the fatty and gristly side – I'd guess close to a quarter of it was left on his plate at the end. I decided on the mixed pork grill, which came out with a piece each of bondiola (shoulder steak), solomillo (tenderloin), and matambrito (flank). Likewise unseasoned, salt, pepper and lemon added across the board. The first two, really nicely cooked. The flank, a bit chewy – pork flank needs long, slow cooking to break down the fat and connective tissue – I'd rarely order it off the grill, so I probably wouldn't repeat this dish and instead just order one of the other two solo. A large green salad to split, a couple of waters, and we got away with tip for around 200 pesos apiece. Good, but not great.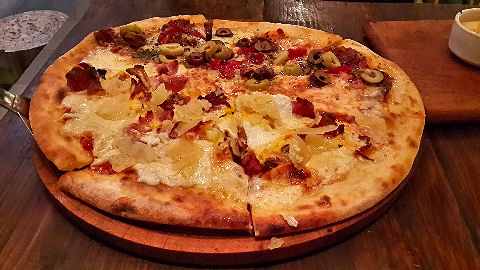 Taking over the space left behind by the sudden, unexpected, and unfortunate demise of our favorite pizzeria here in the 'hood, Quentino, a new branch of Almacen de Pizzas has just opened a couple of weeks ago at French 2301, corner of Azcuenaga. I've favorably reviewed branches of the chain in the past. They're not up to full speed yet – lunch service won't start until sometime this week, and delivery service won't start until early July. They're also clearly working out service kinks and trying to build some business (why not open for lunch and delivery then?) and pushing for the upsell – I think there were three different points during an hour long dinner there that our waiter tried to sell us something else. I will say that one of the things I've liked about other branches of the chain is that they've been generous with sauce and toppings on the pizzas – we found the pizza we tried last eve to be lacking in sauce, and a bit stingy with the toppings. Still great quality, just less of it. On the positive side, they've added in a pizzetta size for individuals, not of all of their offerings, just a half dozen or so, which seems sort of strange – why not offer all of the 20+ combos in an individual size? It's not like they're pre-made. Not as good as Quentino was, but still maintains that corner as offering up the best pizza here in Recoleta. [Followup: return visit a few weeks later, a bacon, egg, and jalapeño pizza, dead-on, delicious, and more sauce than the first time around, plus more toppings – so maybe one, or the other, was simply a fluke.]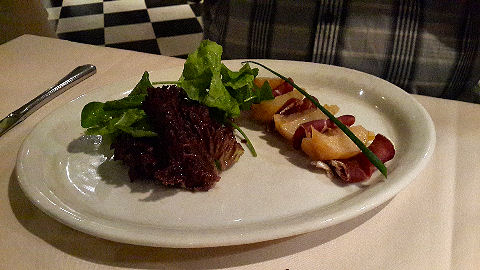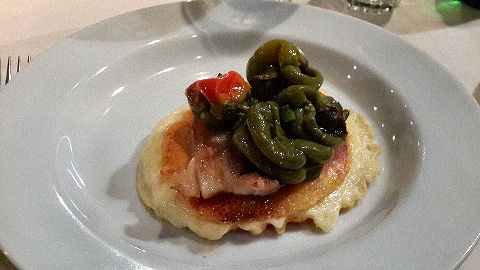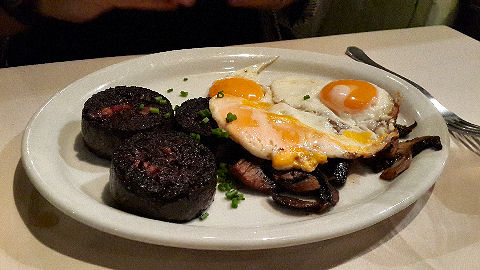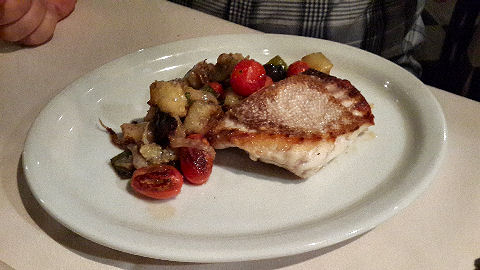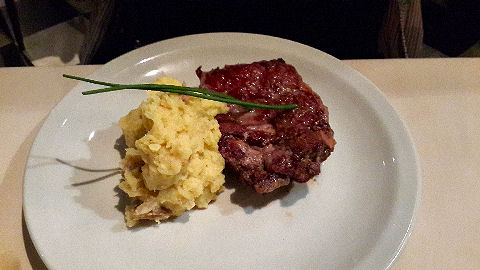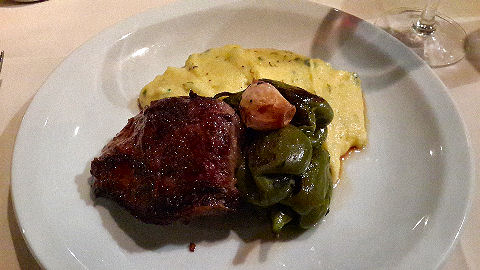 It's been years since I reviewed Urondo Bar, Beauchef 1204 in Parque Chacabuco. For maybe six or seven years after that first review in 2006, we would troop out there once every six months or so for dinner – often when we had friends in for a visit who wanted to go somewhere off the beaten path. It's hard to be much more so. The last few years we haven't been – the steadily rising taxi prices at 26% every six months have made it so that a round-trip now costs us between 250-300 pesos – that's an entire dinner for one person tacked on to our evening.
Some new friends who are moving here were in town, and when they asked about somewhere not touristy – and I thought it'd be a perfect chance to revisit Urondo. Over time, Javier Urondo's style has moved towards an increasingly rustic approach to Argentine dishes, but at the same time with increasingly more intense spice combinations that just lift them to a whole new level. He even brought his housemade kimchi, and three different hot sauces that he makes to the table for us to sample with the meal (two particularly cool ones, one of them a Surinam inspired hot paste of grated potato, chili and garam masala which is cooked by pouring boiling oil over it and then letting it sit until cooled – delicious (and I've been experimenting with it now too); the other a fragrant blend of fiery red chilies with leaves from his lemon trees – yum!
From the top: Poached baby pears with bresaola. Provoleta with roasted peppers and panceta. Morcilla with mushrooms and fried eggs. I should note, Javier and his team cure all their own meats, make their own sausages, and dry age their steaks. On to the main courses: A thick fillet of lenguado (flounder) with a roasted vegetable medley. Beef shank steak cooked medium rare with potato mash infused with toasted cumin, roasted garlic and fennel. Lamb shank also medium rare with creamy chive polenta and roasted peppers and garlic.
We're not talking somewhere with pretty, delicate, composed plates. We're talking hearty, rustic food with amazingly intense flavors. Reasonable prices – dinner for three – these six plates plus mineral water and a bottle of wine that ran 260 pesos totaled to just over 900 pesos with tip. No question it remains on my list of favorite casual Argentine restaurants in the city. I just wish it was closer to home.