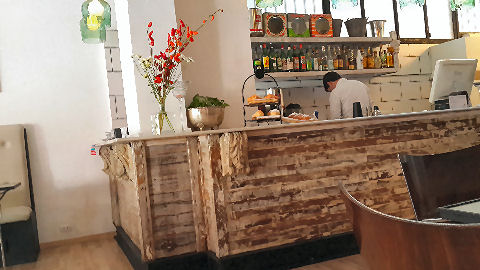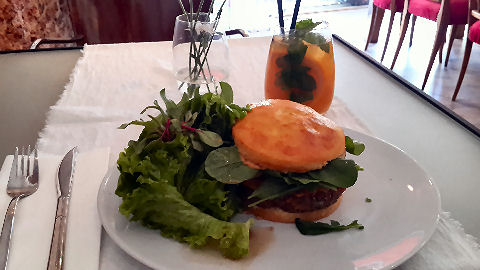 No preamble, let's jump right in. The question before me is, does the Kibbe Cheeseburger at Garzon, Gorriti 4939 in Palermo, qualify as a burger? It may seem an odd question, after all, I've reviewed some oddball burgers before – different meats, things that seemed more like sausage patties, and even various types of veggie burgers. This one falls somewhere in a weird no-burger's land. I'm starting from the assumption that you may know what kibbe is – a middle eastern staple that's basically a packed ovoid (usually) of burgol wheat, ground meat and spices, it's sometimes served raw, sometimes grilled, sometimes breaded and fried. And essentially, this burger is just a patty of kibbe – it's mostly burgol wheat, leaning it into veggie burger territory, but it's got just enough of a mix of ground beef and lamb to kind of hold it together. And, it's griddled, stuck on a crumbly brioche bun with salad and what more or less seemed like creamy French dressing, with melted cheese (sort of a cheese whiz, nacho cheese from the movie theater gloop), and sauteed mushrooms. It all sort of fell apart – bun, kibbe and all – at first attempt to pick it up and bite into it, so it immediately became a knife and fork proposition. It was decent, if not great, kibbe, but as a burger? I lean towards, no, no it's not.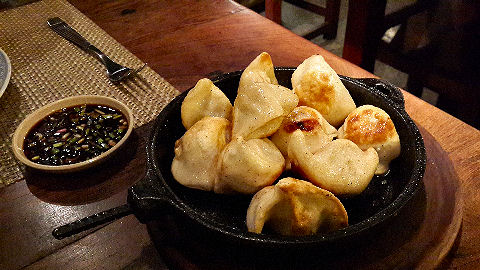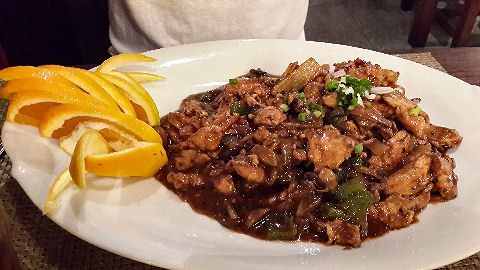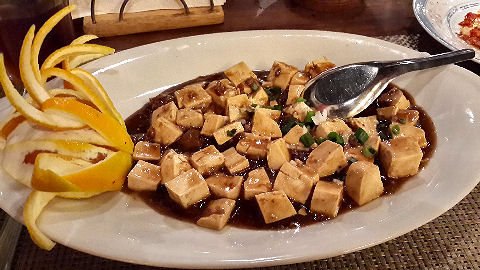 One of my favorite Barrio Chino spots is Resto Apu, Arribeños 2243, though I tend to go more often across the street to Lai-Lai. Part of it is atmosphere – nice as Apu is, it feels a little closed and dark, and part of it is really slow service, even when there are few people in the place. Still, they have some great food, particularly some of the best little pork and vegetable potstickers around. Henry loves the "cerdo superpicante", or super-spicy pork – no particular Chinese name for the dish is offered, and it doesn't come across as one I'm familiar with, but it's delicious. Their version of ma-po tofu, the first time I've tried it at this place is a little lacking in spice, but not bad.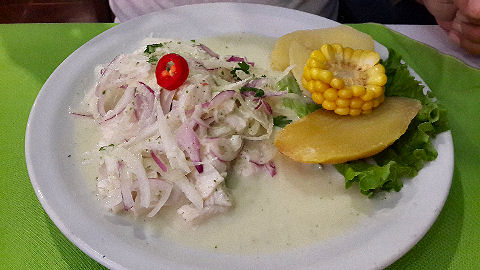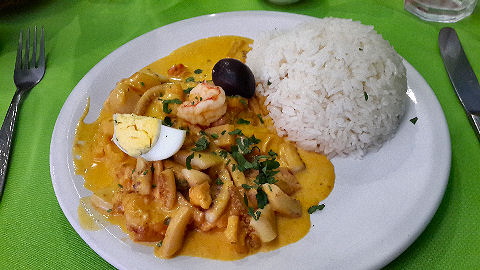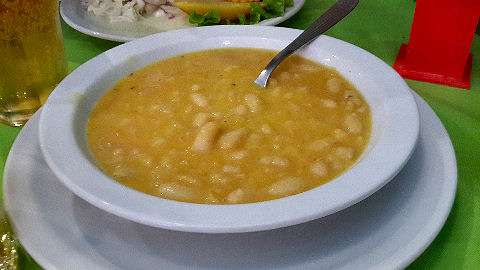 I mentioned Rawa, Talcahuano 447 in Congreso, briefly in my post about ajiaco de conejo a few months back. Henry hadn't been yet, so we toddled off one lunchtime recently, where he dug in to an excellent ceviche, and I into a fillet of grouper topped with a creamy, spicy shellfish sauce – "a lo macho", and we shared a bowl of one of our favorite side dishes, mildly spicy white beans. The portions at Rawa are a lot smaller than at most Peruvian restaurants, where food is piled high for sharing, and/or taking the rest home, but the prices are significantly lower than at most of even the most casual spots along Av. Corrientes, and the quality is certainly superior, making it a great choice for a casual lunch or early dinner (I don't think they're open late).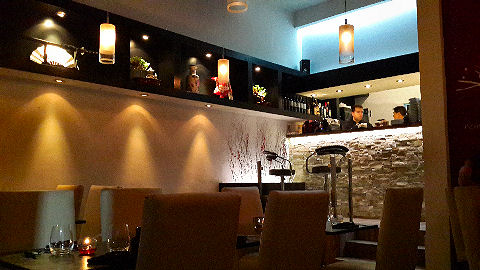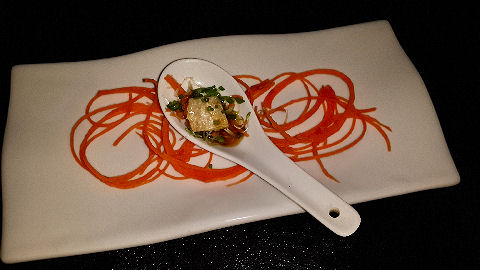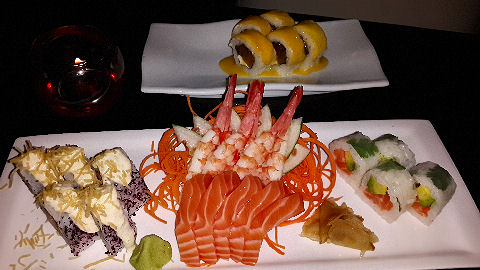 A relatively new branch of Kokoro Sushi opened up recently not far from home, at Av. Colonel Diaz 1651. I had an evening free and solo and decided to check it out in person rather than going for the delivery option. I like the room – clean, sleek, minimalist, but still very warm feeling. I wish there was an actual sushi bar at which to sit – they make the sushi out of sight behind the regular drinks bar, at which you can't sit either (other than two low barstools that are presumably just for folk waiting for takeout orders). Friendly service. A bit disappointing on a first visit to find out "our supplier couldn't get any fish today except salmon" – give me a break, there's so much fish available in this city that that's just an excuse for laziness in checking another supplier, or hey, walking the whole three blocks to one of the city's best fish markets, Ostrasur. Minimal wine and beer selection, no sake. Prices are reasonable for a Palermo sushi joint. A cute little amuse of salmon skin in a yuzu vinaigrette was fine, even better, to its side (out of the pic) some cancha, the toasted corn kernels typical in Peruvian restaurants, these spiked not just with salt, but a chili salt – completely addictive. The sashimi, lacking its white fish, a bit flavorless prawns, and the salmon edging into "fishiness" territory, which makes me think they simply didn't get any delivery of fish that day from their supplier and were using up previously delivered salmon. The rolls – all available in half or full, nice for being able to try different ones – creative and interesting, nicely flavored, particularly good is the Fuji Roll, with salmon instead of the white fish, ah well, avocado, shiso leaf, crunchy fried phylo pastry, and a creamy rocoto chili sauce. I also liked the rice paper wrapped Melantro Paper roll, with salmon, avocado, mint and cilantro. The eponymous Kokoro Roll was just way too sweet, with sweet potato, orange, mango, passionfruit, and honey.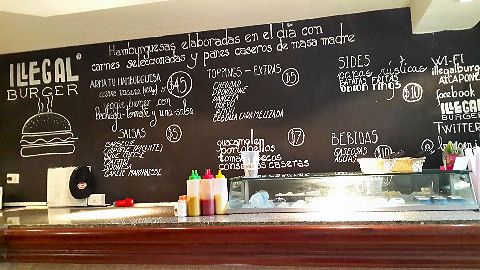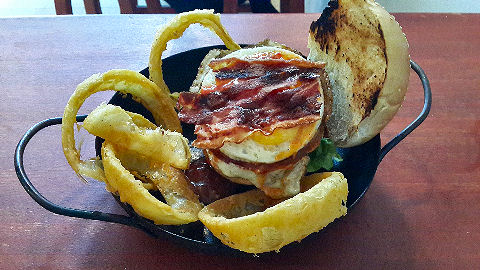 Continuing the spate of new openings of gourmet burger shops, I stumbled across Illegal Burger, Talcahuano 959 near to Tribunales (from which the owner takes the name, a play on the neighboring Supreme Court). All the burgers are design-it-yourself, which I love. For no charge they come with lettuce and tomato, and a choice of one of the half dozen sauces (I went with chipotle chili, which had a great kick). Extras run between 5 and 10 pesos and there are about a dozen of them to choose from – nice crispy bacon, a fried egg, and cheddar cheese for me. Missing, for my tastes anyway, any kind of pickle as a topping. The burger, without asking, came out a perfect medium rare, and is nicely seasoned, plus it's a pretty whopping burger for BA, coming in at 6 ounces plus. Best thing, the bun – possibly the first time outside of Hard Rock Cafe here with a bun that has enough structure to hold up to a really juicy burger without falling apart. With that and Mi Barrio Hamburgeseria both within a 15 minute walk of home, I'm going to have few excuses, and have to intentionally avoid them.