When you have lots of strong flavors, it can become quite a balancing act to combine them and make it all work. Two dishes over the last week or two stood out in that vein – both dishes that took a fair amount of practice to get the combination just the way I wanted it.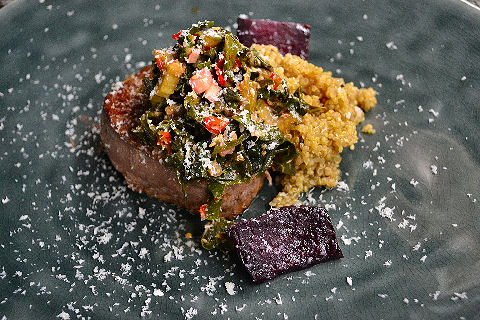 Playing around more with our Nomiku sous vide circulator, I've been experimenting here and there with red meat. Given that we don't eat a lot of it at home, it's been a slow process. One of my favorite steak combinations is with a bit of blue cheese melted over the top – it's just such a great marriage of flavors. But, for some, it's just too strong. So I had this idea to infuse the blue cheese flavor on a more subtle basis into the meat, and sous vide makes that far easier. I vacuum packed top round steaks (peceto) with a good slathering of our blue cheese mousse (blue cheese, butter, creme fraiche, cognac, salt and white pepper) and then cooked them for several hours at 52.5°C to come out a perfect rare and completely tender. The meat infused with that beautiful blue cheese flavor, and then I seared them at last minute in a little butter and olive oil. Served with roasted beets, and, that wonderful chard kimchi from our recent online cooking challenge (minor change one night, as we had a vegetarian guest for whom I offered up shiitake mushrooms done the same way, though cooked for only about half an hour sous vide – I couldn't use fish sauce in the kimchi, so I used a spoonful of algae puree dissolved in soy sauce and it worked beautifully). Quinua cooked in mushroom stock on the side. And, just for decoration and a hint more – a "snow" of blue cheese (freeze the cheese and then grate it over the plate). It's almost a shame we don't cook with red meat more often!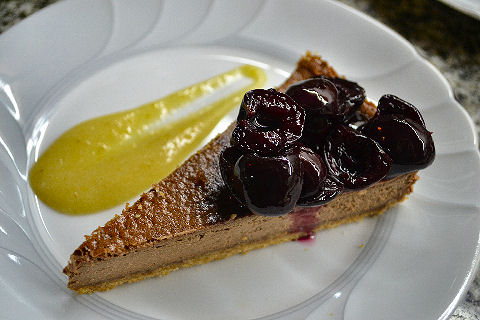 Given that desserts are not my strongest suit, I love it when I work one out to the point where I'm completely satisfied with it. And, I particularly love it when it's something unusual. In the past, I've put together the flavors of lime and licorice, a combo I picked up in Australia many years ago. In this case, a chocolate and star anise infused cheesecake paired with our lime puree, and topped with cherries that were roasted in the oven with anisette and sugar. That one's going in the regular rotation!