Once again, two different menus during the last week, and a couple of dishes that for me stood out.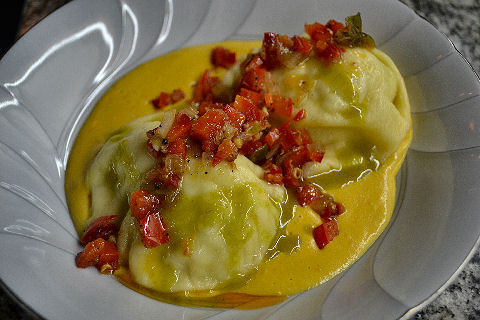 A bit of an Italian, French and Peruvian mashup here for the pasta course. Fish mousse, a classic preparation – starting with a humble white fish, the merluza, or hake, and processing it with sauteed leeks, salt, white pepper, egg whites and cream. Into a semolina pasta dough in the form of sorrentinos, large round ravioli. Served over a salsa huancaina made with toasted peanuts, aji amarillo, fresh cheese, bread, milk, and salt. Atop, a saute of bell pepper, green onion, and szechuan peppercorn.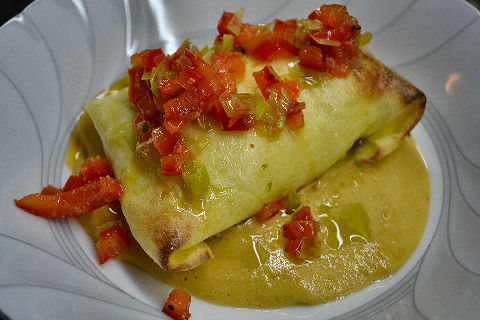 A variation on the theme for the second menu, the fish mousse made with pez palo, or Brazilian flathead, as it had suddenly appeared in the fish market, looked pristine, and has more flavor than the hake. I decided to go all blintz on it, using a semolina crepe, and, because we had two guests allergic to peanuts, made the huancaina with toasted walnuts. I'd also decided that the szechuan peppercorn flavor was a little too distracting from the harmony of the dish and I wanted something with a little kick to it, so a bit of togaroshi, the seven spice Japanese chili blend.
I don't think that either version was anyone's favorite out of the evenings, but most everyone seemed to like it, and the other dishes were, for the most part, repeats from menus past. Personally I think I like the sorrentino version more, though with the latter filling and topping. To be played with.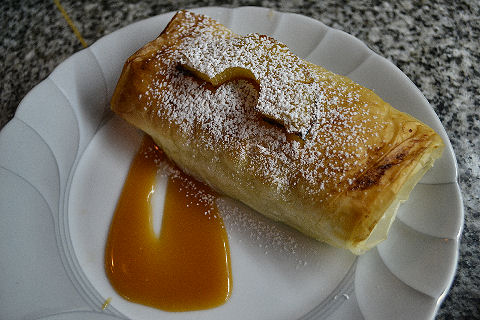 Inside, a saffron rice pudding. Wrapped in a sweet vanilla crepe (this was on the first menu, so we weren't doubling up on blintzes), then in layers of butter brushed filo dough, and into the oven. Topped with roasted pineapple, powdered sugar, and accompanied by a simple caramel sauce.
A couple of people asked me about making this dessert:
Put one cup of rice in a pot and cover with cold water. Bring to a boil, immediately remove from the heat and strain, running it under cold water until the water runs clear, to remove the starch. Back into the pot, cover with four cups of milk, a cup and a half of sugar, four egg yolks, a teaspoon each of cinnamon and vanilla, and a small amount of powdered saffron (here, anyway, it comes in little teeny plastic canisters, that are about the amount of a large pinch. Over low heat, cook until the rice is cooked through and most of the liquid is absorbed. I then spread it out in a baking dish to cool and then scoop into the crepes:
1 cup pastry flour
1/4 cup sugar
4 whole eggs
1-1/4 cups milk
1 teaspoon vanilla
Whisk together and let sit for a little while to hydrate the flour, whisking every now and again. Cook 1/4 cup at a time in a crepe pan to make crepes that are about 8″ across. Roll up a scoop of the pudding inside, blintz, or burrito, style. By the way, the savory crepes above for the fish mousse are the same process, just leaving out the vanilla and sugar, using semolina flour instead, and plus a teaspoon of salt.
The filo dough I buy from one of the middle eastern markets – it's just too difficult to make it at home and get it as thin as I want it. I took a single sheet of the dough, brushed it with butter, centered the blintz at one end and folded the two sides in like a brochure, then brushed the exposed surface that didn't have butter with some more, and simply rolled it up from one end to the other, and finished with a little more butter on top. Into a hot oven to bake, along with half rings of pineapple on a baking sheet, sprinkled with some sugar – they cook perfectly in the same amount of time it takes to bake the filo packages.