I've decided that instead of posting details on each and every menu, especially when we're repeating a lot of dishes these days from our repertoire, I'm going to focus a bit more on the dishes that standout and/or are new. Now, here, I'm going to be wrapping up the whole period following the Christmas dinners and on through this last weekend. During that time we had a menu for the 26th and 27th, then a private party on the 29th, then two different menus, one for the 31st and 1st, and another for the 2nd and 3rd.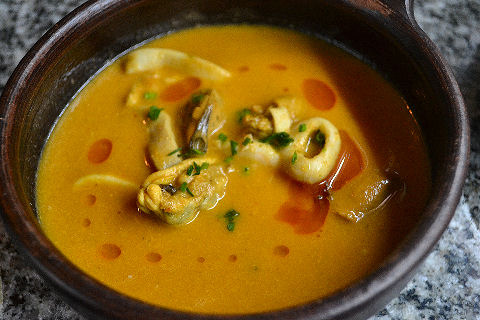 New version of our parihuela, a traditional seafood soup from Peru. This combines elements and flavors from the classic with some additional elements from a second soup, a chupe de mariscos. The core difference, perhaps, between the two, is that the former is a tomato based broth while the latter is a dairy base. I've brought both into play and I think this may have been the biggest hit of all of the dinners.
Into a pot with a couple of large onions, sliced, a few cloves of garlic, crushed, two each of dried ají panca & mirasol, and cook those down in a little butter until the onions are soft. To that I added a cup of white wine and let it come to a boil for a couple of minutes. Then I added half a dozen coarsely chopped tomatoes, a couple of teaspoons of hot paprika, a couple of tablespoons of miso paste, some oregano, cilantro and parsley, about 3/4 cup of cream, 2 cups of shellfish stock, and just enough milk to cover the ingredients. Brought to a simmer and cooked for about 15 minutes. Then pureed and strained back into a pot over a mix of roughly 3 lbs combined of diced catfish, calamari rings, mussels, clams, and prawns. Basically I just let them cook in the hot liquid, bringing it just back up to a simmer for about 5 minutes. Served with a mix of the same three herbs chopped up, and a little drizzle of smoked paprika oil.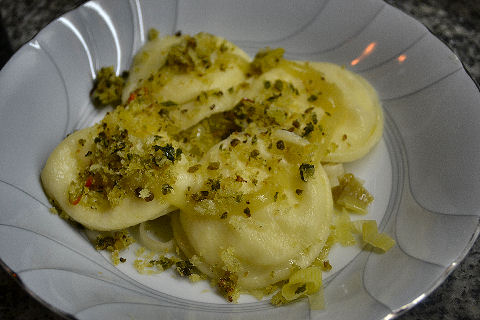 You know I like my pastas, and I have to say, this is one of my favorites in recent months. It's a semolina and egg dough, rolled out thin, and filled with a puree of steamed cauliflower and garlic with mascarpone, ricotta, and a little gran pampeano, the local equivalent of grana padano (any similar cheese, like parmigiano, will work), salt and white pepper. Formed into pansôti, boiled, and served over a base of "melted" leeks – slow cooked sliced leeks in butter until falling apart soft. Topped with lemon puree and toasted panko breadcrumbs with gremolata (lemon peel, black pepper, parsley, garlic) and finely chopped thai chilies.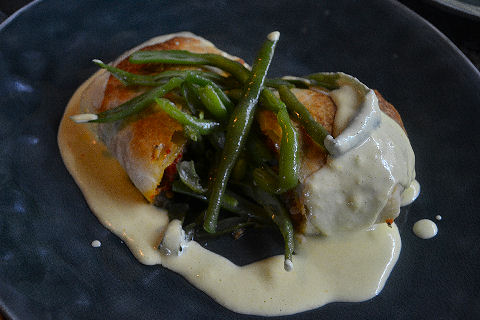 This is the next iteration in the steady evolution of our cod viennoise, the most recent version of which looked like this. It suddenly occurred to me that in some ways there's an interesting similarity to a beef wellington, in terms of some of the layering and flavors. Here, I took the cod and placed it inside a large empanada wrapper, or puff pastry, lined with a spinach crepe to help keep it from getting soggy, a layer of matbucha, the spicy roasted pepper and tomato puree I've been playing with, portobello mushroom duxelles, and the cod. Then baked, cut open, and served over a pool of ajoblanco (toast almond flour in butter, then add lots of chopped garlic and an ají amarillo, top with a mix of milk and cream and cooked for about 15 minutes, then pureed and thickened with xanthan gum, seasoned to taste with salt and white pepper. And, atop, some blanched, shocked, and then sauteed green beans (asparagus season is gone, or I'd have probably gone that way). It was a hit!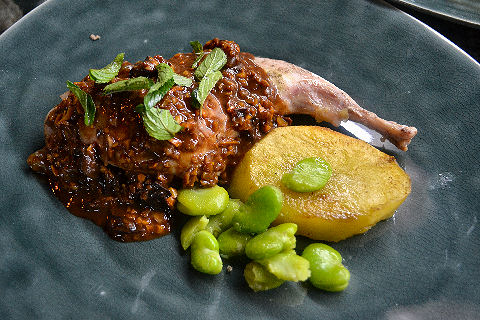 Time to play with a little more sous vide. One of the problems with cooking rabbit is that it tends to get very dry, very quickly. Here what I did was vacuum sealed the legs with olive oil, salt, pepper, and sage leaves and cooked them for about 3-1/2 hours at 60°C/140°F. Then quickly colored in a saute pan in olive oil and butter. Served with a fondant potato cooked in chicken stock, fresh fava beans, and a take on our chocolate based sweet and sour sauce, made a bit more picante – sauteed a mix of chopped smoked venison, ají amarillo, onion, garlic, carrot and celery until soft, then added Chinese five spice, chopped prunes and yellow raisins, bay leaves, red wine vinegar and sugar and cooked it down, finishing it off with just a little flour dissolved in more vinegar to thicken it. Seasoned to taste with salt and black pepper, and garnished with mint leaves. The rabbit stayed amazingly juicy, just perfect!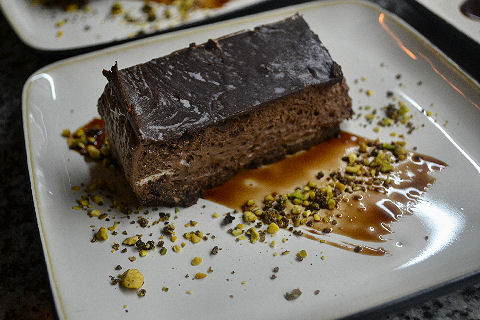 Watching the latest season of Masterchef: The Professionals (UK), and in one of the episodes one of the contestants makes a classic pave – a chocolate mousse dessert I haven't made in probably 25 years. Basically I followed this recipe – our "personal" touches were to add a couple of tablespoons of Pineral herbal liqueur to the mousse, and serve it with our chocolate sauce infused with coffee and Malbec port, and a spiced pistachio crumble. I found that the mousse didn't set quite as firm as I'd have liked (I used agar instead of gelatin as we had some pescetarian and vegetarian folk over the week), usually agar sets firmer than gelatin, so I don't think it was that, but more just it was so humid and warm that it was hard to keep it as chilled as we'd have liked – after the first night we actually semi-froze it – essentially a semifreddo version, and that worked a bit better.
And, on to new kitchen adventures in 2015!