It was only a matter of time. I've predicted it for several years now in conversation with friends who run closed door restaurants. As the popularity of the concept grew, sooner or later, a "regular" commercial establishment, or more, would realize they could capitalize on the underground cachet of it and make what amounts to a fake puertas cerradas. It's already happened in numerous other cities around the world, and even here, a few places have, briefly, tried to pass off their chef's table as if it was one. And, when I heard about this place, I knew that the movement had become mainstream.
I've written up our great little wine bar, here, Bar du Marche, more than once. And, when I started hearing about Club M Omakase, upstairs at the same address, Nicaragua 5946 6002 in Palermo, I wrote it off mentally as "just another place that's started serving sushi to drum up business", because sushi, good or bad, here, is the "it girl" of the era. But more and more I'd heard good things about it, and sure enough, they list it on their joint website with Bar du Marche as their "puertas cerradas", and even folk who should know better were talking about it like it is one.
So let me just say, it's not. It's simply the upstairs room from the wine bar, you can walk in and get a seat (in fact, the last time I went to BdM, when I entered, they asked me whether I wanted to eat downstairs or upstairs) – sure, reservations are recommended, but that's because they only have 16 seats, not because they won't take you without one. It's a fully licensed setup, in fact, it's what was probably the storage room outside the kitchen for the bar (which operates right next to the sushi bar, you can see right into it, and sends the food downstairs via dumbwaiter). All the drinks and wines come from the bar downstairs. About the only thing that qualifies it as a puertas cerradas is that there's a closed (swinging) door leading to the stairway up.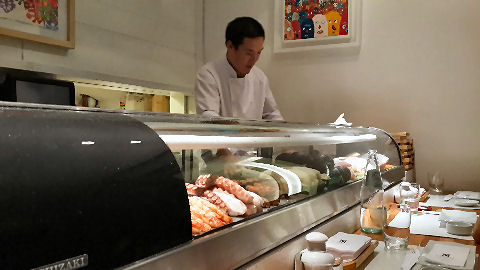 Okay, politics of the underground, guerilla, anti-restaurant movement out of the way, it's a cute little setup. There's a sushi bar where you can sit, with six spots (though the end spot is untenable as you're sitting right in front of the hot air exhaust fan from the refrigerated case), and, there's a large communal table that they've got a divider on that looks like it's movable, so that they can adjust for two different sized parties – so, semi-communal. Despite the slight run around I got as to whether there was availability at any point on the evening I went when I called, at no point during the time I was there was the place full – it maxed out with five of us at the bar and a party of three at one end of the table. Two sushi guys making stuff – actually, one was out there the whole time, one was back and forth to the regular kitchen, I assume he was helping out where needed. The one who was there the whole time presented me with a menu, but suggested that the omakase, or chef's menu, is the way to go – I was the only one the whole evening who took him up on it, it's not cheap, 450 pesos for a seven-course sushi fest plus beverages.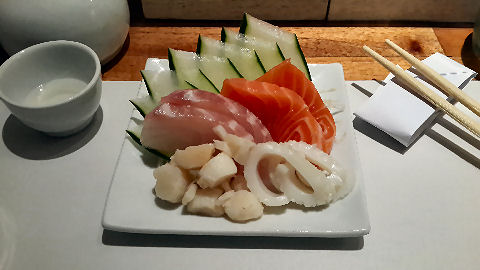 Still, it's a good move. There's a nice selection of fish, the quantities are reasonable. It's about 100 pesos more expensive than the seven-course omakase at Yuki. May as well do the compare and contrast upfront – Yuki is more traditional, but has more variety of fish and shellfish; Club M is more creative but works with a much more limited palate. Both are excellent quality. Started off the evening with a mixed sashimi plate of salmon, porgy, scallops and squid. Oh, another contrast, Yuki has a selection of different sakes available, cold, room temp, and hot, while, surprisingly for a place that prides itself on being the best wine bar in the city, the only sake available at Club M is Ozeki's most basic one, in the large jug – in fact, the guy at the counter told me that no other sakes exist in Argentina – complete nonsense as a trip to Barrio Chino, Barrio Correa, or one of the Japanese markets near Congreso, would demonstrate – there's not a huge selection, but there is one. I had one flask of the Ozeki, cold, and then switched to wine from downstairs.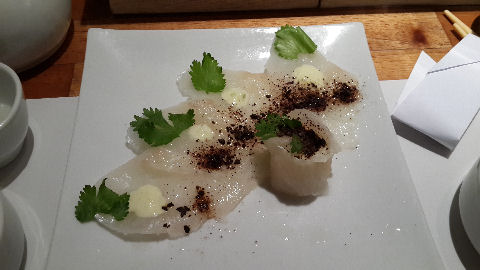 Tiradito of sole with a rocoto chili cream sauce and a crumble of dehydrated ume plums (yum, I'm stealing that). It's a tiradito in cut only, as the fish isn't cured.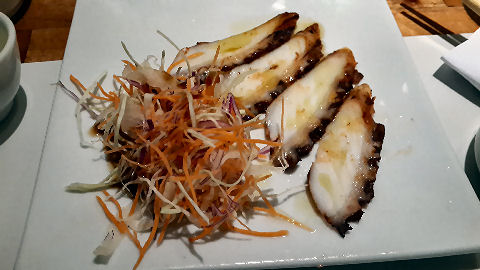 Tiradito of octopus, lightly seared, and served with an ají panka oil and a little vegetable slaw. Also a tiradito in cut only.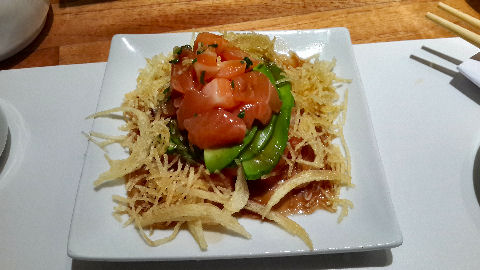 Salmon tartare with avocado, crispy fried potato shards, and a lime, soy and sesame oil sauce. Here, I switched over to a small carafe of New Zealand's Spy Valley Gewurztraminer for the rest of the eve.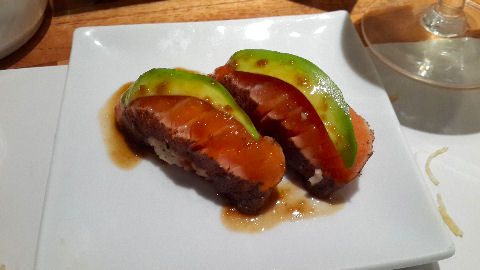 Salmon nigiri, rubbed in black pepper and lightly seared on the outside.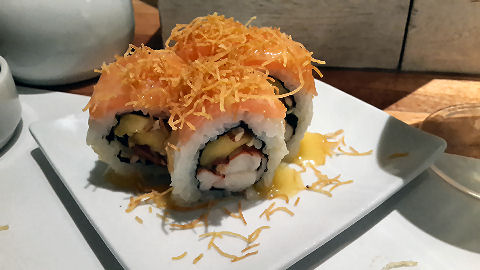 Panko coated prawn with sweet potato and almonds rolled up in a maki, capped with a slice of salmon, and served with crispy carrot threads and lime.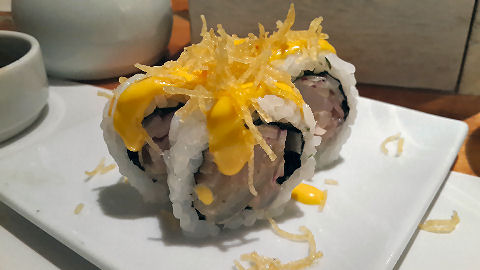 A second maki of porgy (besugo), cured ceviche style, with an ají amarillo sauce. And thus ended the seven courses. To my mind, a decent amount, but for the price, it's a balance. For 450 pesos I can get a 50-piece sushi and sashimi combo from any of the better delivery services in town, and pretty close to that quantity at some of the better sushi bars – as I mentioned, Yuki's seven-course omakase, which is probably about 50% more food, is about 100 pesos less. But it's a cool location, the quality is excellent, you've got that wine bar to choose beverages from…. there are trade-offs, and in dollar terms it's still a bargain. But, at the same time, I was still hungry – when I order sushi I usually get 2-3 full sized rolls plus a selection of a dozen mixed pieces of nigiri or sashimi.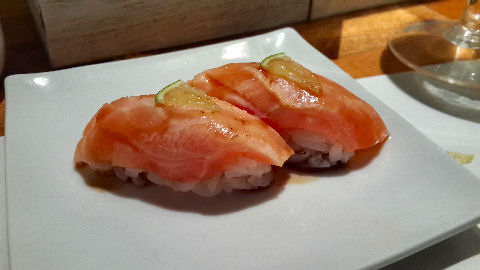 So when offered, I ordered one more plate, which although he said would be extra, he didn't charge me for. I left it up to him, another pair of salmon nigiri, this time with a teriyaki sauce and lime.
I still went home and fixed myself a little salad, and then had a nibble for dessert. And, with the sake and the wine, the bill came in at 650 pesos for one person, plus tip. Would I go back? Yes, but I might just order some a la carte, have some wine, and then go elsewhere for a more full dinner – if I were to head out for a night of top flight sushi and Japanese food, I'd probably still go to Yuki (which has that advantage of not just a sushi bar, but a full kitchen producing Japanese delicacies as well). Still, highly recommended.