When favorite southeast Asian spot Captain Cook closed down a year and a half ago, with plans to move into Martinez, at Av. Libertador 13652, I promised I'd get up there and review the new spot. It amazes me that 14 months have passed by since it reopened and somehow, I'd not made it up there, it's not exactly difficult to get there – and especially as they're now open for lunch, serving up a full menu of specialties from the Far East. And, it's garnered praise from all quarters, in fact, the day last week when I finally made it up there for lunch, Chef Marta had just gotten the call from Cuisine & Vins magazine naming the place the best restaurant of the year.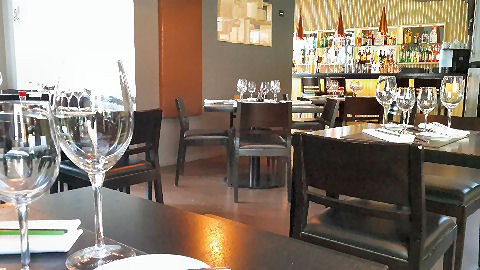 Pretty place, much nicer than the previous location. The view might not be as interesting outside, but inside, comforting and warm. My waiter, quick to the table and friendly, informed me that Marta was going to put a little something together for me. She dropped by the table a few minutes later to let me know I'd be sampling about half the menu….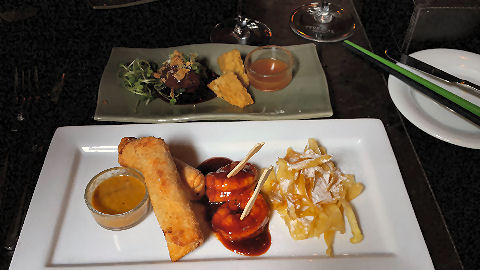 Starting with a selection of several appetizers: Vietnamese pork meatballs with rice cakes; Singaporean spring rolls; and "Panasian" caramelized prawns with sweet potato chips. (All portions smaller than the full dish plates, after all, this is a "tasting menu" I'm digging into here.)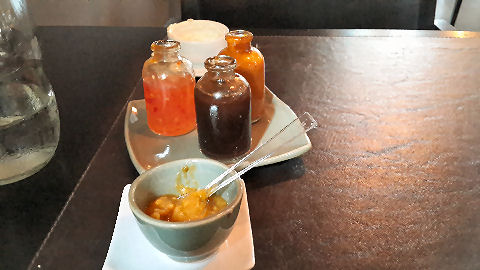 A quartet of sauces on the table to accompany various dishes ranging from mild and sweet to a decent hit of spicy chili.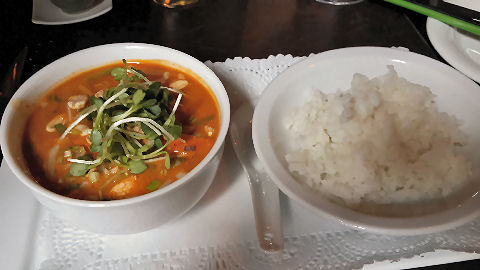 A Thai red curry chicken (likewise, main courses in small portions to sample). Fiery hot and delicious!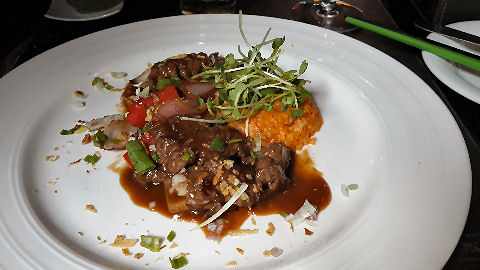 A creative panasian plate of teriyaki rib-eye with roasted peppers and red onion, jasmine rice. Perfectly tender and, yum.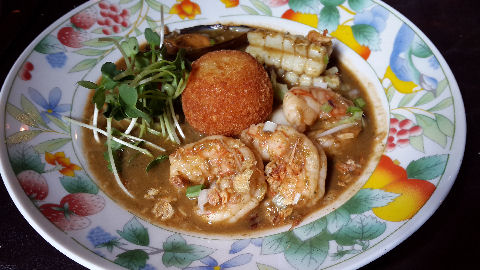 My favorite of the day, a Thai green curry of mixed seafood. Fiery hot, and I could eat that any day.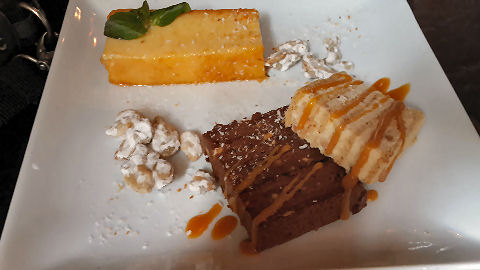 Although I'm not much of a dessert person, I gamely soldiered on with a duo of ginger-orange flan and a, well, second duo, of white and milk chocolate… parfaits, for lack of a better term, layered with dulce de leche and peanuts. All really good!
Sin duda, Captain Cook maintains its spot as my favorite Asian restaurant in the Buenos Aires area!