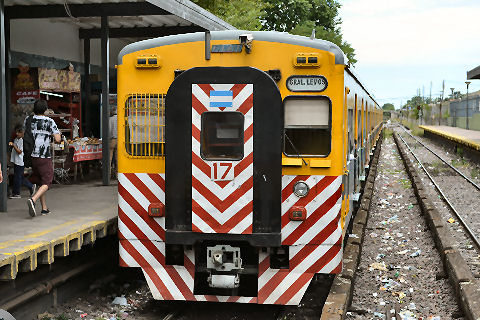 Yes indeed folks, it's time for another adventure on a train. I've adjusted the randomizer and, away we go. First off, where to start from? There are basically seven lines to pick from, and which one gets drawn from the hat? The Uriarte Urquiza line, which means, marching myself (okay, subway) across the city to the Federico Lacroze train station. And that line has twenty three stops, so which one comes up in the eeny meeny miny…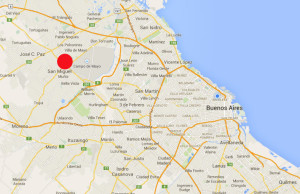 …damn, the 23rd stop, General Lemos station in San Miguel, thirty-some kilometers northwest of the city. This is going to be a long trip for a wander and bite to eat.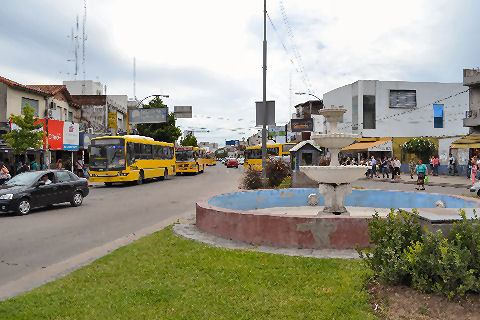 Timing is everything, and luck was with me. The 101 bus pulled up just as I got to the stop, swiftly whisking me to the B line, which pulled in within seconds of my arrival, and shortly thereafter depositing me at my official starting point, a perfect one minute before the train pulled out. Roughly 45 minutes later, I arrived in San Miguel. Given some of what I passed on the ride, I may need to rethink some of the randomizing – had I come up with any of the three previous stations to the end of the line I would have been being dropped off in front of one of the three entrances to a huge military compound, across from which is little other than some base and low income housing. I'd already pulled up a map of the city, and the sensible thing seemed to be to walk my way from the train station about a dozen blocks to the central plaza of town.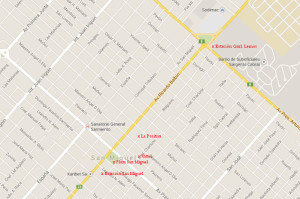 Although the randomizer had picked out the seventh food stop along the march, I decided there was just no way. Everything along Av. Ricardo Balbin until you get to within a block or so of the plaza, is auto part shops, repair shops, and a few motorcycle sales outlets. The only food along the way was fast – hamburgers, hot dogs, pizza. Had I gone with the seventh locale I'd have been confronted with the choice of a ham and cheese sandwich or a dirty water dog at the cafe in a car wash. I wanted food. I wanted to see what San Miguel might have to offer. So I decided to wait until the central plaza and then take a different approach.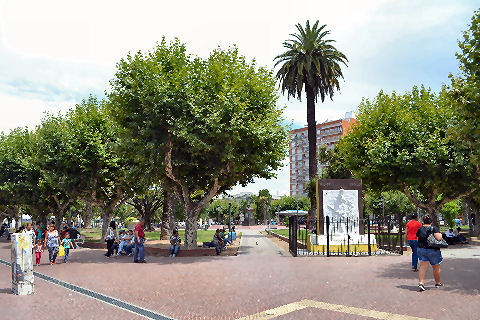 Plaza San Miguel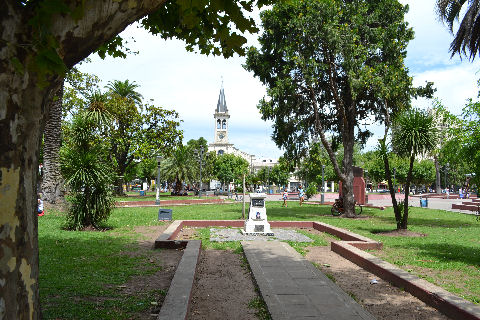 As in most cities in Latin America, the plaza is home to the town's main church, likewise named San Miguel.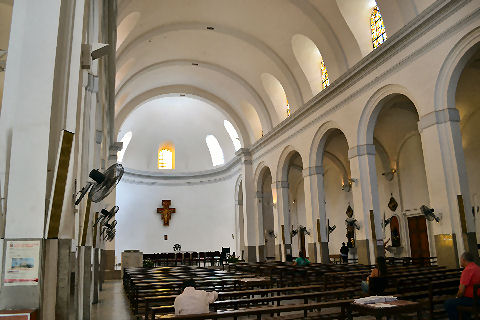 For a city, this is a surprisingly unadorned Catholic church.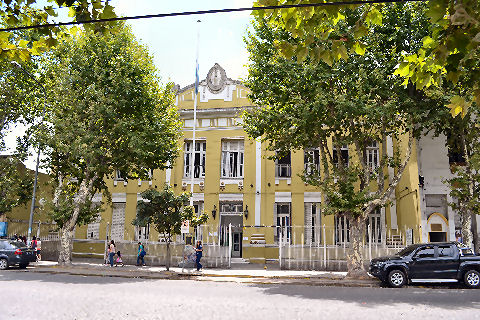 Town hall.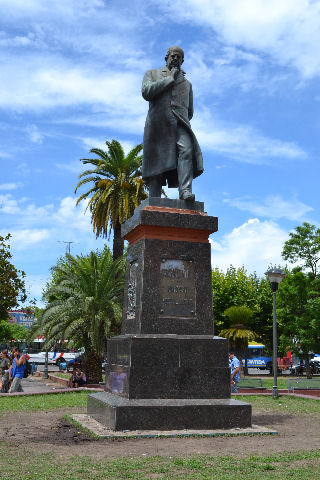 Another surprise, perhaps, I expected that the central statue in the plaza would turn out to be Saint Michael, or perhaps "El Libertador", San Martin, but, it's our old pal Domingo Faustino Sarmiento, seventh president of Argentina, probably best known as the leader under whom the public education and library systems, inclusive of women, were created, and modernizing the postal and train systems.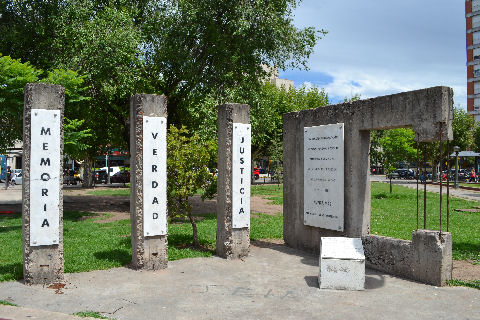 There are some other scattered smaller statues and such, the only other major one being a memorial for those lost during the military dictatorship era.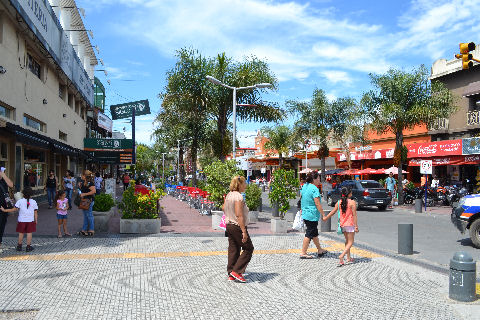 The streets leading away from the plaza are all pretty commercial. At this point I turned to Foursquare for recommendations. The top stuff in San Miguel all involved getting myself to a completely other part of town, some five miles away, so I narrowed it down to the best stuff within a few blocks walk.
And strolled my way over to La Positiva, Belgrano 980, where several folk swore by the food in general, and the lomo en roquefort in particular. Though the listing for the place is a "gastropub", which to me suggests something a bit more modern than this, so I was expecting something less traditional, I liked the feel of the place. The lighting sucks – all yellow shaded lamps – I should have used my flash for the food photos, this is the best I could adjust them. I went with one semi-random element, I left the appetizer choice up to my waiter, between a selection of three that sounded most interesting, and he brought me a half portion of lengua a la vinagreta – actually I'd venture to say the best veal tongue in vinaigrette I've tried in Argentina. And, the sirloin was so tender that I didn't need a knife to cut it – cooked just shy of medium – and the sauce, indeed, delicious! Even really good fries. Not cheap for a small town place – these two plates and a bottle of water ran 231 pesos, plus tip.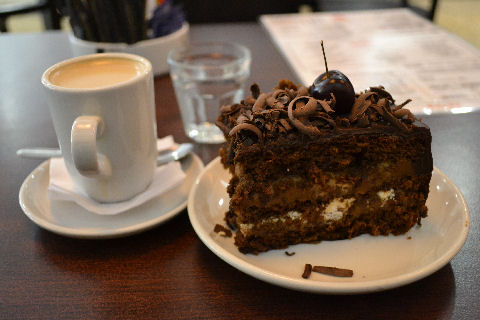 Now, the other recommendation that popped up repeatedly was for Vattel, a small cafe and pastry shop just a block or so away at Charlone 1118, where apparently the lemon pie is one that could have you crying for your mama it's so good. Even a cute waiter who flirted madly. I ordered up my lemon pie and a coffee, and got this. Why? Because they were out of lemon pie, actually, they were out of all pastries by the piece except three – a white cake, a black forest cake, and this, the torta brillante – a layered thing of chocolate cake, dulce de leche, whipped cream, and god only knows what else. He thought I'd like it. I did, but it was just overwhelming, and not quite what I'd set my tastebuds towards. Ah well, decent cake, okay coffee. Perhaps some day I'll revisit San Miguel and try the lemon pie.
And, it turned out that there's a second train line that runs through San Miguel, the San Martin line, and it runs just a block or so from the plaza, so rather than walking all the way back to General Lemos station, I hopped this one, and got a different scenic view on the way back.