We all have days or weeks when we're not feeling overly creative, the cook's equivalent of writer's block, and sometimes, we just kind of run out of new ideas. At that point, we can either force our way through it all, or, I find that what often works best is to fall back on things that already work, and build, incrementally, from there. At some point, something new, a tangent, a tweak, a twist, will generally pop to mind and away we go once again.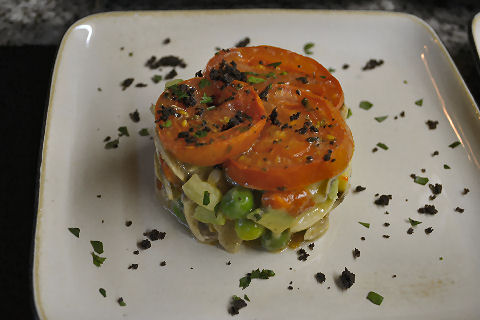 Sometimes it's just a different way of plating something. This is our vegetables a la tahitienne, which in the past I first plated up in a sundae cup: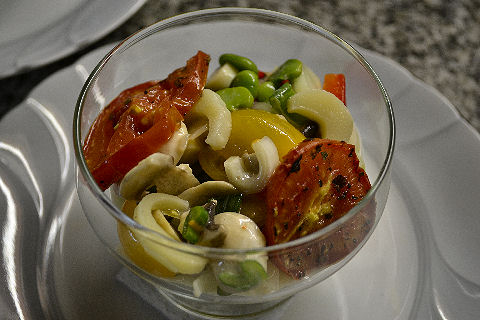 and then laid out along a plate: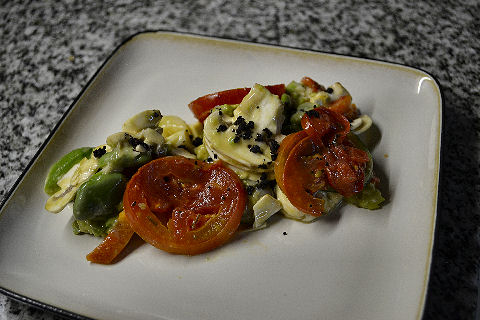 Suddenly, putting it up in a ring mold, even if a bit retro, seemed like the right thing to do, and I really like the way it works out.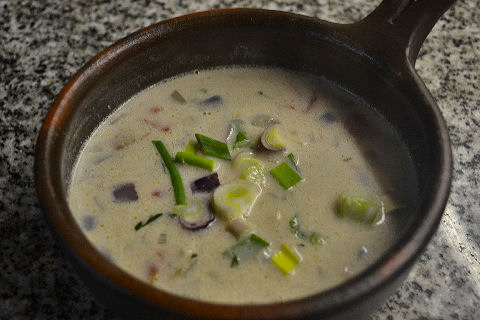 Sometimes there's just no reason to change anything, and our caldillo de congrio, our version of what is essentially a Chilean seafood chowder, is one of those.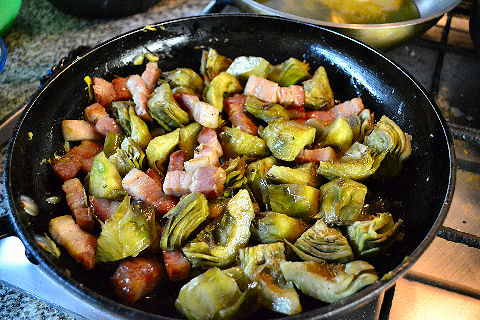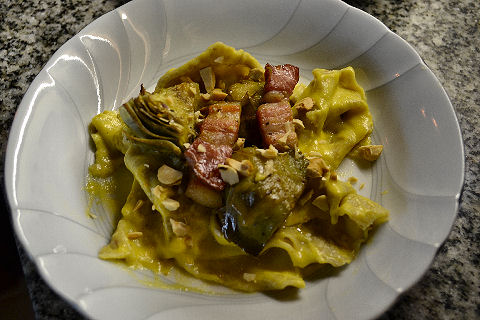 Artichokes just popped into season and I was thinking of preparing them escabeche but had the thought it would be fun to turn them into a pasta course. So I sauteed them up with pancetta lardons, bay leaf and garlic and then spooned them over the top of freshly made langanelli (a somewhat irregular rhombus or trapezoid kinda sorta shaped whole wheat pasta) that were tossed with a cauliflower huancaina sauce – the only differences from the traditional sauce is that I simmer a small head of cauliflower in with the chilies and that becomes part of the puree – I end up using less milk, and it generally doesn't need the bread to thicken it, and I used cashews in place of the walnuts. A little sprinkle of chopped toasted cashews completes the dish. A nice hearty dish for the chillier days we are having. Not the prettiest plate in the book, but not everything needs to be pretty.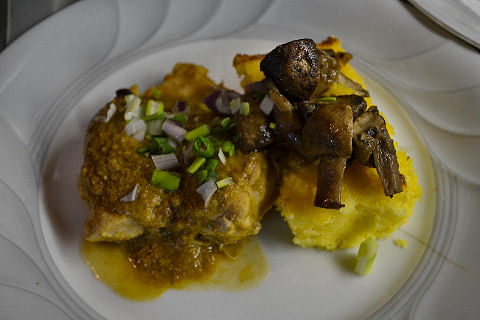 Sometimes it's a decision of what to "garnish" a dish with, not so much the sprig of parsley sort of garnish, but what the vegetable or starch is that will accompany the main component. Our pepian de pollo, chicken cooked in a spicy pumpkin seed sauce, has gone through a couple of iterations, first served over wheatberries tossed with yogurt and coffee roasted carrots: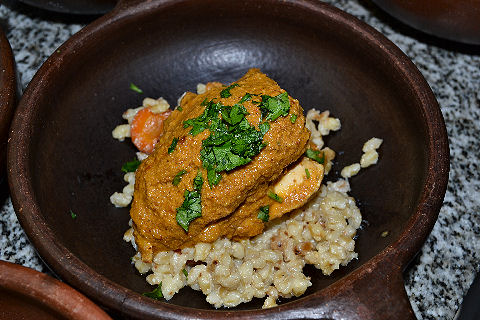 and then a trio of pea preparations: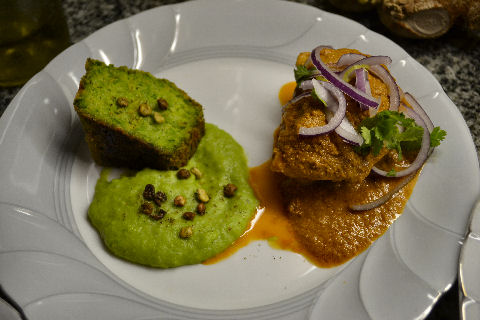 Now, there's certainly some nice color with the peas three ways, but I'd just given a class a week or two ago on working with different grains – risotto, polenta, wheatberries – and the creamy baked polenta with spicy mushrooms that we'd prepared was in the back of my mind, and I thought that it would make a great accompaniment to the chicken. And, it does, if taking away a bit from the colors of the other two presentations. To be played with. And Henry wants me to work on a Peruvian pepian sauce, which is quite different from the Mexican. Down the line….
"Pumpkin cheesecake?!?!?" You'd have thought I'd proposed some sort of bizarre offal dish from the reactions that I got on the various dinners. The concept seemed to mystify more people than I'd have thought possible. To me it doesn't even sound strange – I mean, we have pumpkin pies and we have cheesecakes and the twain have met long before me. And we've made this dish before. Espresso shortbread crust, pumpkin cinnamon cheesecake filling, dark chocolate ginger ganache, reduction of malbec port spiced up with some espresso and chocolate. Toasted almonds. It works. And it worked for all the surprised folk too.