Roundup of last week's dinners, with two new sauces (and dishes) coming on strong, lots of compliments on both!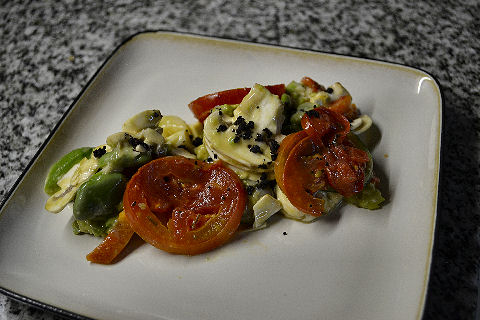 Just a replating of our vegetables "a la tahitienne" (roasted garlic and coconut vinaigrette), spread out a bit on a plate rather than in a sundae cup. One night gave a shot at some savory coconut tuiles atop, thinking to add some crunchy texture, but they just didn't quite do it for me and sucked up vinaigrette like wicks and went soft almost immediately – of course it doesn't help that the weather's been so humid this summer. Put a little black olive crumble on it the rest of the nights which I think gave a touch of texture and also some nice additional complexity.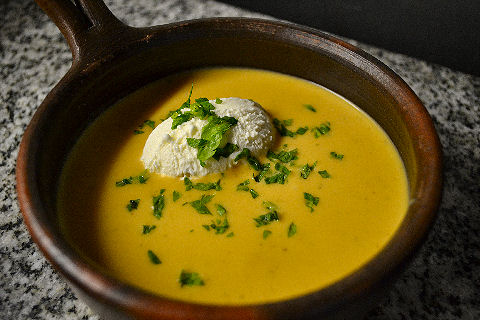 Chilled cream of tomato soup spiked with a little gin. Decided that since I was offering it up chilled this time around, to add in one of our savory gelatos, and black pepper seemed a perfect combination.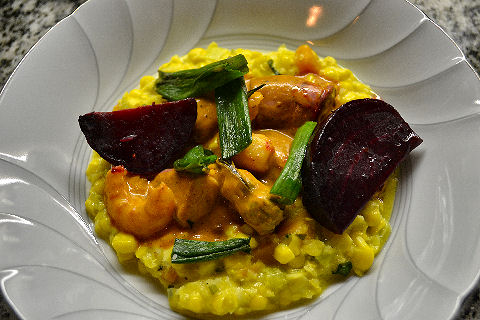 Made the marinade/sauce that we typically use for making anticuchos, a mix of both ajíes mirasol and panko, the dried red and yellow Peruvian chilies, garlic, cumin, salt, pepper, red wine vinegar, fish stock, cooked it all together, pureed it, strained it, thickened it with xanthan gum. Then tossed it with sauteed shrimp, mussels, and Humboldt squid tentacles (the last had been parboiled with a mix of spices). Served over humita en la olla, a mix of stewed corn, squash, chilies, green onions and cheese; and some roasted beet wedges. Henry liked the anticuchos part but wants his tradition with some rice or potatoes, of course. On the other hand, this was the favorite dish of at least half a dozen folk who made a point to tell me about it. And, it was my favorite dish too.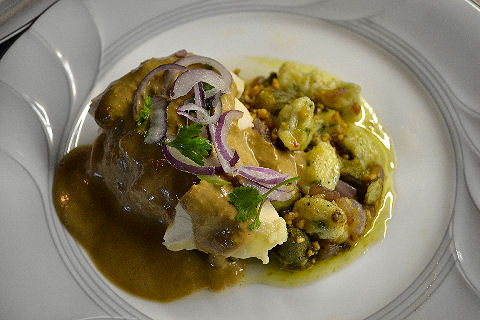 Second new sauce, started with the idea of playing around with a traditional Peruvian or Bolivian pollo con salsa de maní, chicken in peanut sauce, combined with a bit of influence from a traditional satay sauce. So a blend of peanut butter, soy, rocoto chilies, brown sugar, lime juice, rice wine vinegar, ginger, lemongrass, garlic and just enough water to smooth it out, then thickened with a touch of cornstarch. Served over chicken breast that was poached on the bone in a fennel stock (fennel, star anise, rosemary). Removed it from the bone, sliced it, gave it a quick reheat in the stock. Accompanied by a saute of roasted okra, cilantro dumplings (basically spaetzle with cilantro instead of parsley), crushed peanuts, ginger, garlic, red onions, ají limo (the little hot chilies from the north) and cumin, and garnished with a salad of cilantro, red onion, and blanched lime zest. Actually, my favorite part of the whole meal was just the okra saute on its own!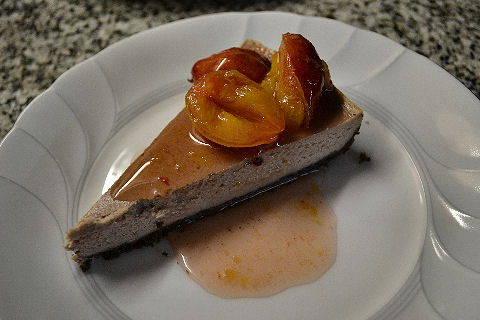 Carob cheesecake, cocoa crust, yellow and red honey plums cooked in syrup.
And that's all the news that's fit to print today.