Day 3 was the lightest in terms of number of places, but perhaps the most food overall. Met up with a wine importer friend at Le Philosophe, 55 Bond St, for a bit of a French bistro lunch. [Closed]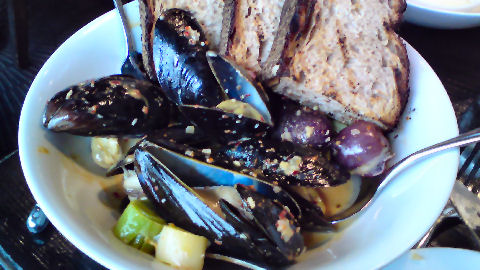 Custom and recommendations dictated that we start with a plate of fresh radishes with mustard butter and sea salt – a bit of a meh – the radishes not quite as cold and crisp as we'd have liked, and wayyyyyy too much ice cold butter on the plate – soften it up a bit first, ya know? On to a classic roasted bone marrow plate, as spectacular as we'd heard, a great bowl of really delicious, plump mussels in a slightly spicy citrus cream with leeks and new potatoes, and finally their noted "Amish chicken" which was decent but not great – the skin wasn't crispy and it was just a breast sitting on top of a large pile of arugula with a citrus vinaigrette and a few slices of an orange – and it also just paled completely in contrast to the amazing roast chicken from Calliope (previous post).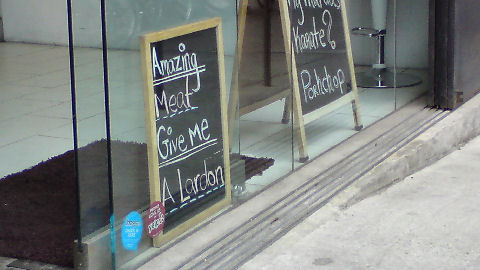 Next door a small butcher shop "Japanese Meats" – with some cute signs in the window.
Then a glass of wine at Cookshop in the early evening followed by a late eve meetup with one of my dearest friends in town, and we headed to Wong, 7 Cornelia St, where chef, owner, and friend Simpson Wong treated the two of us a to an eight course tasting menu. All good, some of it… unusual (despite the raves it's received, and although I'm happy to have tried it, once, roast duck ice cream is not going on my list of faves). I have to say, though, that through his various spots that he's opened my favorite for both food and ambiance remains Cafe Asean. [Closed]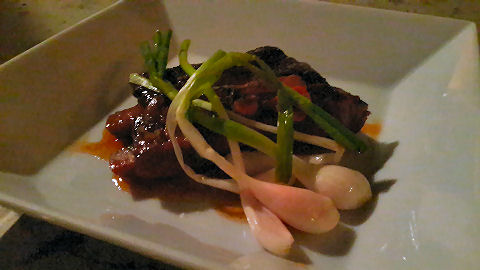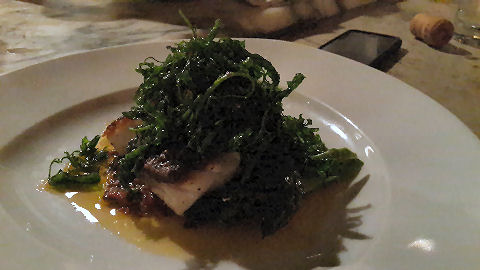 Standouts of the tasting were the garlicky and sticky smoked spareribs and the just perfectly cooked wild striped bass over a tomato and garlic jam of sorts and topped with crispy fried kale. We also enjoyed some lovely tempura soft shell crabs, a bit of braised pork belly, some shrimp and sweet potato fritters, lobster egg fu yung, and another that I'm drawing a blank on at the moment.