The dream continues with the next couple of pizzas along the route of the 92 bus. The story at the link above. And, thankfully, a step above the two pizzerias checked out in round 1.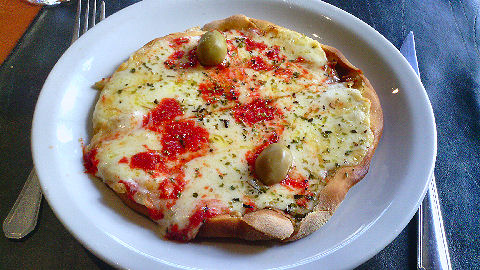 Just a block further on, a spot I've been to before about five years ago, Caballito, Av. Las Heras 2999. Much the same notes as I had then. The individual size pizza is still one of the smallest I've encountered, anywhere, by about an inch or more of diameter, which takes out a whole lot of surface area. The dough, still tasty, the sauce, I just wish there was more of it as it really is quite good – you can see, they just sort of drizzle a little on top of the cheese rather than spreading it on the dough underneath. The cheese is decent if a little oilier than I prefer, the olives have pits, which I hate, but they are good olives. And a little mix of dried herbs on top, not just oregano, which added to the flavor. So overall, not bad at all. They have a lunch special of a plain pizza, an empanada of your choice and a beverage for the same as the a la carte price of the pizza and about half the beverage, unfortunately not an option for one of the non-plain pizzas – I really did like that calabrese the first time I went.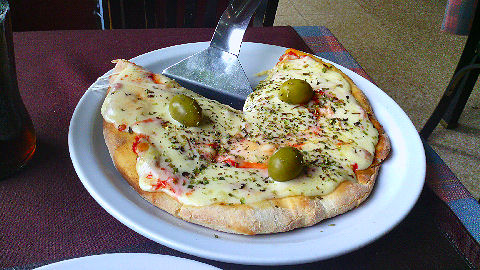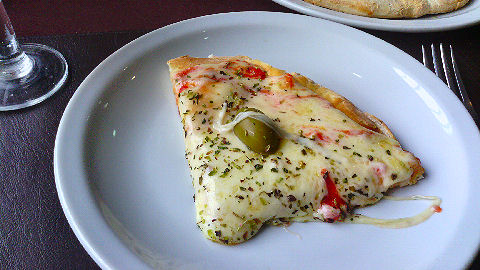 A few blocks further along Las Heras at #3293 is Plaza Pizza. A cute little place though it has seen better days (one hopes). A nice selection of pizzas available and, as above, a lunch special of a plain pizza with beverage (no empanada and it only saves you one peso over the a la carte price, so not exactly a bargain). The dough, nice an crispy, but pretty bland, as was the bare whisper of sauce that just blushes over the dough. A decent amount of cheese and it was pretty good quality, actually it was the best thing about the pizza. The olives have pits and were just kind of average quality. It was, well, just acceptable. Nothing to see here, let's move along….
[Edit: Oops. Not paying attention, walked right past a turn on the route of the 92, so this pizzeria, and the two slated to follow it that we'd already checked out, aren't actually on the route and don't count towards our 92 pizzas. We'll make them 3a, 3b and 3c, just for the heck of it, the last two in a post coming up. Ah well. Extra pizza. Whatayagonnadoaboudit?]
4 3 down. 88 89 to go.