It's been six years since I reviewed Lola, at the corner of Guido and Junín in Recoleta, 4804-5959. Not that I haven't been back, but I've not been back for a real meal in all that time. I talked about how much I liked the steak tartare, it really is about as good as it gets, and every now and again I simply plop myself down at a table order one with a glass of wine and just relax for a bit. But the other day I thought it might be time for a nice re-review, and so I headed over one day for lunch, outside in the beautiful weather. [Closed at beginning of June 2013]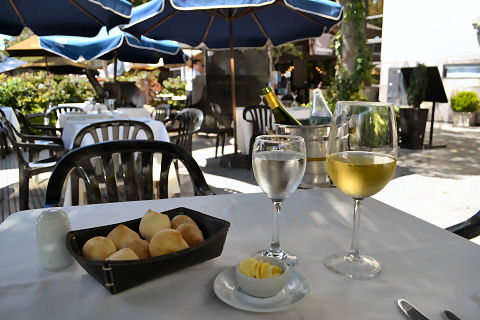 So first off, as long as it's a beautiful day, it's a great place to sit outside and dine – as are many of the spots along the Junín strip of Village Recoleta. A basket of some decent breads, nice soft butter, and a glass of Chardonnay – though the house wines are the Postales line from Bodega del Fin del Mundo (a kind of cheap-o option for a place of this caliber), my waiter said that he'd be happy to open a bottle of the Fin del Mundo Chardonnay reserva and offered me a glass at the same price (only 16 pesos!) – I doubt that's an all the time occurence, but it was a nice plus. Oh, and as I mentioned in my recent review of Chila, as soon as I finished my appetizer, the waiter started to remove the bread and butter – but at least had the sense to ask as he started to, I asked him to leave it and he did. I still don't get what that's all about.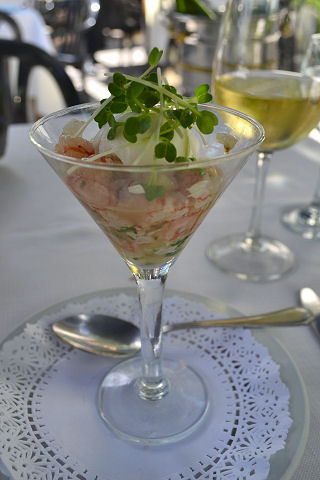 I intentionally wasn't going to order the steak tartare this time, and the ceviche caught my eye – not a particularly French dish, but it sounded interesting. Freshwater lobster, a mix of prawns and sweet shrimp, in a good ceviche "broth", though it could have used a little more picante (the radish sprouts helped a bit with that), and a really nice touch of a vodka sorbet mixed through that not only kept it well chilled but added a really tasty note to the dish.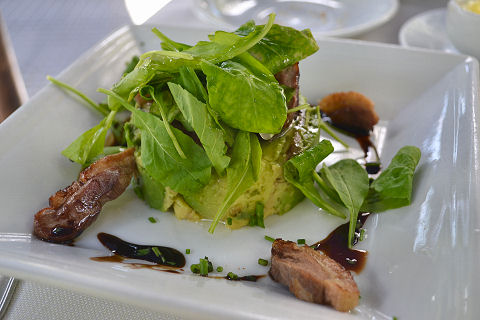 A smoked duck salad, two different cuts of the duck, the breast and the thigh, served with arugula and avocado – perhaps a bit too much avocado for an appetizer, had to be somewhere between 1½ and 2 whole avocados – would have liked a little more duck and a little less of that. But absolutely delicious.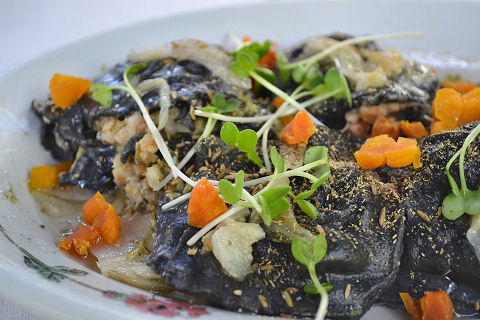 The spider crab raviolones also caught my eye. An abundant portion, no question. And great flavor, packed with fresh crabmeat, herbs, spices – really incredibly well seasoned – tasted actually like the classic Indian seven-spice mixture. The squid ink pasta was a nice touch both for color and a touch of bitterness to balance the sweetness of the crab. The pasta was a little thick and very slightly under cooked, not so much as to be a problem, but enough to be noticeable, and as you can see, the raviolones all burst open in the cooking process. Though, they didn't taste watery, so I'm almost wondering if, simply for aesthetic presentation of color, the kitchen intentionally breaks them all open after they're out of the pasta water, they were pretty evenly broken open. Regardless, fantastic dish.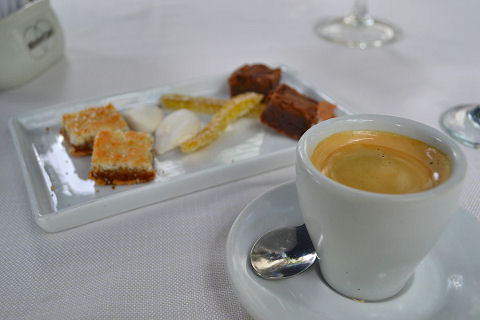 Who needs to order dessert when the coffee, which is pretty decent, is accompanied by an octet of petits fours? That's more than enough sweet stuff for me, especially after two apps and a main.
Overall, still Highly Recommended. And, given that it's been six years since that first review, the pricing hasn't gone up by the extraordinary amount that some of the places I've been to and written about have (check out my note on, for example, a recent visit to Cheff Iusef) – pricing for a three course meal for one is probably running about 250-300 pesos now with a glass of wine and a bottle of water, roughly 2½-3 times what it was then, actually a lower increase than what inflation has been.