"The more things change, the more they stay the same."

– French proverb
Early this year I was sad to have a couple of conversations with friend and colleague Kevin Rodriguez as he was going through the throes of closing up shop at Empire Thai, until that point my favorite southeast Asian spot here in town. As to the whys and wherefores, I leave that for Kevin to tell his tale – the rumors that float around the expat community whenever there's even an inkling of something to gossip about are legion – we just went through a couple of weeks of twitter and facebook and forum notes about the demise of Randall's, the greasy spoon diner gem that I reviewed not long ago, along with vast amounts of theorizing as to what had happened – to paraphrase Mark Twain, the reports of its passing are much exaggerated – they did change their open hours. So I've heard a good number of stories about the closing of E.T., ranging from plausible to laughable, and none of them bear repeating. Empire Thai is gone, and in its place, under new ownership that apparently includes some of the former employees, is Kaffir Thai – all the rest of the info stays the same – Tres Sargentos 427 in Microcentro, 4312-5706. [Closed in 2016]
And little else has changed. Though I'm not great on the whole aesthetic thing, I don't think anything in the decor has changed, the tables are still in the same spot, the bar is still well stocked – perhaps fewer vodkas in the collection, one of Kevin's passions. I don't recognize any of the waitstaff, and given that while friendly and pretty, the old waiters who were there tended to be among the least attentive that I'd ever encountered, even in this city where that can be an issue at some restaurants, that may be a good thing. The folk who are "working the floor" now seem to be far more cognizant of what's going on at the tables in their care. The menu, while not the same, is awfully similar – I suppose if the chef is the same, as was implied to me, that not a huge difference would be expected. There are a few new items that I don't recall from the old menu, and surprisingly prices seem to be the same or possibly even slightly less, but other than that, not much seems to have changed.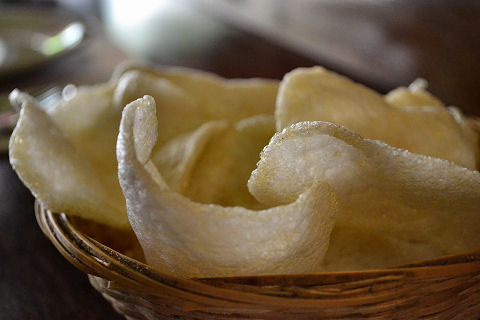 One of the things I liked right off the bat at the new K.T. (it just doesn't have the same ring as E.T., does it?) is that there's seating at the bar – I don't think that was available before, though I may be mis-remembering. Baskets of prawn crackers, a nice sweet and spicy dipping sauce (a little more spicy please) – I can go through a basket of those on my own just while perusing the menu.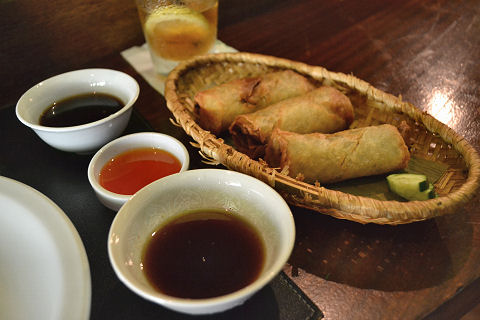 The
pho pia mitr
are a great vegetarian option on the menu – delicious springrolls, packed with mushrooms, cabbage and herbs, the crust perfectly crispy and not at all oily. I like that there's a trio of dipping sauces – tamarind, chili oil, and a garlic infused soy – really nice touch. Oh, and great brewed iced tea, brewed and then iced to order, and with a shot of kaffir lime syrup to sweeten to your own tastes.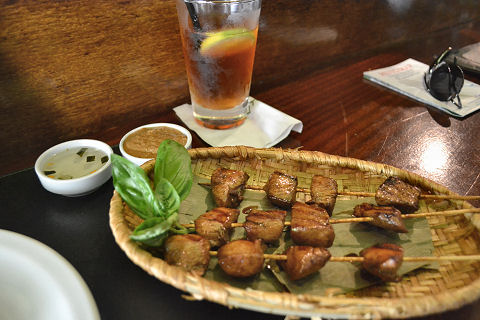 The
satay
hasn't really changed as best I can tell. It's still just a wisp too salty for my tastes, though once dipped in either the spicy vinegar or the good (but not so spicy) peanut sauce, that's toned down a bit. Not my favorite just because of the salt, but that's more personal taste.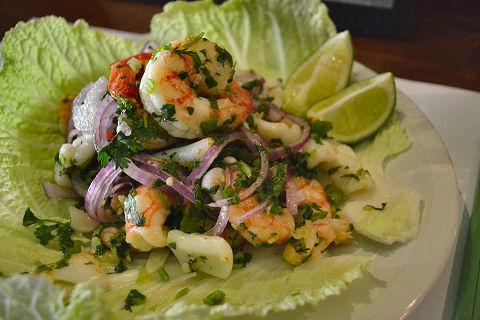 There's a nice selection of fresh Thai salads on the menu that I don't recall from before. This is my favorite dish so far at K.T.,
Yum Talay
, a fresh mixed seafood salad with plenty of plump, juicy prawns and calamari in a nicely chili-spiked lime and cilantro sauce with toasted peanuts and red onions. I could easily have that for lunch almost any day.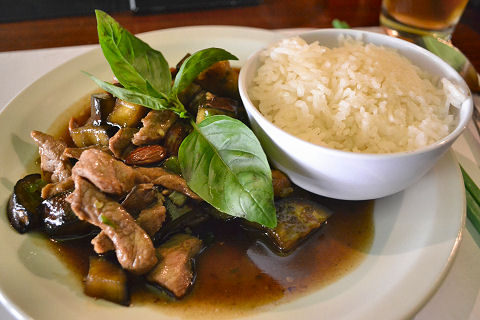 The spicy pork with almonds stir-fry was good but could easily have been spicier. I'd asked for it "bien picante" and there were maybe three or four slivers of chili mixed into the sauce. On the other hand it was nicely aromatic, packed with basil, and not overly sweet, and I certainly didn't leave behind a single bite.
Overall, same high marks for ambiance. Better service than before, plus I like the bar for solo dining. Prices that seemed excessive a year ago now seem more or less the norm for the area – you can have an appetizer, a main course, something to drink, and it will come out around 100 pesos – oh, one big plus (unless it's just at the bar), there no longer is a servicio de mesa charge – I didn't see one listed on the menu either, which it normally is – that drops 12 pesos/person off the tab right there. Food is good, could still use some spicier options, but that's typical here in BA. Recommended.