One of the common refrains from visitors is to marvel at how cheap things in Buenos Aires "are". Though, that's been changing, and more and more I hear from people who are surprised it's not really so cheap anymore.
Taxi fares just went up by 26% this week to a base of ar$7.80 with .78 per ⅕ of a kilometer, the 10th increase in just over 7 years, all of them ranging from about 20-30% – needless to say, far more expensive than it used to be (when I arrived here in early 2005 the fares were ar$1.20 + .12 per ⅕km, or ⅙ of the current price). This little chart compares Buenos Aires and New York City fares under the new rates, in both dollars and pesos…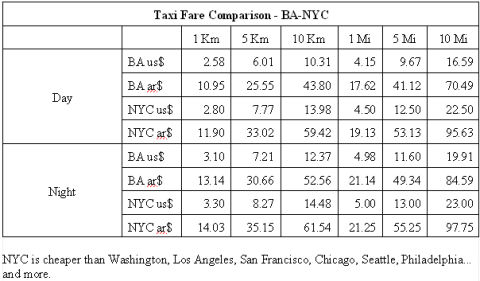 …although the difference increases with distance, for shorter trips the fares are not really all that different. As metropolitan cities go, NYC's cab rates are lower than many others in the U.S., and significantly lower than rates in most European capitals, but it makes the point.
And, with federal transit subsidies for the subway and bus system due to end here as of March 1, 2012, estimates are ranging of new fares of anywhere from 3-5 pesos per ride to go into effect. We shall see – but this is echoing the increases in prices we're seeing in other sectors like restaurants, hotels, and shopping.