"All human actions have one or more of these seven causes: chance, nature, compulsions, habit, reason, passion and desire."

– Aristotle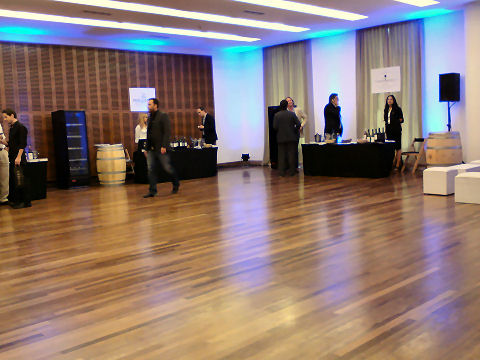 I had the fortune, or so it seemed at the time, to be invited to an "exclusive" presentation and tasting of the new releases of Clos de los Siete and its associated wines – this is the wine group for which Michel Rolland is both partner and consulting winemaker. The hours were quite specified – 1pm until 3pm. I envisioned a sit-down layout with a few dozen people in the wine trade – journalists and sommeliers – a chance to, perhaps, be guided through the details of each of their new wines, be able to ask questions, etc., etc. Not so much. It was in some ways a typical wine trade tasting, with a half dozen tables setup with the wines displayed, a rep from each of the wineries behind the table, ostensibly to answer questions, and someone from one of the local sommelier schools pouring tastes. On arrival I still expected something oriented towards wine professionals, but I was there right at the start – within a half hour the place was jammed with what I presume were the wineries' customers from their mailing lists, swilling glasses as fast as possible, pretty much just getting blitzed on their lunch hours. I think I saw no more than half a dozen people from the trade that I recognized and given the shoving matches at some of the tables to get glasses refilled, and the lack of… spitting… I'd guess that very few were there.
There were also rules, or at least an order of sorts – during the hour I was there we were only allowed to taste the Argentine reds. At some point a signal was to be given to the tables that they could then offer tastes of the associated French reds, and then at some point after that, the Argentine whites and roses. Given that half the time had elapsed and those of us who'd been there since the beginning were standing around waiting, or reaching the too tipsy point, with no sign that anything was soon to change, I gave up and left after just the local reds and talking one rep into popping a bottle of a rose.
All that aside, I was there to taste the wines and managed to make my way through all the Argentine reds, and that's the most important part, right? Except for the Yacochuya all the wines are produced in Mendoza. US prices are estimates based on online search, local BA prices from the corner store near me on the ones they carry. In order of tasting:
Diamandes de Uco Malbec 2010 – Although asserted to be 100% Malbec by the sommelier student pouring the wine, according to the tech sheet on the winery's website, it's 90% Malbec, 5% Cabernet Sauvignon, 3% Syrah and 2% Petite Verdot, aged 12 months in French oak, half of which is new each year. 80,000 bottles produced. On the nose, red plums and naugahyde, a strange sort of aroma to get in a wine from this region. Good acidity and very drying tannins upfront with prominent oak. Lots of fruit, a long finish that picked up another odd note, of toffee, though most of the finish was just acidity. The wine is too young to even be presented let alone being sold (which it is, for around us$19-20/ar$?), and while there was something intriguing about it, I'd want to retaste it in a year before thinking about recommending it or not. In limbo.
Diamandes de Uco Gran Reserva 2008 – 75% Malbec and 25% Cabernet Sauvignon, aged 24 months in French oak, 70% of which is new each year. Dark plum, leather and floral on the nose. Good acidity upfront, dry but relatively soft tannins. Really nice depth and balance, the oak well integrated. Plenty of fruit. Long finish, again showing a fair amount of acidity, but not overwhelming. Really excellent wine and worth the splurge at us$35-40, ar$150.
Mariflor Malbec 2010 – I believe this is 100% Malbec, though on the Rolland Collection website, the link to the wine's technical specs is broken. Nice classic notes of blue plums and violets on the nose. Disappointing on the palate with flabby lack of acidity and dry tannins. There was plenty of fruit flavor but it just fell flat without the structure to back it up. A bit more acidity towards the short finish, but not enough to carry the wine. For me, the us$20-25/ar$120 price tag isn't justified.
Val de Flores 2006 – 100% Malbec. On the nose and over-the-top presence of oak and vanilla with a decent hint of dark plum and blueberry behind it. Good acidity and soft tannins on the palate, but again the vanilla and oak dominated the fruit. Long finish, all oak and acidity. Given that the wine is already five years old I'd have expected it to be far better integrated, so I'm left a bit disappointed, particularly for a wine that tops us$50/ar$? in price.
Yacochuya 2005 – My first impression of this Malbec from Cafayate, Salta, was one of dust – but not in a bad way, it was just this very immediate sort of sense of being out in the open air, in the hills, with the smell of windblown earth in the air. A fair amount of black fruit backs it up, though there was an odd hint of rubber band in the nose too. Medium-high acidity, soft tannins, well integrated oak, really well balanced all around. Flavors of black fruit and tar dominate the palate with a slightly bitter dark chocolate finish that wasn't as long as I expected it to be, but was perfectly respectable. Even at six years, I think this wine is a trifle young, and while perfectly drinkable could probably benefit from another year or so to really come into its own. Certainly a better choice at that us$50/ar$265 price point than the wine above.
Clos de los Siete 2009 – Ostensibly the star of the show, the reason we were there, the new release of this wine. Given the build-up, could any wine have lived up to it? Nah, there was no build up – other than having the star position in the room, nothing in particular made note of this wine. It's a blend of 57% Malbec, 25% Merlot, 15%, Cabernet Sauvignon, 3% Petite Verdot and 1% Syrah (yes, that adds up to 101%, but rounding and all that). I have no idea why, but the wine was being served ice cold from an ice bucket. As such it was so muted that the only thing that came through was a bit of red plum in the nose – I hung around and did my best to warm it in the glass, but after about five minutes it was still beyond refrigerator cold, so I gave up. Perhaps I should have gone back later and re-tried it at the end, just letting it sit out in the glass for a bit, but I didn't. So, overall not a real favorable impression – red plums, searingly high acidity (though that was likely because it was so out of balance with the temperature), dry tannins, and a short finish. I'd guess it's way too young to be open, but then again, it's not the high-end of the group's wines, coming in between us$15-20/ar$81 in price. Still, I'd want to try it at room or cellar temp again to be able to rate it.
Bodega Monteviejo "Petite Fleur" 2009 – Lots of blue plums on the nose with just a hint of floral character. I found it to be very acidic with dry tannins, and lacking in weight – if we can talk about a wine's depth, this wine needs to be talked about in terms of its shallows. Short finish with acidity and red fruit. I've had past vintages of this wine and been far more impressed, so a disappointment all around, particularly at us$20/ar$85 price tag.
Bodega Monteviejo "Calypso" Malbec 2009 – 100% Malbec, 12 months in oak. I have to say, this new wine line from Monteviejo completely blew me away and in many ways was the star of the show. A couple of the high-end wines were certainly better in overall quality, but have to be balanced against their price points. Packed with blue plum and violet, it has a classic Malbec nose. Medium-high acidity, soft tannins, well-integrated oak, great balance, and, quite decent depth. At a us$20-25/ar$85 price, it's well worth it.
Bodega Monteviejo "Monteviejo" 2006 – 60% Malbec, 20% Syrah, 10% Merlot, and 10% Cabernet Sauvignon aged for 16 months in new French oak. The flagship of the Monteviejo line. A bit too young to be out of the box, with a very closed nose, high acidity on the palate, very drying tannins and a short finish. The fruit, a mishmash of dark fruits like blueberry, black cherry and black plum, with a touch of graphite and licorice, was just too muted to be of any great interest. Try again in a year, I have the feeling it will develop quite well, but at us$35-40/ar$128 right now, it's just not ready to drink.
Bodega Monteviejo "Lindaflor" 2007 – 100% Malbec. Again, being shown too young, but better than the preceding wine. Black fruit and tar on the nose, fairly high acidity on the palate with dry tannins, though the soft oak is integrated nicely. It needs a little time to smooth out but is already drinking well – maybe another six months. At around us$30/ar$? a bottle it's currently a better choice than the Monteviejo itself, though I liked the Calypso better for around $5-10 less.
Cuvelier Los Andes "Colección" Merlot 2010 – 100% Merlot, 60% of the wine is aged in French oak for 11 months, the other 40% in tank. I think this is the winery's first release of a varietal Merlot, and it's an impressive one – I'm not usually much of an Argentine Merlot fan, the grape doesn't seem to take well to the terroir. Packed with raspberry and strawberry fruit aromas, lots of floral notes. Medium-high acidity, soft tannins, well balanced, good depth, and a long finish, and all those fruit and floral flavors carry through the entire length of the wine. For around us$15-20/ar$95 I think it's a great value.
Cuvelier Los Andes "Colección" Cabernet Sauvignon 2010 – 100% Cabernet Sauvignon, 60% of the wine is aged in French oak for 11 months, the other 40% in tank. Really classic – cassis and graphite and green leafy notes on the nose. Medium high acidity and soft tannins on the palate with great balance and great fruit. Long finish. It paled only in comparison to how good the Merlot was and is likewise a great value at us$15-20/ar$95.
Cuvelier Los Andes "Colección" Malbec 2010 – 100% Malbec, 60% of the wine is aged in French oak for 11 months, the other 40% in tank. Here, I ran into a problem. The bottle was simply off – the wine was visibly bubbling in the glass, and tasted sour, sharp, and, well, bubbling away. I pointed it out to the sommelier student pouring, she tasted and agreed and went to get another bottle, however, stopped to say something to the winery rep who was there. Now, I don't know who he was, or what his qualifications were, but he was blatantly rude – starting off with, more or less, "we don't have bad bottles of our wines" (everyone does, get over yourself), and then when I tried to press the point, responded with a sneered "this wine is perfect the way it is – where are you from?" – an unfortunately common experience I find here in Argentina if I don't happen to like some local product, as if my place of origin will automatically disqualify me from understanding. I unfortunately snapped back at him at which point he turned away and ignored me. Calming down I tasted through the rest of their wines, but, I can only go by his assertion that the wine was perfect as is – as such, it's easily the worst wine Cuvelier los Andes has ever produced, and one of the worst Malbecs I've tried anywhere. I don't really believe that, but without a good bottle to taste, it's all I can give you.
Cuvelier Los Andes "Colección" Blend 2008 – 60% Malbec, 15% Cabernet Sauvignon, 15% Merlot, 5% Syrah, 5% Petit Verdot, 60% of the wine is aged in French oak for 12 months, the other 40% in tank. A really nice mix of black fruit aromas on the nose, ranging from cassis to blue plum to blackberry and blueberry, plus a strong whiff of chocolate. On the palate medium acidity, soft tannins, well integrated oak, and a good carry through of all the aromas. Medium length finish. An absolutely delicious wine that I'd be thrilled to drink again. Running in the same price range of just under us$20/ar$114, this is spectacular.
Cuvelier Los Andes Gran Vin 2007 – 73% Malbec, 19% Cabernet Sauvignon, 8% Merlot aged in French oak for 18 months. Dark fruit and chocolate notes on the nose. Medium acidity, soft tannins, well balanced, good depth of fruit, long finish. In character very much like the Blend above, but with just more oomph added to every note. Running more around the us$30-35/ar$252 range (quite a disparity!) it was probably my favorite wine overall of the tasting, though edging up there a little in price – still, a nice treat.
L'Argentin de Malartic Rosé 2011 – 90% Malbec, 10% Cabernet Sauvignon. I was able to get one of the winery reps to open this bottle and grab a taste before he got caught and had to put it away again – so as I said earlier, I didn't get to the whites, nor the French reds – not that there were many of either. Very minerally style rosé with lots of red fruit and wet stone on the nose, medium acidity, soft fruit notes on the palate, a medium finish. It's a wine I've liked quite a bit in past vintages and used here at Casa S for several dinners. One of the country's pricier rosés it still comes in at under us$10/ar$40 a bottle and is a fantastic value for summer drinking.