"I have a deep feeling for Kashmir, and I just had to write this book, … [But] it's very hard to write about real events. It becomes unbearable. The challenge in writing this book was: how do you write about these things bearably without sweetening the pill?"

– Salman Rushdie, author
Just over a year ago I made friends with a visitor from NYC who connected with me through our mutual eye doctor back there. He came to dinner, we got to chatting a bit, we've maintained an on and off correspondence, he joined me on my foray out to 4 Course Vegan when I was back in the Big Apple in April. While he was here, he mentioned that he'd spotted an Indian restaurant near to his hotel, on Córdoba, but didn't have time to check it out, and was wondering what I thought of it – he's Indian, and vegetarian, and I'd already lamented the lack of good places to eat that combined the two since Namaska closed. I hadn't known about it, and wandered by shortly after he left town, at that point it didn't appear open, with building permits still in the window and peering through to see that not everything was setup.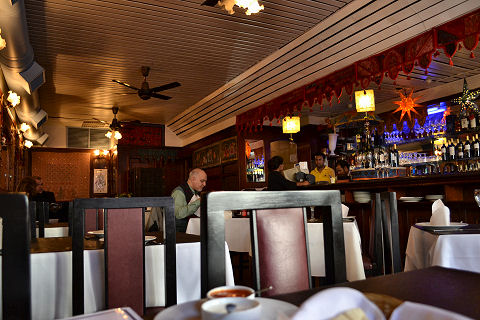 For whatever reason, though I've passed by it numerous times, I've simply passed it by until this week when I met up there for lunch with one of my regular dining companions at Delhi Mahal, Córdoba 1147, Centro, 4894-0778. I like the space, it's a comfortable, pretty room. The lone waitress greeted me cheerfully on entering and did the same for my friend when he arrived. At the height of lunch hour it was a bit sparse on diners – a gentleman by himself at one table, a trio of business folk at another – they soon left and no one else came in until we were almost ready to leave when another trio arrived. A lot of people stopped to look at the posted menu in the window, but just wandered off again.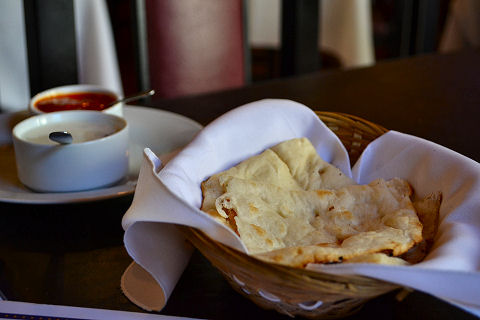 A basket of warm naan was brought to the table along with two dipping sauces. Okay, here's one I should research. Back in New York, it's virtually always a trio of sauces – a spicy tomato and onion chutney, a green sauce that's usually either mint or cilantro based, and a sweet tamarind sauce. Here, it's almost always a yogurt raita, and a sweet either tomato or red bell pepper sauce. The question, I suppose, is whether that's cultural to different regions of India, or is it cultural to "what works here"? Back to Delhi Mahal – the bread, as I said, nice and warm, though a little bland – lacking in salt – the sauces, the raita was tasty, perhaps it could have used a little more substance, it was just a bit thin for dipping bread in, the tomato based sauce, a shade too sweet for our tastes, but good.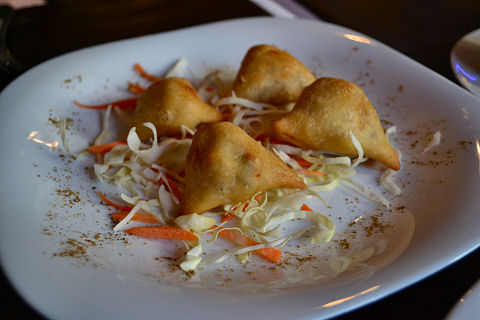 We started in on the menu, which is fairly extensive, and, Raj, if you're reading this, roughly half of it is vegetarian (interestingly more than half the vegetarian dishes are paneer based, the classic Indian pressed fresh cheese). A large number of the dishes are regionally specific to either Kashmir or Punjab in the north and northwest, as well as some Pakistani and Afghani dishes – there's also a note on the first page that they can provide halal meals on request. We decided to start with a couple of classic favorites, beginning with a plate of the potato and pea samosas. Besides being a little skimpy for a 25 peso appetizer (particularly in contrast to our next dish), they were, disappointingly, completely unseasoned – the filling nothing more than pasty potato and a few embedded peas. We'd asked for everything to be made bien picante, como en la India, and our waitress assured us that everything could be ordered mild, medium or spicy, but that seems, unfortunately, to consist of being brought a dish of hot sauce. Now, the hot sauce was great – it was a puree of fiery green chilies and we ended up going through most of the ramekin of it over the course of the meal, but, the dishes, not so much.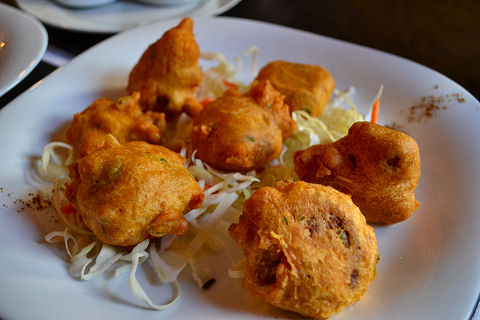 See, in contrast to the four measly little samosas, for only five pesos more we got this ample plate of seven, larger, chicken pakoras. I liked these more than my companion did – the chicken was juicy and perfectly cooked, mostly dark meat, which I prefer. The crust was a chickpea base that was light and crispy (at least at the start, though it did start to soften quickly with the steam from the chicken inside), with a bit of turmeric and lightly spices. While not the best pakora I've ever had, they were decent – and with the hot sauce and raita, I was happy.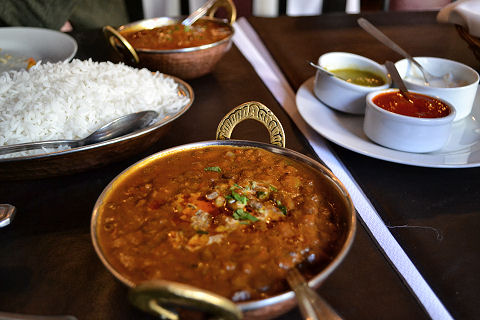 On to our main course – a dal balti in the foreground and a rogan josh in the back, and just out of sight to the right, some mint naan. Okay, let's break it down. The mint naan, a big fail. Again, lacking in salt and bland – but worse, it wasn't mint, it was finely shredded parsley. It was obvious looking at it, and the flavor was clearly that. The rice – not basmati. Well cooked, but plain, ordinary, largo fino white rice.
The dal balti, usually phrased the other way as balti dahl, is a classic dish of the northwest with its origins in Baltistan, a part of Pakistan – the typical recipe uses yellow lentils or yellow split peas, chunks of tomato, spring onion, and a raft of spices. Unlike many dals, it's not usually slow cooked until falling apart (though interestingly, the menu specifies that it is cooked for 24 hours) – reading up on it, the lentils are supposed to remain firm – there's a nice little writeup on the dish here along with a recipe. This was clearly not a slow cooked 24 hour dahl, which is perfect for what the dish is supposed to be, but why put that on the menu? The lentils were firm, with a good bite to them, not quite crunchy, but maybe a shade undercooked for my preference. The flavors were good, perhaps slightly out of balance with coriander and cumin seed, but clearly no real heat to it, which put us back to that dish of hot sauce. And, it's telling that we ended up leaving about a third of it – though more because of the undercooking than the flavor.
The rogan josh ("red hot passion", what a great name for a dish), a typical Kashmiri lamb dish, fared far better. The lamb was cooked to tender perfection, the dish was well spiced with its garlic, shallots and even had a decent amount of chili heat to it. It was definitely the best thing we had at the table.
A few last thoughts. I'd ordered a mango lassi, which often shows up as a fairly thick, yogurt drink with just a bit of mango flavor – in this case, I was delighted to find that it was primarily pureed mango with just enough yogurt to give it a creamy texture – a complete winner. We did have a moment of concern during our meal – just after ordering there was a racket from the kitchen, at which point the two guys who you can see up there in the first picture (who spent virtually the entire meal surfing the web and paying no attention to anything else) leapt up and ran into the kitchen, while the waitress hovered in the doorway leading there. They were back there for a good five minutes and the volume just got a bit louder. Our waitress tried to smile reassuringly at us a couple of times, but was clearly concerned, and I finally signed asking if there was a fight going on, to which she nodded. Shortly after, a young man came out the kitchen door, headed into the bathroom where he stayed for a good half hour, emerging changed into street clothes and carrying a half-filled plastic bag as he walked out the front door. Fired? Family squabble? Either way, in the end, though it interrupted the smoothness of our experience, it didn't seem to delay the food, and after he'd left the kitchen to change, the others went back to what they'd been doing.
So, overall – nice ambiance, lovely service. Food, mixed. A little on the bland side for the most part, and if what we got were the spicy versions of the two main courses (I assume the two appetizers are pre-prepared and don't have that option), I'd have to wonder at how little spicing the mild or even medium have. The hot sauce was a star, and easily the best hot sauce I've had in an Indian restaurant here in town. The rice and bread were big disappointments. A little pricey, the main courses all run around 60 pesos, not out of line for a main course in this part of the city, but these aren't big portions. Based on a single visit, it's not my favorite of the Indian spots in town (honors for that go to Delhi Darbar and Tandoor), but it's certainly decent food, and the plus of having a large number of vegetarian options should put them on the radar for anyone looking for that. Okay.