"BAAL, n. An old deity formerly much worshiped under various names. As Baal he was popular with the Phoenicians; as Belus or Bel he had the honor to be served by the priest Berosus, who wrote the famous account of the Deluge; as Babel he had a tower partly erected to his glory on the Plain of Shinar. From Babel comes our English word "babble." Under whatever name worshiped, Baal is the Sun-god. As Beelzebub he is the god of flies, which are begotten of the sun's rays on the stagnant water. In Physicia Baal is still worshiped as Bolus, and as Belly he is adored and served with abundant sacrifice by the priests of Guttledom."

– Ambrose Bierce, Devil's Dictionary
Likely, Bierce didn't know the Incan version of the same deity, Inti, nor about his annual festival at the winter solstice, the Inti Raymi. But we're fond of celebrating it with an annual Peruvian dinner or two and this year was no exception. Henry has stopped trying to do the cooking for the Peruvian dinners having declared them a) too much work and b) that he feels he's now trained me sufficiently to cook the dishes the way he thinks they should be (leading, of course, to objections when I alter them or use someone else's approach, except one of his sisters, to whom he gives deference in most things culinary). Ah the travails of living and working together, no?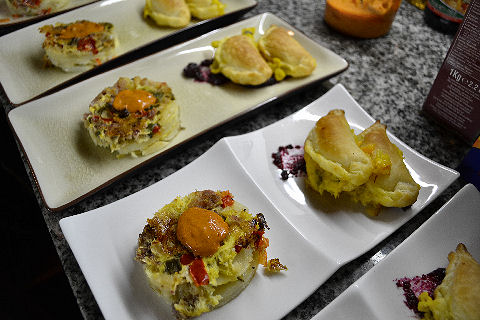 We started off with my take on two of the most traditional festival foods for the celebration, a tortilla de papas and empanadas de maíz. The tortilla, sort of like what we might call a frittata, really did hit all the right notes for us – and relatively easy to make (though would have been much easier in a small size) – I sliced and fried potatoes until they were lightly golden, then let them drain well. Sauteed up chorizo, peppers and onions and then let them drain too. A little bit before serving time I put down a layer of the chorizo mixture into a pizza pan, topped it with all the potatoes spread out and pressed down, and then poured beaten eggs with salt and pepper over that, letting it seep down into all the nooks and crannies. Then into a hot oven until it was sizzling away and the egg was set. The hard part, taking another pizza pan, loosening the tortilla in the first one, and flipping into the second, then back into the oven to brown the other side lightly. After that, removed, cut out portions using a cookie cutter, and topped with a puree of garlic, chipotles en adobo and piquillo peppers.
The empanaditas were a bit simpler, a puff pastry style crust filled with humita – grated corn, butter, milk, goat cheese, green onions and jalapeños all cooked down slowly and then cooled. Using up a couple of things in the fridge from the night before, the pomegranate and chili caramel blended with the roasted beets gave a great sweet and spicy kick as a little sauce underneath.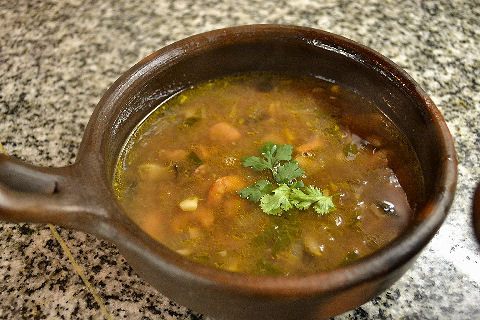 A sopa de mariscos, or seafood soup – lots of caramelized white onions and garlic for the base. Then white wine, tomato paste and diced shiitake mushrooms, all simmered together for a few minutes, then added a fresh white chicken stock, calamari tentacles, shrimp and cockles. Let it all cook together and finished with a little fresh cilantro.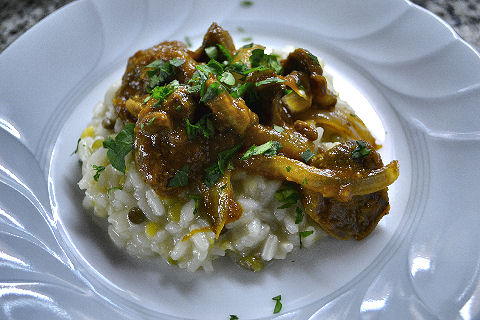 I wrote up the step by step for making my version of mollejitas al ajo recently and told y'all I'd be serving it up for this dinner. So here it is. I think it was the first time for chicken gizzards for several people at the table, but almost everyone cleaned their plate. Served the mollejitas over a risotto made with chicken stock and then finished with grated pecorino cheese and some pre-cooked lentils, split peas, and peeled mung beans – a sort of legume risotto. Tasty that.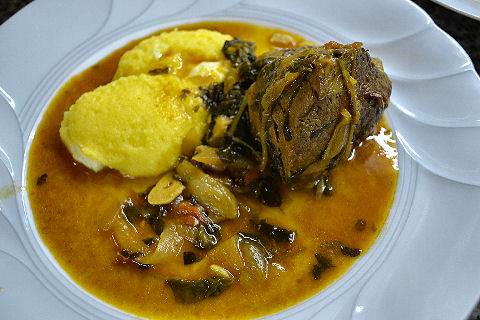 And, one of our favorite slow cooked dishes, huatía sulcana (that link is to the quick cooked version, here I let it braise for about 3½-4 hours and used beef shoulder for the meat). Served with polenta finished off with port salut cheese. Add huatía to the list of dishes I'll do a step by step for one of these upcoming days…. Coming up next in that realm, locro de patitas.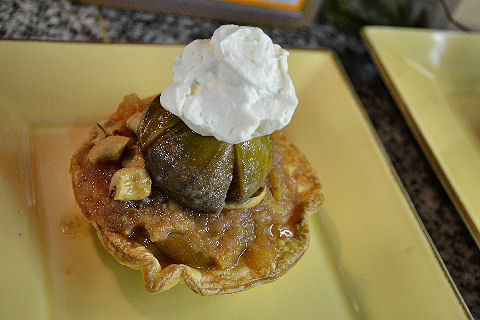 We all know King Kong from the movies, but you may not know the dessert King Kong from Peru. I assume it wasn't named this until sometime after the cinematic version came out and is, more or less, a reference to the size of this sweet. Essentially it's an alfajór on steroids – a multi-layered cookie sandwich with a trio or more of different fillings, one between each layer – commonly manjarblanco (Peruvian dulce de leche), fig and quince pastes, sometimes with nuts or a layer of what is almost peanut butter. It's made either round, in sizes that rival a typical pizza, or in big sheet pans and cut into small rectangles to serve. So this dessert is inspired by that – I'd already got the puff pastry setup from the empanadas earlier, here, pressed rounds of it into tartlet molds and baked them off to a golden brown. Let them cool and then filled them with a layer of dulce de leche, then some quince marmalade that I'd made the day before (simply cooked down grated quince with lemon juice and zest, and sugar, until I got a jam-like consistency), followed by a good sprinkling of roasted cashews, then a fresh green fig that I'd poached in honey and butter, and finally a dollop of whipped cream.
Not a bad way to ring in the winter solstice and appease the sun god at the same time.