"The danzón, created in 1879 by Miguel Failde, a cornet player from the city of Matanzas, is a direct descendant of the Cuban danzas and contradanzas that were played in ballrooms back in Cuba's colonial past. In those days the typical dance orchestra was comprised of one cornet, two violins, two clarinets in C, an ophicleide or valve trombone (sometimes both!), a couple of timbales and a guiro. Later on, at the beginning of the 20th century, the Charanga orchestras, also called Francesas (French), appeared on the scene and included one or several violins, a piano, double bass, timbales, guiro, and flute."

– Paquito D'Rivera, flautist
Literally, danzón means the grand dance, and though one supposes it could be any grand dance, the true, traditional one originated in Cuba and has carried over to modern day where it survives primarily in Mexico and a few scattered other spots. It looks to me somewhat like a waltz with a bit of a syncopated beat….
So, you might guess I'm about to talk about Gran Bar Danzón, Libertad 1161 (upstairs), in Retiro, 4811-1108. It's one of those places I've been going to pretty much since I moved here, being one of the few real wine bars (and at the time I got here, probably the only one) in town – and would have sworn that I'd reviewed it long ago – but apparently I haven't. It's a great place to stop and have a glass of something new, and, perhaps, a little food.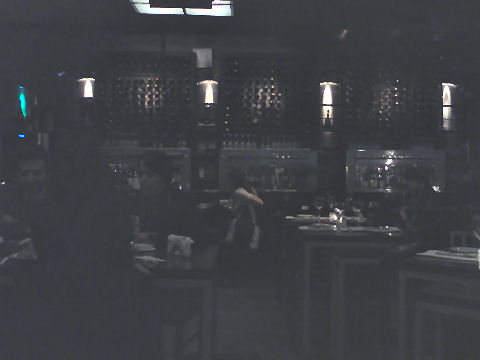 First off, the place is a lounge. It's dimly lit. The music is loud but generally appealing with a mix of jazz, lounge music and soft pop, and on Wednesdays, there's live jazz from roughly 7-9 p.m. Early, however, is not my favorite time to visit – while the place opens at 7, the first couple of hours seem to be packed in with middle aged businessmen on the prowl for scantily dressed young women, most of whom appear to either be for hire or at least for the cost of a few drinks and dinner. And there's certainly plenty of traffic in and out of the bathrooms, together. But by local dinnertime, around 9 p.m. and after, the crowd shifts to a mix of the local yuppie set and wine aficionados, and the rhythm of the room completely changes as people get more interested in wine than cocktails, and food than a quickie.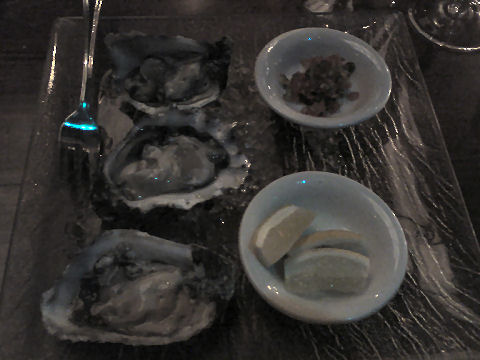 As loyal readers know, I'm a big fan of oysters on the half shell, and Danzón is one of the few places you can actually get them, pristinely fresh and absolutely delicious. And while their little spicy ceviche of vegetables is tasty, I like mine with just a squirt of lemon. A glass of Zuccardi's Serie-A Chardonnay Viognier blend – one of my favorite whites from Mendoza with great green apple and white peach flavors and just a touch of residual sugar that comes across as a honeyed note.
One thing to watch out for – the menu lists the oysters at half a dozen for 59 pesos, though you can order by the piece – this is not the first time that I've ordered the six and been delivered fewer – and while my waiter last eve promised to return with the missing three, he never did, repeatedly blaming the kitchen – and then first tried to charge for the full plate, and next returned with a by the piece charge, which ups the price of each oyster by a bit over a peso. At that point he comped me one of my glasses of wine, which was quite generous, and reflected in his tip. But I did note that the gentleman at the table next to me got into a similar hassle over the bill when the same waiter had slipped an extra cocktail onto his tab – and it's not the first time I've noted this at this spot, so something to watch out for here, particularly if you've had a couple of drinks.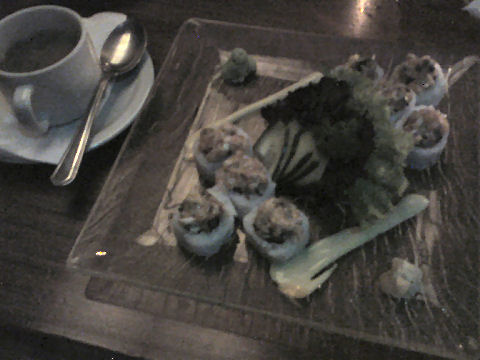 I was creating my own little tasting of appetizers, so next up, the langostinos crocantes, or crispy prawns – deep fried prawns done in a sushi roll style and topped with salmon tartare. Nice streaks of a spicy Dijon mustard sauce are there for dipping along with regular and light soy sauces. On the side, a bowl of really tasty, smoky miso soup.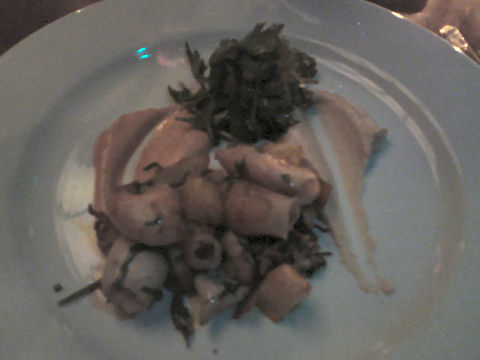 Next up, a move across the world to a Spanish style dish of grilled calamaretti, crispy potatoes (more of those on the dish please!) and smoked paprika and regular mayos, with a little herb salad. Just a touch salty for my tastes, but really quite good and the mayo helped cut the saltiness. Moved on to a glass of the Obra Prima Rosado, a 100% Cabernet sauvignon rose from Mendoza – a touch of a spritz, beautiful berry fruit flavors and a nice herbal note too.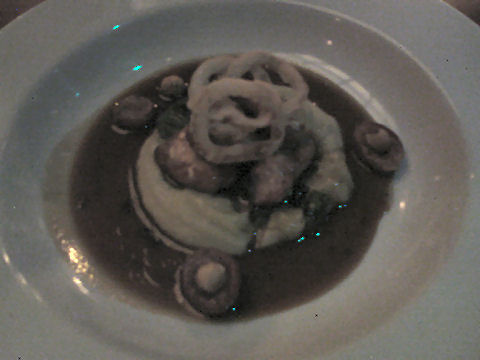 And possibly the most interesting dish in terms of combination, though not necessarily my favorite of the eve – mollejas de chivito, or sweetbreads from baby goat, sauteed and served with a fennel cream, sauteed spinach, toasted hazelnuts and grapes, and thin little crispy onion rings (more of those too please!). The sauce wasn't specified and my waiter wasn't sure what it was, but I'd guess a meat broth reduction with red wine. Again, a touch saltier than I would have preferred… this is the first time I've noted any heavy handedness on salt from the kitchen, so perhaps someone's palate (even mine!?) was just slightly off for the evening.
Overall, like the space and the ambiance, though generally only after the business-suited lounge lizard crowd leaves around 9 – probably to go home to their wives after getting a little "company" beforehand. The food, I don't think I've ever had something I didn't like there, from sushi to the hot stuff – though, as I think about it, I always just get sushi or a couple of appetizers, so not sure that I've ever tried one of their main courses – which sound good on the menu, and in similar style to the appetizer plates – my guess is I'd be happy with them as well. Overall reasonably priced for the neighborhood and quality of the food and wine – you could put together a three-course meal with a glass or two of wine and keep it around 150 pesos all told, and I often just get a selection of sushi and a glass of something and keep it around 75 pesos. Definitely recommended.