"I seem to you cruel and too much addicted to gluttony, when I beat my cook for sending up a bad dinner. If that seems to you too trifling a cause, pray tell for what cause you would have a cook flogged?"

– Marcus Valerius Martialis, 1st century Roman poet
I could wait a day or two to write a vicious review of the restaurant we were guests at last night, but instead, could we just assume that I've said all sorts of vitriolic things about the ambiance, service and food, and move on? I just can't quite bring myself to the caffeinated frenzy I need in order to go that way. So let's just say that I may have found the worst steakhouse in Buenos Aires. Oh, not as bad as some little hole in the wall where they're serving up some supermarket steak that they've burned to death, but at least there, they're only charging 20 or so pesos. This place is raking in anywhere from 100 to 330 pesos for a single, yes, single, steak. On to what I can muster for the review – excuse the photos, we were literally a group who were guests of a winery that picked the place, and picked up the tab, and I was being discreet with the camera phone – even though it turned out no one from the winery was there – I just didn't know that when heading out, so didn't take my camera.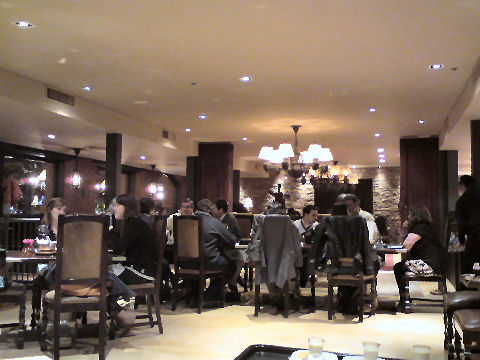 So, the place, La Cabaña, Alicia Moreau de Justo 380 in Puerto Madero (not to be confused as my taxi driver did with La Cabaña Las Lilas). Until six months ago, this place was located here in Recoleta in a luxury hotel, and had pretty much a bottom of the barrel rating – I was there once for a wine tasting dinner and ended up just drinking the wine, the food was just inedible. So I already wasn't looking forward to this meal, I must admit. And, they didn't disappoint. The space is huge, the tables are not particularly comfortable to sit at. Our waiter seemed to think that he was hysterically entertaining. He wasn't. And his service was just as poor – from the 20+ minutes it took to get cocktails after they were ordered, to caustic comments when one guest spilled a glass, to clearing our appetizers while we were still eating them because he was ready to serve the main courses, despite it only having been about 10 minutes since we got the appetizers.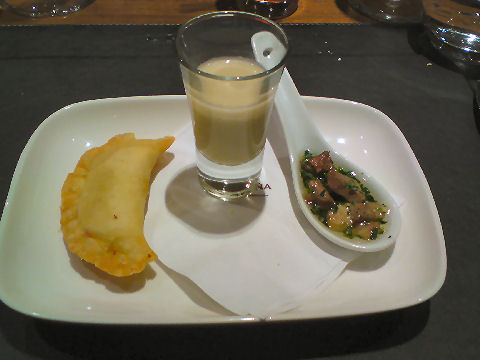 Everyone got a little amuse bouche plate – a good thing given that they sock you with an 18 peso per person "cubierto" charge. A little mini corn empanada that was made, I'd guess, with canned corn inside, a shot of what was purported to be onion soup but that grey pasty color carried over into the flavor, and a spoonful of "beef bits" in vinegar, parsley and cilantro – didn't even want to ask what cut the "beef bits" were from – on the menu it just says "Chef's spoon creation".
About half of the table shared a mixed achurros platter with kidneys, sweetbreads, smoked sausage, provoleta, and morcilla on it – I nibbled at a couple of them and other than the smoked sausage they were poorly cooked and pretty flavorless – bet the sausage was not housemade…which was the only reason there was any left on the platters for me to nibble on. Two vegetarians at the table (at a steakhouse, go figure), made a brave attempt at eating through a plate of full sized versions of the corn empanadas. And I ordered up this plate of fried camembert – or so was the claim – last I checked camembert isn't quite the bright yellow cheese that was found inside these – still, they were probably the best things on the table at that point.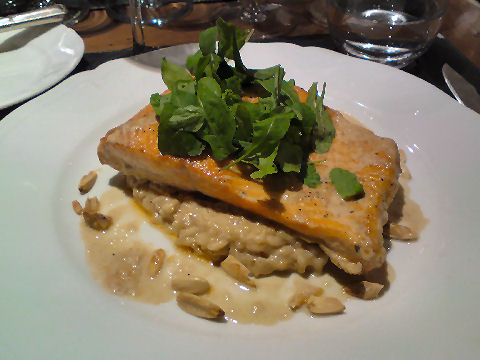 Okay, you can fault me for ordering the "trout" (salmon-trout I'd guess given the size of the fillet) at a steakhouse and being disappointed, but I wasn't in the mood for steak, and the preparation of being "poached in smoked milk" and served over a mixed nut risotto, sounded interesting. It wasn't. The trout was cooked to that squeaky overdone point, there was nothing smoky flavored about it, and the risotto was a mashed paste of ecru goo with a few scattered almond slivers around it, and tasted of cheap wine.
Had that been the only fault in the main courses we could move right along, but let's see – three orders of pasta, two of them for the vegetarians, and one of those came with slivers of ham all over it after we'd asked for the ham to be left off – to his credit the waiter didn't give us a hard time about getting a new plate – not one of the three finished their pastas, which says something, or other. Four steaks at the table, each a different cut, not one of them cooked to the requested temperature and all of them fatty, gristly, and flavorless. One, to someone allergic to beets who had specified that when he ordered a side salad, was served atop a plateful of beet puree. No one finished their steaks and I didn't even eat half my trout
We opted against dessert and coffee, signed off on the bill (for $3500 pesos!) for the winery to pick up – okay, that included the wines, which were actually excellent – I'm not going to say whose simply because I don't want to tie the winery to the restaurant – but the five bottles we went through probably made up a good portion of that bill – or maybe not – the appetizers run 50-80 pesos (those four little "camembert" buttons were 60-some pesos) each, and the main courses ranged from the vegetarian pasta at 85 pesos on up to a steak that was 180. And there were eight of us.
Maybe the title above is unfair. What Pizza Hut is to pizza is far kinder than what La Cabaña is to parrilla.