"Okra is the closest thing to nylon I've ever eaten. It's like they bred cotton with a green bean."

– Robin Williams, comedian
Sr. Williams aside, and I'm not even going to touch on "O-Holing" (don't go doing an internet search unless you really want to just ruin your day – there, I warned you and intrigued you all at the same time… made ya look!), I happen to like okra. And one would think that a restaurant that goes by the name might actually have some on its menu, especially as it's in season right now. But on the menu at Quimbombó, Costa Rica 4562 (on Plaza Armenia), Palermo, 4831-5556, there was not a pod to be found. No matter, plenty of restaurants name themselves after things that they don't have. Hey, we don't put a saltshaker on the table here at Casa S!
I've been hearing about the place for awhile, as a primarily vegetarian spot, and great stuff too, so when we were looking for something different for brunch this weekend, we decided to give it a shot. Like most spots on the plaza it's sort of big, airy and clubby feeling all at the same time. It was too sunny and warm to hit the roof deck, so we took a window table in the dining room. Lots of brushed concrete, odd looking lamps, cool ceiling fans. Pleasant but completely befuddled waitress – don't know if she was new or just naturally ditzy, but she really was pretty clueless about their food, drinks, even how to, well, be a waitress. It clearly isn't the style of the restaurant, there were two other waitresses in play and neither was out in space like she was.
No bloody marys or mimosas, a shame for brunch, and given the "natural" cuisine bent of the place, far closer to that then the selection of house cocktails made with various chemically flavored versions of Absolut vodka, which seemed to be what was available. We went with iced teas – a nice selection from the Tealosophy line – just fair warning, if you don't tell them not to, the teas come with a whole lot of sugar dissolved in them. A whole lot.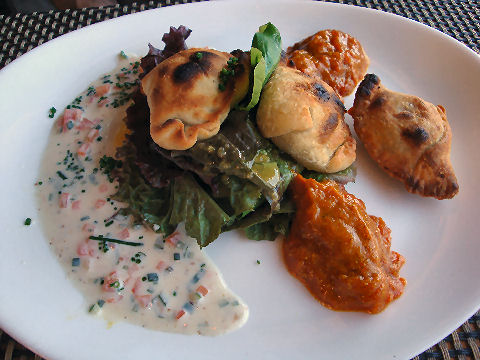 We ordered a couple of appetizers to start. First up, the "Trio de la India" (Indian and Middle Eastern flavors seem to be the mainstay of the menu) – a triplet of "samosas" – actually, they were just mini-empanadas – one broccoli, one squash, and one pea and potato. A bit underseasoned, just a touch of cumin and coriander noticeable. The lurid orange puree is a very sweet squash puree flavored with what seemed to be "pumpkin pie spices" – cinnamon, nutmeg… that sort of thing. A much better option, the raita on the side of the plate – actually had a light kick to it, even if it was a tad too runny.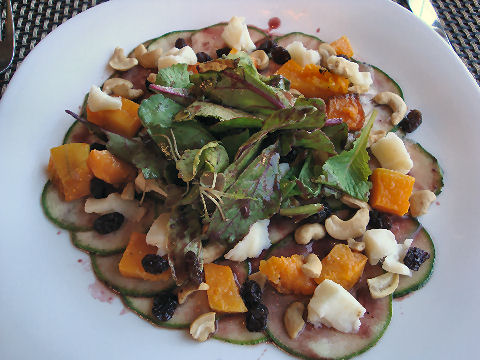 While carpaccio specifically refers to a thinly sliced raw meat dish, it has become common practice to use it to refer to a similar preparation of vegetables and/or fruits. The zucchini version here sounded really interesting, and, it turned out to be, for me anyway, the hit dish of the brunch. Thin sliced zucchini dressed in a blueberry vinaigrette, cashews, raisins (I would have gone with dried blueberries to complement the vinaigrette, but that's me), cheese, roasted squash, mixed greens. I'd go back just for this salad!
Now, when we were maybe 2/3 done with our appetizers, our waitress returned to the table and tried to take our plates away. Umm, no, we're still eating, forks in hand. But, you understand, she'd gone ahead and told them in the kitchen to send out our main courses, and now had them sitting on the bar. Well, take 'em back to the kitchen. She headed to the manager/owner, who glanced at us, asked her why she'd brought out our food so early and sent her trudging back to the kitchen with the plates.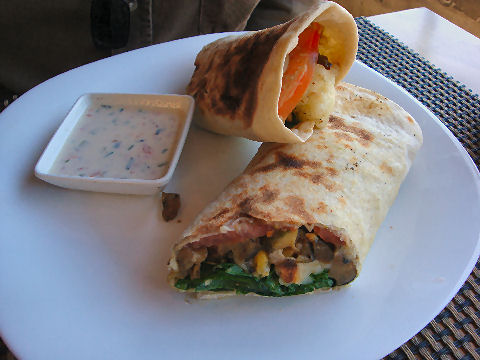 We both decided on wraps for our main courses. Now, first off – too much food, though partially our own fault because we ate our way through an entire basket of the really excellent bread on offer. But also, the appetizers, particularly the salad, were very generous portions. The wraps are all fancifully named, this one the Ali Baba, a Middle Eastern spiced blend of eggplant, tomato, onion and hummus. It could have used more spice, not surprisingly, and was served with the same unfortunately very thin raita, which was a nice accompaniment, but we needed to get a spoon from the bar in order to spoon it into the wraps – I suppose one could just dip, but that could get messy.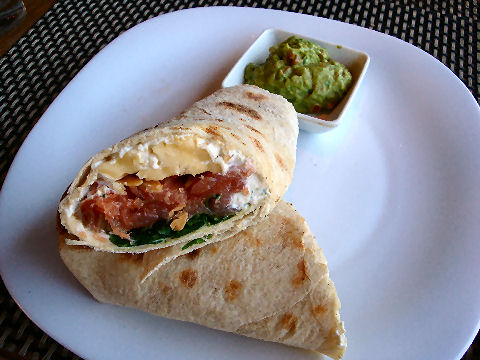 The other wrap, the Lisbeth Salander – took a minute to remember the street-wise punk from the Stieg Larsson books – smoked salmon, brie, cream cheese, arugula – served up with a side of guacamole. A bit of cultural mashups going on here. And, as noted, not a totally vegetarian menu – in fact the regular menu at brunch offered up fish and chicken, and apparently the dinner menu has lamb on it – but the majority of the dishes are, and as a nice plus for those with concerns, dishes are marked with symbols for vegan, ovo-lacto vegetarian, gluten-free, and/or spicy.
Overall, high marks for the food – very fresh and quite tasty. We wouldn't have minded more intensity of spicing, but they weren't bland dishes. Some minor tweaking here and there would be nice – just sort of thinking through something like the raita and how it's going to be used, for example. And a better selection of cocktails and wine would be in order, particularly at dinnertime. Decor, fun, and typical of the area. Service, friendly, and just avoid our particular waitress, she's the one with the confused look on her face as she spins in place trying to figure out which planet she's on.
A trifle pricey – these four plates plus two iced teas, one lassi and one water ran to 225 pesos. The value was there in the appetizers, but, the wraps, good as they were, coming in at between 40 and 50 pesos apiece, are on the expensive side, particularly as they don't come with anything other than a sauce – maybe a side salad or some vegetable chips or something? I mean, it's a sandwich, and it's coming in at pretty much a midtown NYC price. Oh, and they take Visa and Amex credit cards, but not Mastercard or debit cards, for whatever reason.