"They shall have no food but of thorns,
Which will neither fatten nor avail against hunger."

– Qur'an, 88:6
Given how difficult it was to finally get to eat lunch at Al Zain, Arce 488, Las Cañitas, just like with the shawarma, we really wanted to like the food. But upfront, I have to tell you, we didn't. The thorns in the above quote from the Qur'an might have made a more interesting meal…. The name of the restaurant means "Who", and all I can think of now is, Who told these folk to open a restaurant?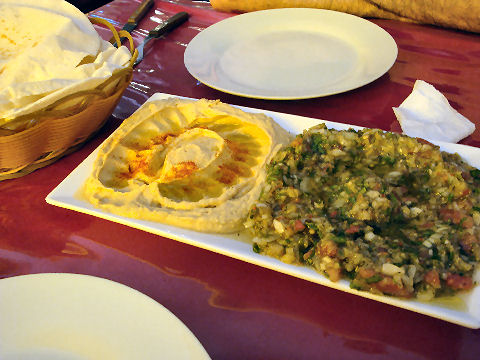 As noted in the previous post, we had to wait awhile on the shawarma, so we started off with a platter of hummus and babaganoush with some pita bread on the side. The latter, very delicate and light, but no flavor whatsoever, a little salt in the dough would have gone a long way. The two former salads – the hummus was flavored with what we thought was peanut butter rather than tahini, and beyond that had little other flavor it was so overwhelmingly peanut-y – but on reflection, I think what they did is used peanut oil instead of olive oil, which just masked any contributions from other ingredients. The other, while nice and fresh, a mix of chopped eggplant, peppers, tomatoes, onions, and herbs (not what I think of as babaganoush, which is usually more of a puree, but so be it), was so garlicky that it would have shutdown a showing of Twilight in the cinema five blocks away.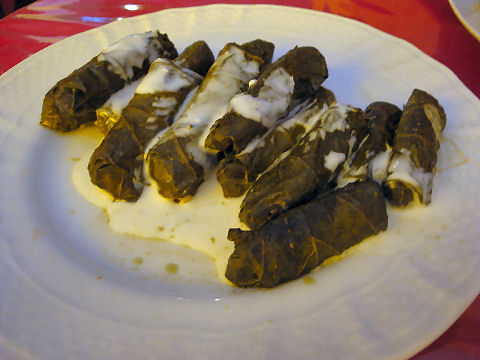 Moving on to a plate of stuffed grape leaves – first off, these were the tiniest ones I think I've ever encountered, no thicker around than my pinkie finger, and about 2/3 the length (that plate they're on is a bread plate). "Stuffed" when something is that small is a misnomer – each had a line about two grains of rice across inside, with a thin sliver of meat laid atop. The yogurt sauce was unseasoned, pretty much just thinned down white stuff.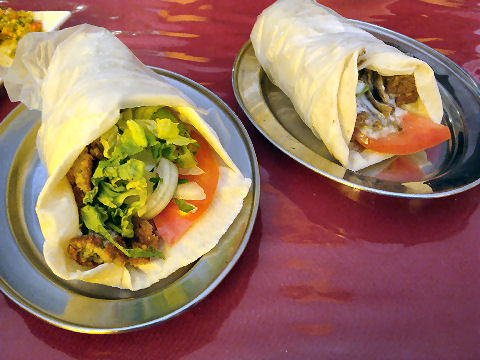 I've already given a fail to the shawarma sandwich in the previous post, and the falafel is not far behind. The falafel themselves weren't all that bad, nice and crispy on the outside and soft on the inside. But again, a desultory amount of tomato and lettuce stuck in amongst them, no tahini, just the same watery yogurt, and no seasoning.
All in all, a fail – of service, ambiance, and food. I don't think, to be honest, I've ever had a middle eastern meal quite as bad, nor served up with as much poor attitude. These folk are in the wrong business. Who, indeed?