"It's a dangerous business, Frodo, going out your door. You step onto the road, and if you don't keep your feet, there's no knowing where you might be swept off to."

– Bilbo Baggins, in Lord of the Rings, J.R.R. Tolkein
A trio of mini-reviews, some quick bites here and there over the last week, none of them substantial enough to truly give a full review to the restaurants.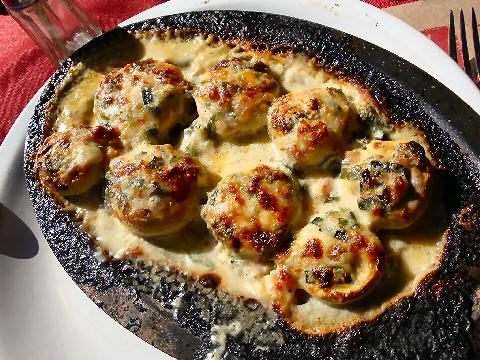 A trip out to Boedo, to Martita, corner of Cochabamba and Colombres, a tiny little spot – maybe 20-some seats plus a couple outside – which came highly recommended as a spot for classic porteña cooking. Three items in particular have been recommended by more than one person who has sent me the tip – the empanadas santiagüenos, i.e., the style of the province of Santiago de Estero, which were excellent – with a flaky pastry crust and a drippingly juicy filling of steak, eggs, olives, onions and spice; the "langostino milanesa", which sounds like it ought to be a large sheet of pounded out prawns all breaded and fried, though on the menu turns out to be fried shrimp with tartare sauce – not to say that couldn't be good, but we decided against; and, the stuffed mushrooms, which I've heard about many a time – couldn't pass those up, even at 30 pesos, which pretty much made them one of the most expensive items on the menu (this is not a pricey place to eat) – absolutely delicious, though fair warning for those of the veggie persuasion, the waiter said "they're stuffed with cheese, cream and seasonings, nothing more" – "seasonings" turned out to be finely diced ham and chopped green onion. For eight little button mushrooms it was a lot to pay, but, they were good, and I simply ordered another of those empanadas. My companion for lunch ordered a fussili plate with pesto – as usual not really pesto, simply chopped basil (at least it was fresh), olive oil, and a bit of lightly browned garlic, nothing more – tasty, but not what we were hoping for.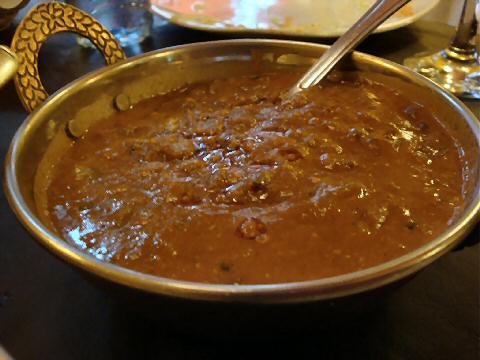 I found myself downtown running a few errands and decided to stop in at one of the newer Indian spots that has sprung up over the last year or so. I wandered my way in to Delhi Darbar, Viamonte 359 in Microcentro. [Closed.] To say that the place is lacking in charm would be kind, it looks like a slightly dumpy cafe, though clean. Service was friendly though completely inattentive – the two waitresses were busy eating their own lunch and completely ignoring customers, the young man at the register spent most of the time I was there with his head down in his hands, probably dozing. The menu has a nice range and I decided to go for some vegetable samosas – great move, they were absolutely dead-on with a mildly spicy potato filling and a light, crispy pastry, and even a few streaks of hot sauce (one interesting note, instead of the usual trio of sauces that most Indian spots seem to serve, just two are offered – a slightly sweet tomato sauce, and a rockingly good raita of yogurt, cucumber and spices); and, for a main course, the dal bukhara, a slow-cooked lentil dish from the Peshwari region – let me just say that this might have been the best bowl of dal I've ever had, and when I asked for extra spicy, the waitress recommended highly against the move – told me to try it "regular", which was likely sufficiently spicy for almost anyone, and if I wanted spicier she'd replace it with another. She was right, while I could have handled spicier, I more than broke a sweat with the chili level in the "as is" version – I was pretty much dripping from every pore.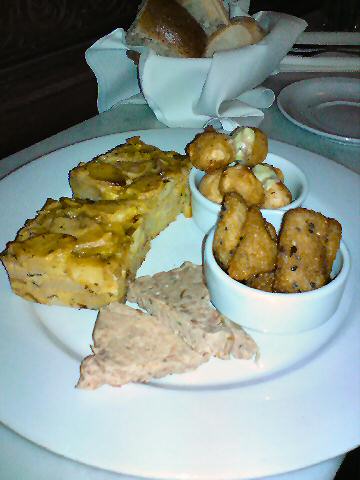 At the other end of the pleasure scale, a visit to the well-known and highly recommended Milion, Paraná 1048, just off Santa Fé. Now, it's recommended primarily as a cocktail place, and although its Guia Oleo rating is a 9 out of 30 for food, several people I know have said that the food is actually pretty good – I'd not tried anything to eat there before. First, the cocktails – a sidecar made with so much sugar (there shouldn't be any in it, just brandy, cointreau and lemon juice) that there was a solid teaspoon of sugar sludge at the bottom when I finished; and a mojito that was jammed full of mint still on the stalks, not muddled, just stuffed in the glass. Not winning cocktails, thought the space is beautiful, martinis and manhattans and such have always come highly recommended. The food, well, pretty much appalling. The "classic" tapas platter consisted of heavy, bland bites – dense potato balls with a thin cream underneath, rubbery chicken nuggets coated in sesame seeds and doused in soy, a weird, coarse pate that was far too salty for its own good, and completely flavorless and hockey puck dense cubes of potato cake. Looking around the room, no one was eating, so maybe we should have taken that as a hint. I'd go back for the room and to try a different cocktail, but if the signature tapas plate is an example of their food style, I'd avoid eating there. We headed out for a favorite parrilla instead.