"We are happier in many ways when we are old than when we were young. The young sow wild oats. The old grow sage."

– Winston Churchill
I don't normally participate in "blogging events", but I do, at least on occasion, enjoy reading about them. Often they're just silly, but there are a few out there…. I've followed with particular interest Martin Lersch's "They Go Really Well Together" series, he's into the whole molecular gastronomy thing, and one of the more interesting aspects of what he's particularly enamored of is the pairing of different foods based on their chemical structure, their volatile compounds, if you will. Sometimes it works out, sometimes not, but it's always a fun read.
On a purely coincidental basis, I happened to read about challenge #21, sage and roasted peanuts, just after buying a big bunch of fresh sage, and thought, why not? So here we go – my Sage and Roasted Peanut Pork Chop.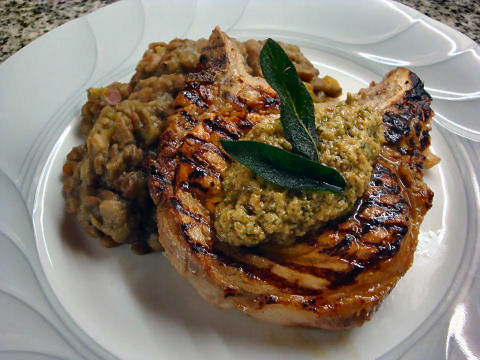 I should really just stop at the picture, because if that doesn't get your mouth watering you probably shouldn't be reading food blogs. Even a vegan friend just looked at the photo and sighed with memories of things past. But the point is to provide a recipe and also a bit about how it all turned out. First off, sage and roasted peanuts go really, really well together.
My first thought was the pesto. I was thinking about something like a simple pasta with a pesto made from the two ingredients, but that seemed too basic. Not that I was losing the pesto, which consists of a handful of fried sage leaves, another of roasted peanuts, and since we were in the whole roasty, toasty flavors world, a scoop of roasted garlic puree rather than raw garlic, salt, pepper, and just a splash of… peanut oil. And, a couple of fried sage leaves atop – fried, of course, in peanut oil – we're on a theme here, right?
The pork chops themselves, marinated in fresh orange juice, sage leaves, salt, pepper and a chopped hot chili. For about 4 hours. Then patted dry, brushed lightly with peanut oil and grilled to medium.
The base, finely chopped bacon and shallots sauteed in peanut oil, then added finely diced sweet potato and lightly browned it, then pre-soaked lentils and fresh and dried sage. Topped it up with just enough water to cook the lentils and sweet potatoes through, seasoned with salt and pepper.
This dish was, and I do say so myself, amazingly, mouthwateringly good. The combination of all the various grilled, roasted, toasted and fried flavors all came together beautifully – caramelization is like that. The hints of orange and chili that came from the pork made a nice counterpoint so that it didn't get all too sage-y and peanut-y. And I liked the mix of the flavors that came from using the sage in different forms – fried, fresh, and dried. The real test, of course, came over dinner, and the dish passed when Henry not only ate two pork chops and plenty of the lentil mix, but didn't douse it in hot sauce!
There's still time to participate in this one, you have until June 1. Give it a shot!