"Far more obscure dishes could be art house sensations too — which makes crespéou the "Big Night" of Provençal cooking."

– Regina Schrambling, LA Times
Okay, crespéou isn't the most well-known dish of the provençal repertoire, but it's also not completely obscure. We learned to make them when when I was in cooking school, a couple of decades ago. But, it doesn't even rate an entry in my Larousse Gastronomique, nor in Colman Andrews' brilliant The Flavors of the Riviera, nor, for that matter, in any of my other French, or Provençal cookbooks. You'd think something as delicious as this would at least get a mention. Somewhere. So I'm mentioning it – it's basically a stacked "cake" of very thin omelettes that's then baked to seal it all together and either eaten right away, or, often, cooled, slightly pressed, and then chilled overnight to create a denser, and still equally delicious gâteau de omelettes.
It popped into mind reading through some of the recipes posted on Yotam Ottolenghi's The New Vegetarian blog. I had no particular investment in making it a vegetarian version, but it sounded like something fun to whip up on Sunday afternoon for brunch here at home. So, here's the step-by-step.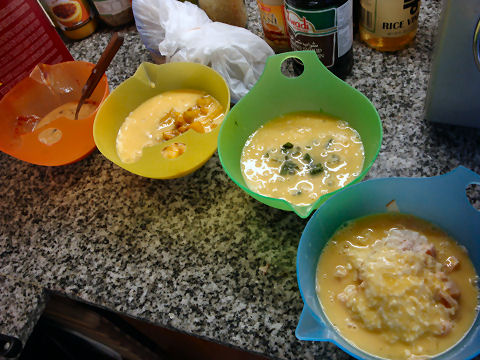 The first step is deciding what you want in your various layers. It's really completely up to you, just make sure that the different layers will go together reasonably well. I decided on four layers and whipped up my mixtures – four eggs for each. And I even conveniently had four colored plastic bowls to match….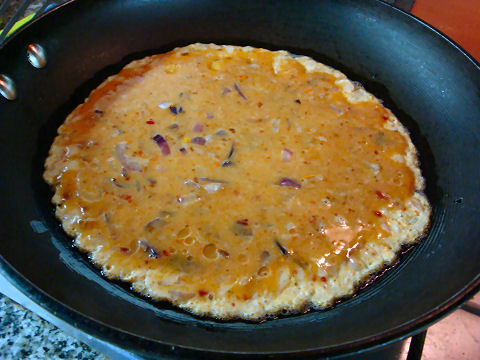 In a good sized omelette pan, or frying pan as I went for, ladle half (or a third, or…) of one of the mixtures. Here, I started with the red mixture – red onion and hot red paprika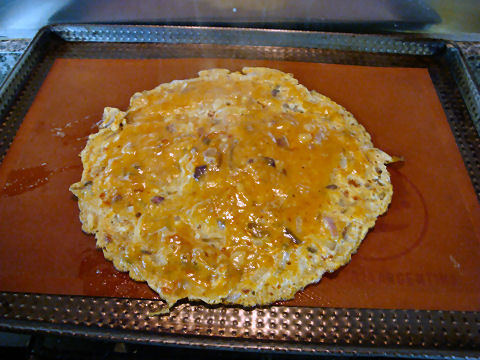 Cook the omelette until it's lightly browned underneath and the top is almost, but not quite set. You want that little bit of gooey-ness in order to let them seal together as the stack bakes.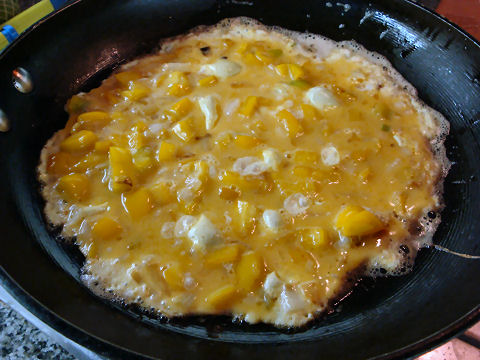 The yellow layer came up next, yellow bell pepper and a bit of turmeric and ají amarillo. Oh, all the layers get a bit of salt and pepper as well.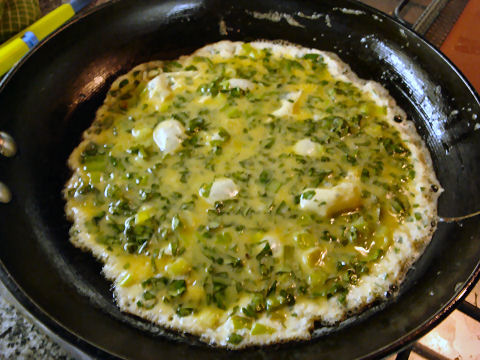 The green layer brings in the herbal notes with chopped green onion and a lot of basil and parsley.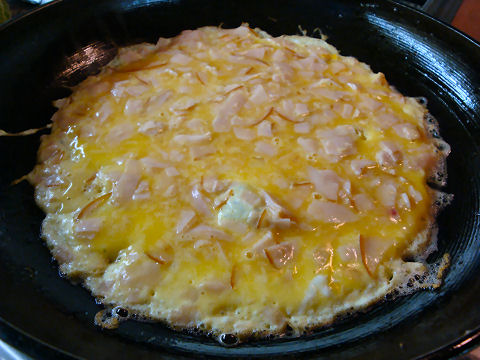 I'd intended this to be a "white" layer and to use up some of my egg whites from all this baking I've been doing, but had already cracked the eggs into the bowl without thinking it through – the visual difference would have made the final stack a little more striking. C'est la vie. Shavings of smoked turkey breast and a grating of romano cheese went into this one.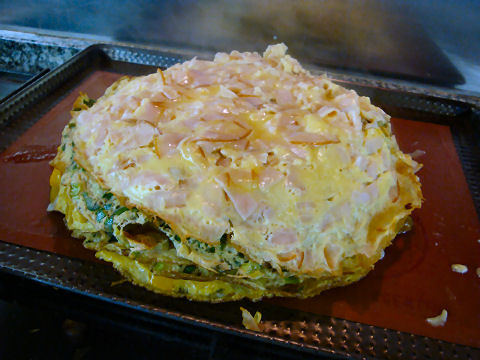 After once through the different layers, repeat your way through them, and you'll end up with a stacked cake like this. I could have made it a trifle neater, and would have if it was for guests rather than just us….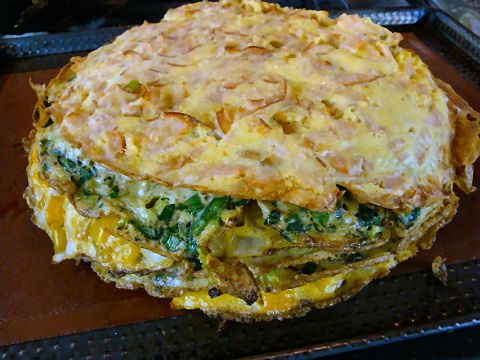 Into a hot oven to bake for about 15-20 minutes. That will set the remaining gooey tops of each omelette so that they seal together.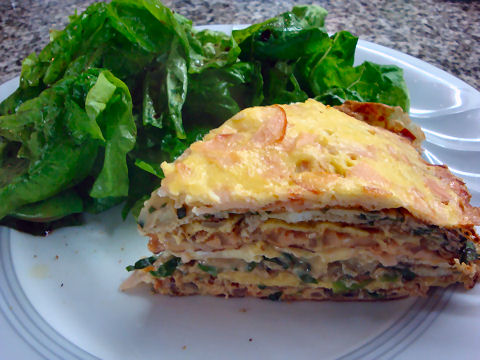 And, sliced and served with a little side salad. Absolutely, divinely delicious! And the small amount leftover the next day is equally good cold, and I can see that as an interesting appetizer for a future provençal dinner.