"At noon, on the day of secession, at Mallory Square in Key West Florida, Mayor Wardlow read the proclamation of secession and proclaimed aloud that the Conch Republic was an independent nation separate from the U.S. and then symbolically began the Conch Republic's Civil Rebellion by breaking a loaf of stale Cuban bread over the head of a man dressed in a U.S. Navy uniform. After one minute of rebellion, the now, Prime Minister Wardlow turned to the Admiral in charge of the Navy Base at Key West, and surrendered to the Union Forces, and demanded 1 Billion dollars in foreign aid and War Relief to rebuild our nation after the long Federal siege!"
A simple island dinner celebrating the secession of one of my favorite places in the U.S., Key West (actually, the secession was on the part of all the Keys), back in 1982, from the U.S. itself. You can read all about it at the link above. Several of the dishes were from past dinners – the main tenet of the theme was seafood.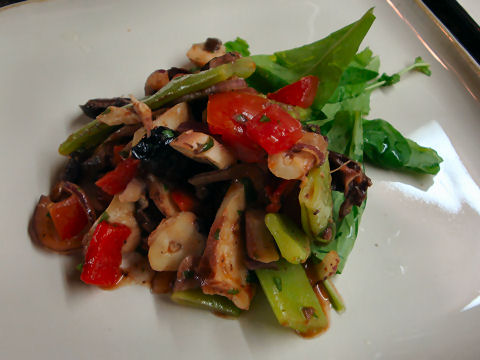 It seems appropriate to start off with a Cuban Octopus Salad – not that the salad is Cuban, in fact it's pretty Mediterranean, but the octopus was Cuban – my favorite local fish store had just gotten in a shipment of whole large octopuses and were selling the fresh tentacles, pretty much by the meter. These were not little guys. I picked up a few tentacles, coiled them in a big pot, and over very low heat poached them in a mix of olive oil, salt, pepper, cinnamon and bay leaf, for about 2½ hours until they were very tender. The let them cool in the oil, sliced them thinly and tossed them with tomatoes, red onion, black olives, Italian green beans, parsley, garlic, salt and pepper.
For the soup, a Ciuppin, though I left it a little coarser than in the linked page. I'd also been working on my puff pastries and had one batch that didn't rise. One of my professor's suggestions was to use non-risen puff pastry as croutons for salads and soups – nice and crispy and buttery – and so I chopped it into shards and garnished the soup with that – it works!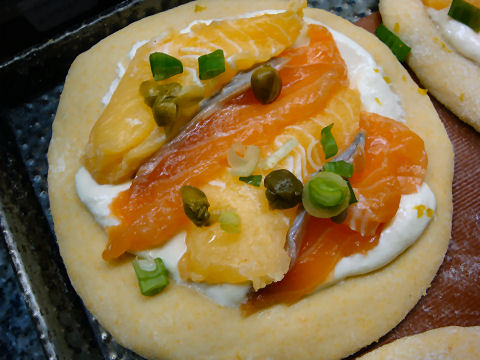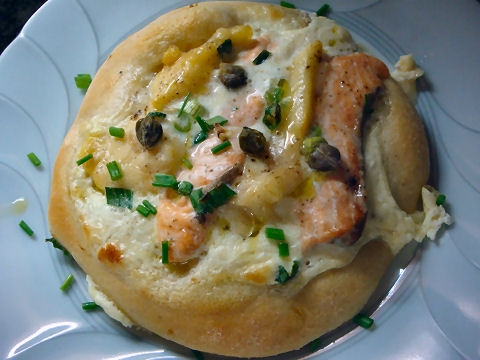 This started out as the puff pastry dish – I was thinking of those pretty little vol-au-vents, with a sort of saute of salmon and surubi, one of South America's catfish, in a mascarpone and brown butter based sauce. But, with the fail on the puff pastry, I went with something I could make more quickly, and which I had confidence would work out, focaccia dough, and then topped it with the brown butter mascarpone sauce, interleaved fish, and some green onions and capers. After baking, a drizzle of green lemon oil. Delicious!
From there, on to a main course of one of my favorites, roasted cod with a green pepper herb sauce and fried garlic; and then a repeat on the dessert from the previous night, the cappuccino cream puffs. All in all, a good secession celebration.
"We seceded where others failed." – motto of The Conch Republic