"It is strange that Jews in every country of the Diaspora begin to pray for rain in the daily Amidah prayer (Ten tal umatar, "please give us rain and dew") on December 4 or 5, about ten days ago, at the onset of the rainy season in Babylon (Babylonian Talmud Taanit 10). It would be understandable either to pray for rain when the rainy season begins in Israel, our universal Jewish homeland (on the seventh day of Mar Heshvan), or when the rainy season begins in the host country of the Jew who is praying, each country in accordance with its specific climatic need. Why does the Jew in America link his request for rain to the winter in Babylon?"
I have to admit, I came at this last weekend's theme and menu backwards from my usual approach. I'd thought to just simply put together some menus of ideas I've been playing with in the kitchen, and so I did – theme-less, but connected. Lo and behold, and no longer a surprise, there was an outcry – when I don't put a theme, people get upset… it apparently changes the natural order of things or some such. So, off to Wikipedia and to plug-in a theme that kinda, sorta, almost, but not really, fit the already planned menu. Amazingly, I got thank yous from two people for having done so. Neither of whom, of course, reserved for the evening (nor, come to think of it, have either of them either been here… go figure).
So, with a honeydew melon salsa on the menu and a Devil's Rain dressing on a salad component, I could justify taking advantage of the annual prayer for rain and dew in the Jewish diaspora, tal umatar, as our theme for the eve. So be it.
It was also an interesting evening logistically – this is the first time I've offered a dinner while Henry wasn't here (he's away in Peru until mid-January), so our friend Allan came and filled in. At the same time, our longtime dishwasher and cleanup guy, Boris, announced that, he and his wife having completed their studies at law school here in BA, were packing up and heading back to Puno, Peru. We'll miss them both, and wish them well, and he even dropped off a friend of his to take his place. So, a night of doing a bit of coaching ensued – and all worked out well. We also had a last minute cancellation, after food was already prepped, but thankfully, the wonders of social networking sites, someone picked up on it from our Facebook/Twitter feed and booked the spots! On to the food….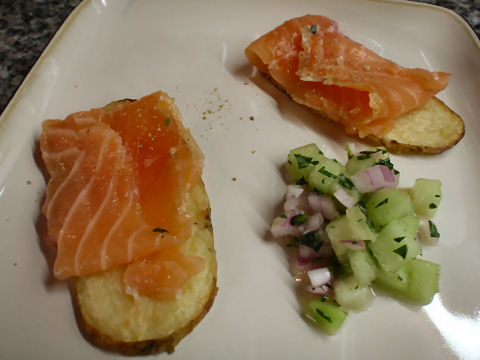 One of my favorite things to do with a nice fillet of salmon is to cure it – make gravlax. I've posted on the step-by-step procedure I use, quite a while back, and have been playing around with different herbs and such. In this case, I gave it a touch of Peruvian flair – first off, only lemon and mostly lime for the citrus peel, the herb, huacatay (Amazon black mint), and the spirit, pisco. Came out beautifully textured and flavored with a simple 48 hour cure. Delicious! Served slices of it over soft chips of oven-roasted potato, and a side of honeydew salsa (diced honeydew melon, red onion, rocoto pepper, huacatay, lime juice, salt and white pepper).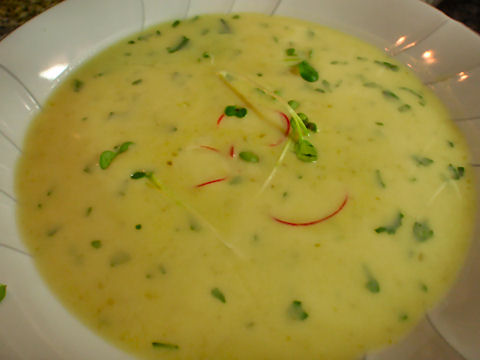 I love fresh spring pea soup. I also love the combination of peas and radishes. Made a simple white chicken stock, sauteed some garlic, leeks and celery until soft, put them into the strained stock, added lots of freshly shelled peas, and simmered away until the peas were soft. Then pureed the whole thing along with some mint. I'd initially planned on making it a dairy free soup, but the party that cancelled were our lactose-intolerant folk, so the heck with it, threw in some cream to give it a little richness. Chilled it, then served it with thinly sliced radishes that I'd soaked for a little while in salted water, and then a good clump of fresh radish sprouts to finish it off.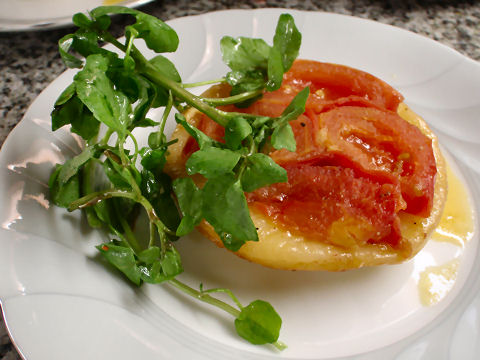 This was my personal favorite course, both in flavor and presentation. A tomato tarte tatin. The tomato wedges caramelized in butter with a little sugar and salt, some mashed anchovies, and plenty of black pepper. Laid those out in individual sized baking dishes. Made an olive oil puff pastry – one of those things I haven't done since cooking school – butter, obviously, being the more common type of puff pastry, but the olive oil one is really good with savory dishes, and healthier to boot. It doesn't get quite as flaky as the butter version, but does surprisingly well. Placed rounds of the pastry over the tomatoes, into the oven and baked until puffed and lightly golden, then flipped out onto plates. A simple salad garnish of watercress dressed in Devil's Rain dressing, a recipe from the Nero Wolfe cookbook that's become a favorite over the years – basically a spiced dressing of garlic, mustard, cayenne, chives, salt, olive oil, tarragon, wine vinegar and red wine. It usually also include walnuts, but we had two folk with nut allergies coming, so left them out.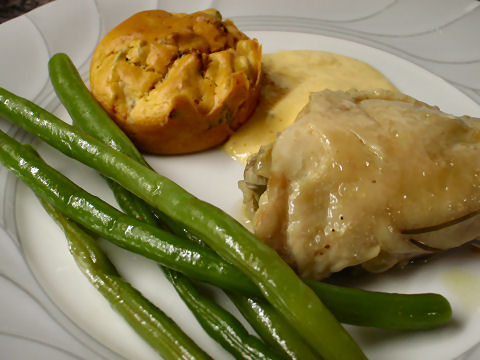 You might remember the smoked duck and olives cake from our John Calvin dinners awhile back. A couple of people who attended those dinners had liked the idea, but felt that on its own it was a bit overwhelming. I also liked the idea, so I've been playing with it. I made them smaller, and used tea-smoked chicken legs. I took chicken thighs and confited them in a mix of chicken fat and olive oil with plenty of garlic and some rosemary. Fresh green beans, blanched, shocked, and then quickly sauteed in olive oil. For the sauce, I wanted something citrusy to bring some contrast and tie it together. I went with a grapefruit based hollandaise. It worked, but needed something a little more… umami to it. I think I'd go for repeating this and making something more like the Syrian roast chicken sauce, but substituting in some grapefruit for part of the lemon, as I think it has a flavor profile that works very nicely.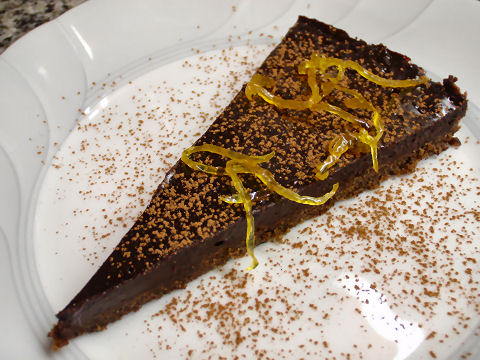 A classic bittersweet chocolate tart, pretty much right out of the Joël Robuchon Simply French cookbook, with the addition of half a teaspoon of mace to the filling and changing the crust to a cocoa crust. A little cocoa and candied lemon peel atop. That works.