"On the day we mark the Sivas Congress' 90th anniversary, we feel proud as a nation of both the work so far, and the continuing work to make our country progress in unity. The fact that all segments of our society act in line with a sense of maintaining our unity and state makes us look to the future with confidence.

– President Abdullah Gül, Turkey
Buenos Aires – It's nice to be able to celebrate something as momentous as the shaping of a new nation, or at least the 90th anniversary of that (perhaps Casa S will be around to celebrate the centennary?), with a bit of food. As always, the flavors of the country, in this case Turkey, influenced the food, but much of it might not be recognizable to the average Turkish cook….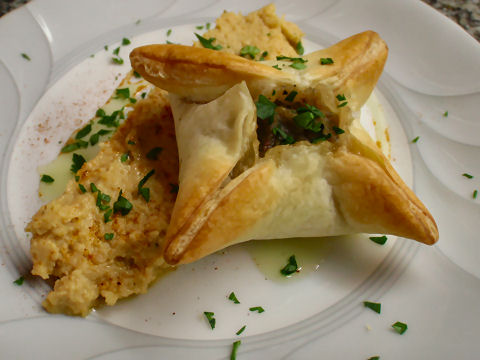 We started off with an eggplant puree tartlet – baked in the oven at last minute to be all puffy and browned, the filling a mix of pureed, charred eggplant with mint, garlic, chili flakes, olive oil, salt and pepper, and then served over a puree of chickpeas, olive oil, lemon juice, cumin, garlic, tahini, and urfa-biber, the smoked Turkish pepper that adds such a distinctive note. A little drizzle of good arbequina olive oil and a dusting of hot paprika and mint finished off the dish. To pair with it, the sparkling Extra Brut from Callia in San Juan, a crisp, lighter blend of Chardonnay and Pinot Grigio.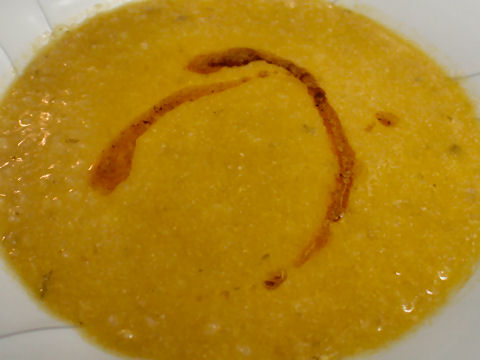 Our take on a traditional lamb "wedding soup" – in this case I simmered together lamb, carrots, green onions and tomato until the lamb was falling apart, then removed the bones and pureed the whole mixture together. Put it back on the fire and added rice and mint to it, cooked it until the rice was done. Just before serving I whisked in a mix of equal parts of flour, yogurt, egg and lemon juice, beating to make sure that the egg didn't curdle. A drizzle of butter flavored with smoked paprrika, sumac and chili flakes tops off the soup, and we popped a couple of bottles of Graffigna's Grecánico Doráto 2008, a rich, slightly honeyed wine with a touch of sweet oak that matched up quite nicely.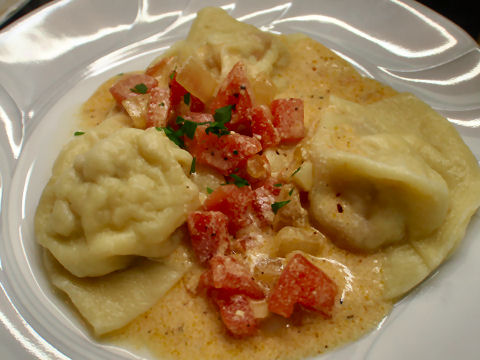 Originally I was going to make traditional manti, a sort of agnolotti shaped pasta filled with lamb and finished in a yogurt sauce, but then realized that the flavors and ingredients were virtually identical to what went into the soup. I decided on a fish course, but wanted to stick with the dumpling/pasta idea. There's a very popular swordfish kebab that's made on the coast, and I thought I'd take those flavors and work it into a dish. So, I coarsely ground the swordfish through the meat grinder and added powdered bay leaf, lemon zest, chilies and sun-dried tomatoes to the mix, and filled semolina agnolotti with that. For the sauce, a mix of yogurt, smoked paprika, diced tomato, onion and garlic. Loved the way this turned out! And, it worked really well with the fresh, spicy Sangiovese Rosé 2008 from Rodas Colección.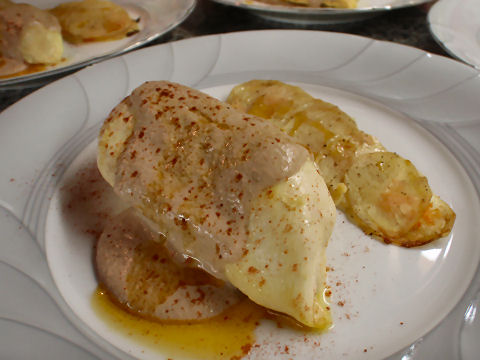 On to the main dish, based on Circassian Chicken, normally a whole, boned out chicken that's sort of replaced into shape and then coated with a walnut sauce and walnut oil. I went with just chicken breasts, skinless and lightly browned and then finished in a little chicken stock with some saffron added. The sauce, a mixture of toasted walnuts, bread, chicken stock, chili, garlic, and olive oil. To accompany it, rather than just simple roasted potatoes and carrots as is traditional, I made a layered potato and carrot dish – the first night I made one large tart and cut in wedges, but it didn't look that pretty, so the second night I made simple long overlapping strips of potato slices with grated carrot between the layers, much nicer. The wine, from Salta, Ayres de Cafayate Cabernet Sauvignon 2006, a smoky, dark berry fruit wine that I thought worked out just right.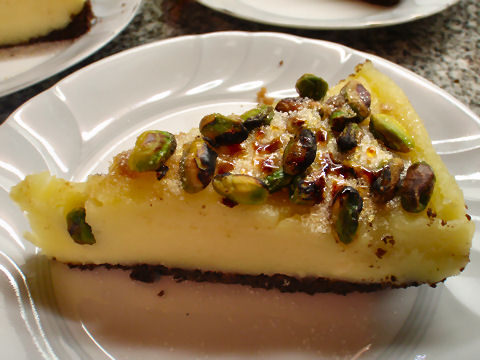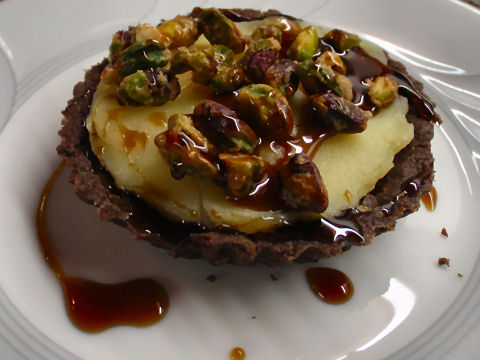 I like oddball desserts, and the idea of a semolina helva, more or less a thickened semolina paste, sounded like a fun place to start. Several recipes recommended pistachios, others chocolate, as additions, I decided to play with it a bit. The first night, a bit over the top – a cocoa crust but a way too thick layer of the semolina helva, and then I scattered pistachios on top along with some sugar and bruleed it – but the pistachios started to char – just didn't like the overall presentation that much, though the flavors were there. So the second night, made little tartlets, cut the recipe for the helva in half and just topped off each tartlet, the shell already cooked, and then cooked the pistachios in sugar and butter until they were nicely caramelized and spooned them over the top of each tartlet. A drizzle of carob syrup finished off the dish. Very happy! The wine, from Putruele in Mendoza, their late harvest Chardonnay, Tardío de Abril 2008, semi-sweet and nice and rich to go with this.