"Siena Palio takes place each July 2nd and August 16th, the race is run around the Piazza del Campo, and is over in around 75 seconds with an impatient crowd of 33,000 people closeted in a square. Excitement charged in the air, the horse's race around the arena, the jockey's intent both on racing as well as displaying open hostility to fellow jockeys. The entire world is filled with thundering hooves and the din of the crowd."

– Siena Festivals and Events
Buenos Aires – Three years ago this last weekend we offered up a dinner in honor of the Palio, the annual horse race in Siena, with a menu of local favorites. This year, we thought we'd reprise the menu, to a certain extent, at least the parts we thought turned out particularly well.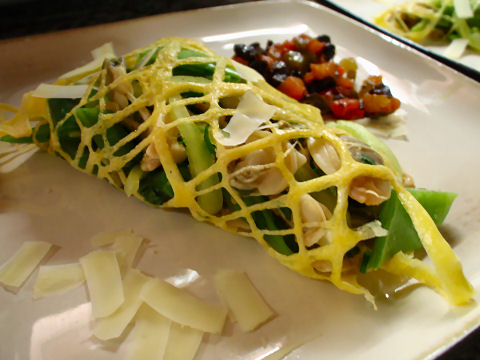 We started off by veering way off of traditional. Initially I'd thought about making a very simple, classic, frittata con le arselle, a clam omelette when it comes right down to it. But I still had egg nets on my mind – I really liked the presentation from the week before, and I also wanted to start off with something more salad like. So who says egg nets are limited to Thai food? After all, it's just a net-shaped omelette, right? Into that, a bright, vibrant salad of blanched and shocked green beans, both the haricot vert sort and the flat Italian beans, cut into short lengths, steamed cockles out of the shell, with their juices, thinly sliced Italian frying peppers, parsley, salt, white pepper and a little ground peperoncino. On the side, a salad of finely diced roasted green and red peppers with black olives, fresh oregano, olive oil and balsamic vinegar. And then a little pecorino cheese shaved over the top. To pair with this, I brought back the Codorniú María Brut, a 100% chardonnay sparkler that has a nice, creamy richness that was a good foil for the crispness of the salad and the brininess of the clams.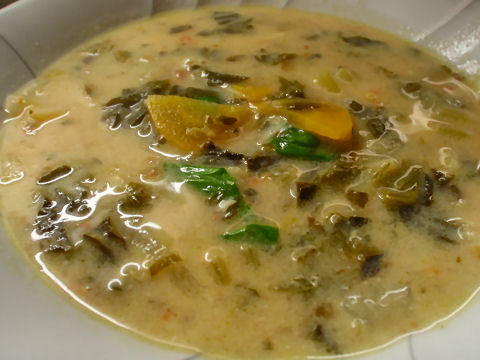 Moving straight back into the traditional vein, an acquacotta, literally "cooked water", a simple local vegetable soup. Brown chopped onions, celery, carrot and garlic in olive oil, then add chopped swiss chard and a puree of fresh tomatoes with a medium hot pepper, cooking for a few minutes more. Traditionally, water would be added at this point, but I wanted to give it a richer flavor, and so made a deep, rich brown chicken stock. Brought it just up to a simmer, turned off the heat and then whisked in a mix of beaten egg yolks, lemon juice, grated parmigiano, and shredded basil leaves. Salt and pepper and served immediately so the egg doesn't curdle and just gives a beautiful creaminess to the broth. I thought this soup needed something to cut through the richness of the broth, and although I normally like Sauvignon Blancs more in the hot summer, I thought the La Flor de Pulenta worked really well with this dish – though, I think I might actually go for a slightly oaked Sauvignon if I were to put this soup out again.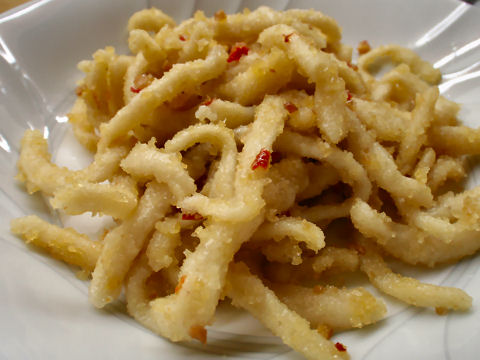 Another traditional dish, hand-rolled pici, a local specialty – thick spaghetti-like pasta, cooked until just al dente and then sauteed in a mix of lots of garlic, chilies and breadcrumbs. Very simple, very good. And, with a lot of practice over the last few years, I've gotten the pici to the point where I can make them evenly and quickly. This dish cries out for a richer rosé, and the Alfredo Roca Merlot from San Rafael has plenty of body, fruit, and herbaciousness to really stand up to the spiciness of the crunchy and picante breadcrumbs.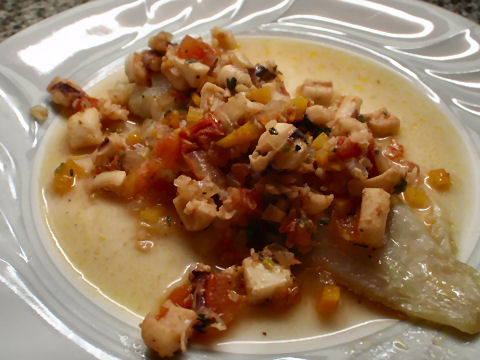 Another redesign, though this one only really veering off in presentation. The inspiring dish, cacciucco, a fish and shellfish stew. Having already had a soup planned in the dinner, I didn't want to go that route, but wanted to keep the traditional flavors. The fish, hake, was lightly drizzled with olive oil, sprinkled with salt and pepper, and put in the oven for about 8 minutes, to just cook through. The sauce – sauteed finely diced onion, carrot and celery for a few minutes to soften, then added minced garlic and chilies, fresh thyme and bay leaf, and diced tomatoes, and cooked another couple of minutes. Then I'd cut up a good amount of fresh squid and prawns into small pieces, about the size of lima beans, tossed those in, sauteed them quickly to get a little color, then put a lid on the pot and simmered them for about 20-25 minutes so that the squid softened again. I ladled the sauce over the fish – loved the flavor, not so thrilled about the presentation. That one will come back with a bit of re-working. I wanted a fairly bold red, but something without oak aging, and one of my favorites in that vein is the Bodega Tacuil RD, a 50:50 blend of Cabernet and Malbec from the highest mountain peaks of Salta – it played off beautifully against this dish.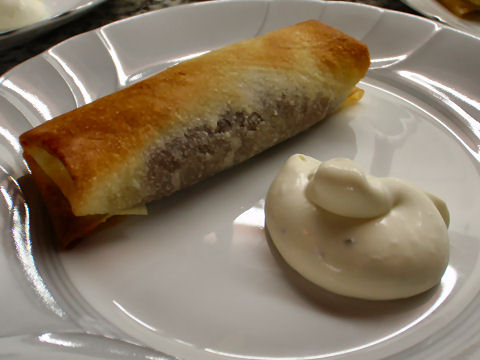 I've played, on and off, with the chestnut filling that I'd used in that first Siena dinner three years ago. I also wanted to make sure the pastry cooked better, so rather than the strudel dough from the first time, I used double layers of phyllo dough brushed with butter on all sides. The filling, a coarse puree of candied chestnuts, bittersweet chocolate, ground almonds, grated orange peel and a splash of rum. Instead of putting the rosemary in the filling, which sort of infused the whole thing with that resiny scent of the herb – not everyone's favorite – I infused some heavy cream with finely chopped fresh rosemary, then whipped it with a little bit of sugar. I really liked the way this turned out, but I still want to work a little more on the presentation – the strudel version the first time was really quite pretty, I just didn't feel like the center part of it cooked up as nicely as I'd have liked. To be played with…. Accompanying the plate, the San Felipe Tardío, a late harvest blend of 50% chardonnay and 25% each of Semillon and Gewurztraminer that has all sorts of great flavors going to match with the rich combination of the filling in this dessert.