"Man finds nothing so intolerable as to be in a state of complete rest, without passions, without occupation, without diversion, without effort. Then he feels his nullity, loneliness, inadequacy, dependence, helplessness, emptiness."

– Blaise Pascal, mathematician, philosopher, physicist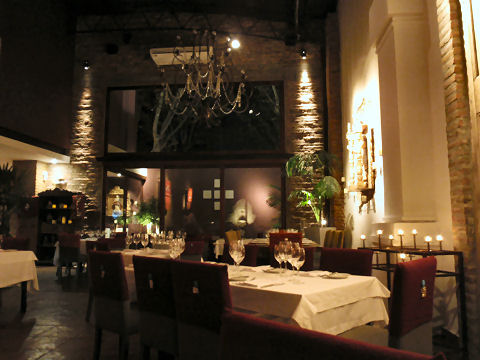 Buenos Aires – There was simply no reason for the place to be empty. Not the night I was there with friend Sandra of the Lonely Planet guides, nor the night that a couple of friends had popped in earlier in the week. True, the place is brand new – a mere five weeks old that evening. The space is simply beautiful, well-appointed with Peruvian artifacts and style – perhaps a trifle religious in nature – but then, PozoSanto, El Salvador 4968, Palermo, 4833-1611, is named after a pilgrimage shrine in Ica, southern Peru. The owners also own a well-known spot in Lima, La Carreta. Regular readers Ruben and Jamais clued me into this spot a couple of weeks back and it sounded delightful, so onto the list it went. And, delightful it was, with the exception of being empty. Oh, during the evening, probably a dozen people entered the room… to look around, get a little explanation from the maitre d', and then, depart… a shame, because they missed out. [Unfortunately this place has closed.]
Service, impeccable. Perhaps a shade "too correct" – the maitre d' came over, introduced himself and did a little speech at our table offering his services for any possible need, or mishap. Our waiter did much the same. A touch much, but charming in its own way. The menu, a fascinating fusion of Peruvian flavors married into classic Mediterranean dishes – we're used to seeing various Peruvian-Asian mashups, so it was exciting to see someone taking a different tack. It is a bit pricey – not over the top pricey, but definitely a splurge sort of place – certainly no more so than many of the higher end restaurants' prices have reached this year. On to the food.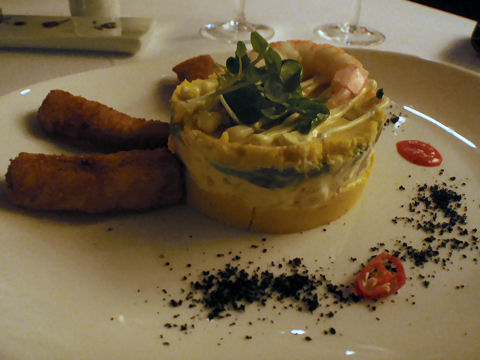 While we perused the menu, bread was served – a selection of quite good ones, along with both an herbed butter and a spicy cream cheese, and an herbed olive oil – I liked having the options! Sandra wasn't feeling overly hungry, so just ordered an entree. I decided to give a shot to my favorite Peruvian appetizer, the causa. I have to say, the Causa San Martín, as they termed it, was easily one of the best I've ever had – the balance on the chili peppers, lemon, salt was perfect in the potato, I loved that the interior layer was smoothed out by the addition of whipped cream cheese with the avocado and cilantro, rather than mayo, the olive crumble with a couple of slices of chili on the side were a nice visual touch. I didn't quite get the addition of the three little fish sticks, or, if we're going to stick with the high end theme, the gougeres – a nice Mediterranean touch, which I'm sure is why they were there, but somehow they seemed like a separate dish – they were delicious – perfectly breaded and seasoned – but there was a sense of disjointedness to it. Still, the causa, amazingly good.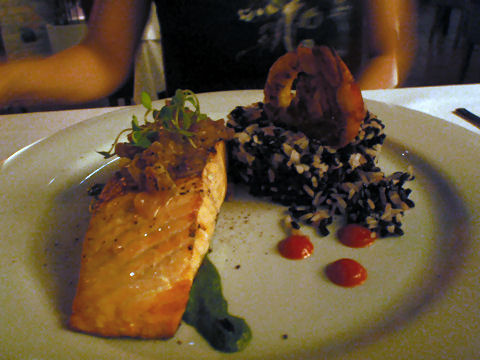 On to the main courses. Sandra opted for the salmon. I have to admit, I'm not generally a big salmon fan here – it's all farm-raised by a Canadian company in Chile, and for both flavor (very important, obviously) and ethical reasons (I'm not a big aquaculture fan, especially when it endangers wild stocks), the salmon here just isn't my first choice. Still, this was cooked well, a touch past the medium requested, but still juicy, and served with a mix of white and black rice, a fried prawn, and a topping of a little Nicoise style onion and olive mix, and a watercress puree underneath. Good. Not exciting, but good – it could use a little tweaking, perhaps a bit more seasoning, or better yet a local fish, but I liked the direction that it was going.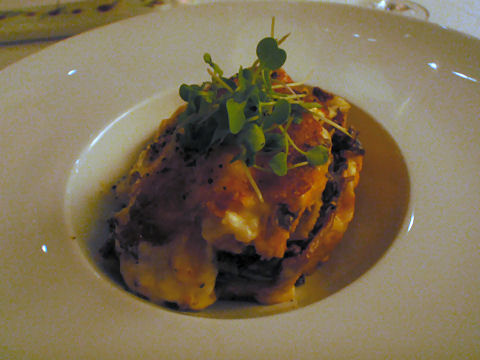 I have mixed feelings about my entree. It was an Ají de Gallina Lasagna, a brilliant sounding combination. First, the chicken dish is a favorite – shreds of chicken stewed in a spicy yellow pepper, cream, and cheese sauce. And layering that into a lasagna in place of bechamel and red meat… sounds like a match made in heaven to me (and look for my version of it coming up one of these days, the idea is inspiring). However, the execution fell just a bit short – not surprisingly, the spice was toned way down for local palates – the ají amarillo barely perceptable. And the chicken, rather than being shreded, was in large chunks – which not only doesn't quite fit the traditional dish, but made the lasagna a little weird to eat… and lumpy, you know? Still, it's minor tweaking of a good idea – shred the chicken, add a little more chili, and we're home free. And, I didn't leave a crumb on my plate, so it's not like I was just pushing it around wishfully.
So, overall – top points for the room and service. Bread and the one appetizer we tried, likewise – delicious! Main courses – great ideas, a little short on execution, though mostly, simply in the toned down spices – which likely means someone told them Argentines won't go for it if the dishes are spicy – still, a balance needs to be found – they could easily ratchet them up a bit and not be overboard for the porteño set, and have enough for those who like the traditional style. Price – expensive – the appetizer was 45 pesos, the entrees were 75 and 65 respectively, a glass of Escorihuela Gascon Viognier, 20 pesos, bottled water 6 each, and the one real negative on the pricing, an 8 peso apiece cubierto charge – at these prices they shouldn't be tacking one on at all. So, a splurge night – and ask 'em to spice things up a bit, something I'll do next time I go…. Now, if they could only get some people, some of you perhaps, in there long enough to stay in business, they may just have time to get it all right.