"The recipe is only music on the page it is you who will make it sing. To cook is to create, to marry ingredients as poets marry words, to play chords with flavors, to invent new and subtle harmonies."

– Roger Vergé, chef
Buenos Aires – It has been quite awhile since I've been out for any sort of real tasting menu. And, for the most part, those that I've tried over the last year or two have been more of the sort that we do here at Casa SaltShaker – a couple of appetizers followed by a modest sized main course and then on to a dessert. The "always leave them wanting more" adage never comes into play – they're more than sufficient food, often a trifle too much. We try to judge things here (and in the places I've been) so that there's no excessive waste, but there's no question that many these days, especially in light of consciousness about the economy and providing value, err on the side of more rather than less. I mentioned, during last year's Masters of Food and Wine show, that I'd skipped out on a dinner cooked by chef Germán Martitegui, best known here in BA as the chef at Casa Cruz, or perhaps at Olsen, both kitchens he continues to oversee. His new project, a sobrenombre (subname, or nickname, or diminutive) of his surname, is Tegui, Costa Rica 5852 in Palermo, 5291-3333 (presumably at some point the website will have more than just the basic data, but who knows?).
Some friends were in town visiting from New York and very generously offered to take Henry and I out to somewhere "special", and though I'm always loathe to impose a higher-priced tab on someone's generosity, they were quite clear that they really meant it – so, a perfect opportunity to try out Germán's new gem of a restaurant. The space – boldly designed with alternating large black and white panels on one wall, glass on the other, very sleek lighting, lots of gleaming surfaces, and a huge open kitchen dominating the rear. It's all quite impressive, perhaps even stunning, especially after entering via a completely unassuming, barely marked door in the middle of a residential block – as we were walking up the street Henry kept saying "are you sure it's here?" Our friends had the same experience with their taxi driver, who was quite positive that there was no restaurant to be found on the cuadra.
We arrived a few minutes before them, and, in the only service faux pas that occurred in the evening, were declined the opportunity to be seated at our table… "not until your party is complete" – come on, the dining room was empty, we were the first ones in the door, and that just smacks of unnecessary arrogance. Top it off with the only place to wait is a single little circle of plush covered footstools – had anyone else been waiting we would have been sharing the one and only "lounge table". Still, the bartender scooted over (the bar is oddly located immediately to the left of the entry, pretty much where one might think the coat check ought to be), took our order, mixed the drinks with lots of flair, and then stuck them on the bar counter and went back to whatever it was he thought needed doing – it took about 3-4 minutes before the hostess glanced over at the bar and apparently decided it as time to serve them – which she did.
As I said, that was the only real service faux pas, and once our friends arrived and we moved to a table – choosing that nearest the open kitchen so we could watch, service was attentive and friendly, in a mix of Spanish and English (oddly, I must admit, they seemed to have decided that myself and our friends spoke Spanish – two of us do, one not – and that Henry needed to be spoken to in English – he found it amusing, especially as it happened repeatedly – okay, another minor faux pas). We decided, after glancing at the menu, which is laid out with a series of "first" and "second" courses and then desserts, priced based on the number of plates you want to order rather than on any individual plate price – to opt for the six course tasting menu.
We started off with little cones filled with sweetened Brie cheese served up atop a sort of odd candelabra-ish rack, tasty little half-bites – not part of the six courses – Henry and I had already gotten a round of them while having drinks, but our friends hadn't gotten the opportunity. A nice appetite whetter, so to speak, especially as it was followed almost immediately by a selection of bread (the rustico excellent, the foccacia good, the beer bread not so much), and then another little amuse bouche – I can't remember the last time I was anywhere that served two, count them, two, amuse bouche – a fresh tuna carpaccio atop a little spicy salad.
We ordered up a bottle of Mendel Unus, which is still young to be drunk, but much improved since tasting it four months ago – which set the sommelier back a bit, I think he thought, somehow, looking at us, that we were going more "on the cheap" – as I said to him "Mendel Unus", he said, as he started to walk away, "fine, the Mendel"… and then paused, looked back, and said, "oh, the Unus…?" (the basic Malbec running 80 pesos, the Unus a whopping 360), after which he was all smiles and attention. First course arrived, a beautifully presented plate of shaved asparagus over a tomato gelee, with bits of crispy tomato skin – delicious, if a bit minceur, but hey, it's just the first appetizer. (I'm going to admit right now, I was just out enjoying the evening, and not paying close attention to the lengthy descriptions of each dish, so I'm not going to do them justice in terms of the dozen ingredients each was touted to have.)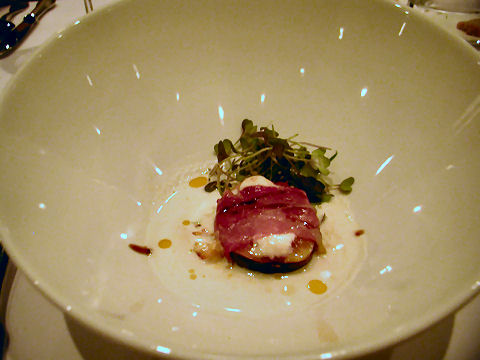 Next up, a single slice of a fresh fig, roasted, topped with some sort of cheese which I don't recall, wrapped in bacon, floated in a white foam of some sort dotted with flavored oil and garnished with microgreens. Again, quite tasty, yet, more or less a single bite.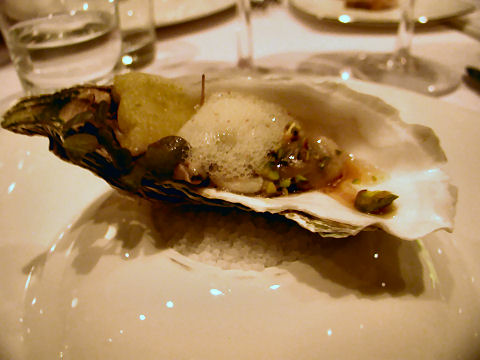 There are those who like bracingly cold, just shucked, oysters on the half shell. There are those who like their molluscs piping hot in a soup, stew, or pan roast. There are a few, like myself, who like them both ways. It is rare, I think, to find someone who likes a "just slightly warmed oyster". Texturally, this dish gave me a little pause – the "just warm" sort of accentuates that gelled slimy quality that oysters naturally have – I did like it, it just made me notice because it was so pronounced. Our friends, too, enjoyed it. Henry didn't, and let's just leave it at that it didn't go down well. All four of us, however, loved the flavors, mixed with a sort of smoked meat broth foam of some sort and little bits of fresh apple – on a purely flavor basis, brilliant. And, perhaps, being made to sit up and notice something because of an odd texture is a good thing, no?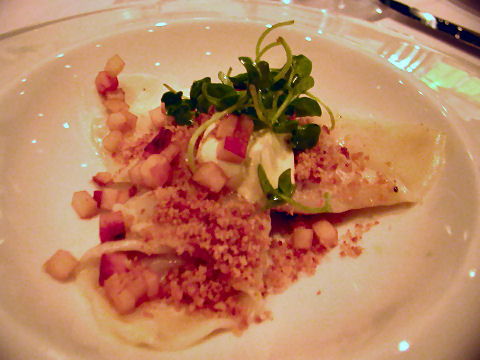 On to what was my favorite course – rabbit ravioli – unctuous, rich, delicious – in a truffle scented broth, with roasted diced peaches and some sort of grating of something crunchy over it that I wish I could remember what it was, because it was all just so good together. Henry doesn't eat rabbit, so he was served up a beautiful portion of what was to be the next course for the rest of us (odd, since he then got a different course while we ate that, why not just reverse them so that we all ended up with the same main course?)… a crispy, glistening skinned square of cochinillo, with meltingly tender meat underneath it, atop a… was it a pressed apple gelee, and radish microgreens? We ordered a bottle of Quara Tannat Reserva somewhere in there, a smoky, tannic bottle that worked brilliantly with both rabbit and pork. While three of us enjoyed that pork in our main course, Henry was served a delicious duo of prawns atop a bed of shaved vegetables.
We all segued into the same dessert, a quintet of chocolate that was, I must admit, my least favorite part of the dinner – each flavored with a different addition – pistachio, ginger… I don't recall, except that final bite, which, had I not had such good memories of the various bites of the rest of the dinner, would have sent me packing – an intensely eucalyptus flavored chocolate gelato that may as well, for me, have been a scoop of Vick's Vapo-Rub. On the other hand, Henry and one of our friends loved it, and the other friend found it at least interesting. And, admittedly, I hate the smell and flavor of eucalyptus. In anything. So we'll chalk it up to just me.
So, here's the roundup – love the space and ambiance. For the most part, love the service. Love the food, with the one exception of the gelato. Hate the long-winded explanations of every ingredient in each dish – too pretentious for me – better yet, just give me a copy of the chef's menu for the evening so if I want to, I can refer to it when writing or talking to people – no one's going to remember all that stuff unless they're taking dictation while the waiter speaks (have to watch that myself at Casa S I think – I may overdo it sometimes as well). Hate the price tag – 150 pesos apiece for the tasting menu isn't so bad, especially with the amuses thrown in – though, at the same time, such small bites for each plate that I left still a bit hungry, as did Henry, not sure about our friends – the cocktails run in the mid-20s (unless you order a "premium" which runs 40 something) – the bottled water was kept coming without us being asked, that depends on if that's okay with you or not, we didn't realize it until the end of the meal that they'd just opened bottle after bottle – the wine list, outrageously priced, and the sommelier could use a little attitude adjustment in terms of being just as friendly regardless of whether he thinks that the wine ordered is sufficiently valuable to spend his time on – all in all, I'd guess our friends, with tip, sprung around 1500 pesos for dinner, making it easily the most expensive meal I've been out for in Buenos Aires, ever. Recommended, probably for special occasions, or when on an expense account, or with friends visiting who don't mind splurging.