"He had eaten his share of the dinner, but he hadn't really enjoyed it because he was thinking all the time about Turkish Delight – and there's nothing that spoils the taste of good ordinary food half so much as the memory of bad magic food."

– C.S. Lewis, author, from The Lion, The Witch, and the Wardrobe
Buenos Aires – My first thought is, I never want to look at a shawarma again. I've had my fill, enough. But, I know it's just a matter of time, I do love the things, it was just a little overwhelming to hit nine different spots in the course of just a couple of weeks. In reality, only two of these three count… as you'll see.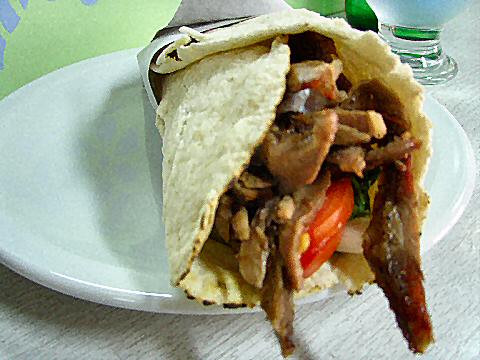 My friend Barbara picked up a flyer for a spot in Centro – at Montevideo 559, called
Oasis: La Cocina de Amira
. I popped by one day only to find that they only serve shawarma from noon to four, on weekdays. So, a few days later I headed back over. I really wanted to like this one – the place is cute, Amira herself came out to chat with me a bit – food, politics, etc. – her son, who carves the shawarma standing out on the sidewalk under an awning, is a cutie… but, I didn't. It wasn't awful or anything, it just wasn't that interesting – bland, unseasoned, and a bit on the gristly side, plus fairly skimpy on the bits of salad and sauce to accompany it, the pita bread was a bit on the stale side. Likewise their hummus was devoid of seasoning. They do, however, make a mean
café árabe
…
[Note: Going to have to edit this one – I stopped back in one day when passing by and I noticed that there were people lined up for the shawarma – it could have just been that it's the only place in this part of town, but, you never know. And it looked, somehow, different. And it was. Fresh pita, absolutely delicious, well seasoned meat, and, they now offer a fresh green chili sauce to spice it up for those who want it hot. I've been back several times since and it has continued to be really, really good, and they still make a mean café árabe! Likewise the hummus, which I tried again, though a little light on the garlic/cumin end of things, is now perked up with plenty of lemon, hot paprika and good olive oil. Amira is still there, but has new people working with her in the kitchen and out front.]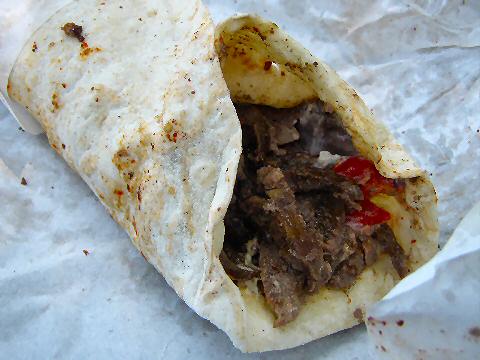 Okay, remember back in "
Book I
" of this chronicle when I said,
"I'm slightly skeptical, only because the owner of the shop spent so much time assuring me that he has the best shawarma, that no one else in town remotely compares, and I shouldn't try one anywhere else – and then admitting he's never tried anyone else's in town,"
in reference to the small shop at Cabrera and Malabia, called
Medio Oriente
. Mea culpa. He doesn't really need to go try anyone else's. They may have the best shawarma I've ever had in my life. Juicy meat, well seasoned, the fresh baked pita bread (they set up a whole production line on Fridays and Saturdays just for shawarma, and people are lined up out onto the sidewalk waiting), slathered with tahini and then another slather of tangy sumac paste, topped with plenty of tomatoes and lettuce, and a spiced onion salad… need I go on? I even ran into the guys from California Burrito Co. who were there for their "every Saturday fix" – you'd think after all the burritos they must eat during the week that a shawarma would have limited appeal, but hey, guys, good as you're burritos are, if they were as good as these shawarma, you'd have to license out your concept!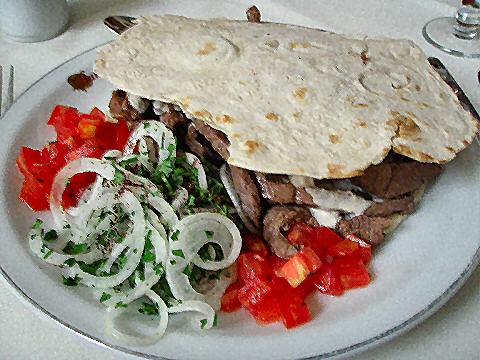 This one doesn't really count, because it's not a takeout, quick snack shawarma. It just happened that I met up with my friend Mickey in San Telmo and we decided to go to
Burmana
, at Balcarce 668. My mind was still focused on shawarma, so I ordered a platter – at 33 pesos – just to see what you get. Way more food than I could eat, to start with – it was a meal for two – the meat, however, way over-salted, though other than that, nice and juicy and with other good seasonings, plenty of tomato, onion, and lettuce, and, interestingly, sandwiched between two rounds of
lavash
bread rather than pita. The setting is nice, they have a rockingly good hummus platter that we split first, with plenty of fresh pita bread. But hey, it's just not the same as a wrapped up shawarma to go….
[Note: this place now has a take-out window that's opened during nice weather, just for shawarma, so have to stop back and see how they fare with that….]