"The privilege of a lifetime is being who you are."

– Joseph Campbell, author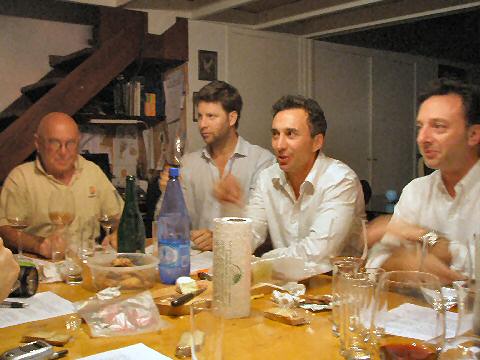 Buenos Aires – I hesitate to start this post off with an apology, because most of those the apology is aimed at probably don't remember that this event was going to include them. But so be it – I apologize to my New York area wine geek friends. Sorry you didn't get to be a part of this humble little event. It's my fault of course, I up and moved to a different hemisphere, making it more or less impossible. So, just to remind those who've forgotten, and those who never knew about it – over the course of my career in the restaurant world, I slowly collected some very special wines – wines from the year I was born.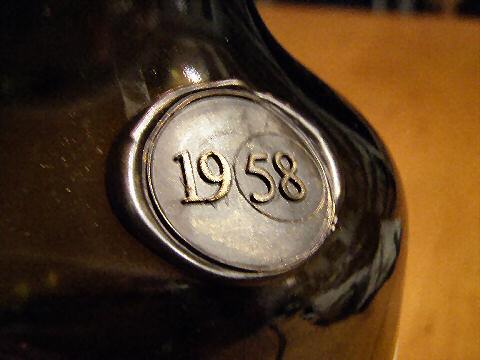 Now, 1958 was not a great year for wine. It really wasn't. I arrived a year too early for one of the biggies of the 20th century. That meant that most wine from the year had simply been drunk, not stored away for the future. And that meant it was really hard to find for the most part. Still, it was a fun process, and over the years I managed to come up with eight bottles, which I laid down in my collection, planning on opening them with a group of my wine friends, in New York, somewhere around my 50th birthday. Being here, the group of friends shifted, and given the vagaries of everyone's schedule, things got delayed by about six weeks. Last week, I finally gave up trying to plan around too many people's personal lives, announced the date for last Wednesday, the 5th, and left it to them to figure out getting there or not. Including me, we ended up with nine of us here, and my friend Mickey rooted about in his own cellar and came up with a bottle from his collection.
So, overall, not a great tasting in terms of the wines, I'll say that upfront. It was a special, rare treat to see how these wines had held up… or not. It was a great opportunity to talk about old wines and how they develop. And most of all, it was a truly special occasion for me, to share this with the group of friends I've found living here.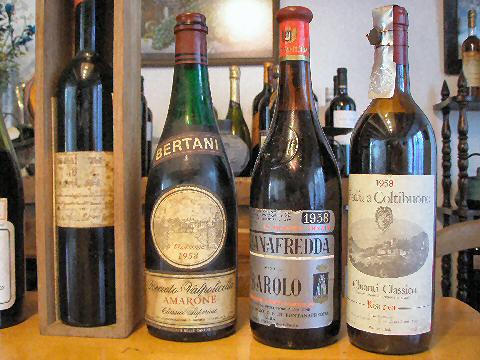 Badia a Coltibuono Chianti Clasico Riserva – a handpicked blend of 90% Sangioveto and 10% Canaiolo, which spent two years in a mix of French and Austrian oak barrels. The vineyards were part of a monastery, and were originally planted in the 11th century. The 1958 was the winery's first commercial vintage, though they have wines in their cellars dating back a couple of decades before that. This bottle was a gift from my friend Cliff, who worked for the importer in the U.S., back on my 40th birthday. Unfortunately, the wine was right on the verge of oxidized, and within five minutes of opening it, became pretty much undrinkable. For those few minutes it showed a little bit of dried cherry fruit, a touch of herbs, some old leather… then it was all gone.
Fontanafredda Barolo – I bought this wine direct from the U.S. importer about 15 years ago when they had a special release of "library wines". 100% Nebbiolo aged in large Slovenian oak barrels. The Fontanafredda winery has been in existence since 1878. Now, had this wine been a Barolo Riserva it likely would have still been in very good shape, as Barolo was one of the few regions that had a decent harvest in 1958 – being a basic Barolo, it was a bit simpler, easier drinking wine to begin with – still, the color was promising, a nice cherry red when we poured it – aromas of red fruits, old leather, milk chocolate, fennel, and clay were all there – faded, fading, but not gone.
Bertani Amarone Clasico Superiore – Amarone being a wine made for longterm aging, it wasn't as suprising to find a bottle in the importer's stock about a dozen years ago, and I picked it up. What I didn't know until I started researching these bottles is that not only was this Bertani's first vintage of Amarone, but it was the first "official" vintage ever produced in Italy – prior to 1958, no one really thought about Amarone as a sellable commidity, it was just local wine. A blend of Corvina, Molinara, and Rondinella, aged for 8 years, yes, 8 years, in large Austro-Hungarian oak casks, followed by two years in bottle before release. This was the star of the tasting as far as I'm concerned – beautiful color, tons of red fruit, golden raisin, bittersweet chocolate, and spice – it was in great shape.
Lopéz de Heredia Rioja – We switched to Spain, and the bottle that Mickey brought, as the last Italian wine was a dessert wine. I don't know much about this one, other than that it was a special bottling produced for Macy's. Yes, Macy's – the label even pictures the store on it. It apparently was a one time thing. According to the current importer in the U.S., the wine should be a blend of 75% Tempranillo, 15% Garnacha (Grenache), and 10% Manzuela and Graciano, aged in older oak barrels. The wine wasn't gone, though wasn't in great shape – showing a bit of fruit, lots of toasted walnut flavors, and a bit leathery, it was a bit out of balance with high acidity, still, it was drinkable, and again, like the Barolo above, for a non-Riserva, in good shape.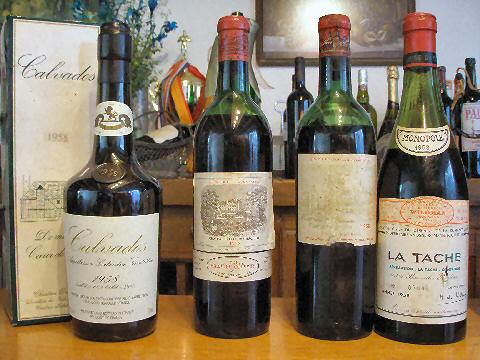 Domaine de la Romanée-Conti La Tâche – Considered one of the world's top wines, the La Tâche vineyards date back to 1232, though the DRC winery wasn't founded until 1869. I picked this one up at an auction, from a private collection, about ten years ago. 100% Pinot noir, aged in French oak. Much as I'd have liked this to be the star, I didn't hold out much hope – Burgundy had a terrible year in 1958, and the few notes I found online about this wine were a bit disparaging, plus, it had the lowest fill of all the wines in the tasting, down to low shoulder. Indeed, it was completely faded, though, given the airspace in the bottle, not oxidized – there just was little left to it – a bit of berry fruit, a touch of a floral note, a very mushroomy, earthy character (and the cork was all blackened with mold), it still had decent acidity, it just never opened up or showed any stuffing.
Cos d'Estournel Saint-Estèphe – Cos is a 2ème Cru Clase Bordeaux, and has always been one of my favorites from the region. A blend of 78% Cabernet Sauvignon, 19% Merlot, and 3% of Cabernet Franc, aged in French oak. I purchased this at an auction from a private collection about 12 years ago. It was still in pretty good shape, showing classic red currant, floral, and graphite flavors, a little bit of dried leaves. It didn't have great depth, but then, given the year, probably never did – it had, however, held up remarkably well.
Château Lafite Rothschild Pauillac – Considered one of the top wines of the world, a 1er Cru Clase, these vineyards were originally planted in the 13th century, the winery came into being in the mid-17th. A blend of 71% Cabernet Sauvignon, 25% Merlot, 3% Cabernet Franc, 1% Petit Verdot, aged in French oak. I purchased this via the same auction as the Cos. This wine was the biggest disappointment – completely oxidized, coming out of the bottle looking pretty much like weak tea – it had no remaining charms or resemblance to wine, and really, other than the Amarone, this should have held up the best of all of them.
DeBartoli Marsala Riserva "Vecchio Samperi" – Back to Italy, to Sicily. 100% Grillo, aged in oak for ten years. This bottle was a gift from the winery, handed to me by Marco DeBartoli himself, many years ago. It's not surprising that this wine would hold up – dessert wines, especially those that are partially oxidized, and then fortified, to begin with, usually do. Beautiful roasted hazelnut flavors, white pepper, dried figs, a touch of dark caramel and honey, and a long, lingering finish. Simply amazing.
Domaine Coeur de Leon Calvados – Okay, not a wine, a fruit brandy, and it wasn't even hard to find given that Christian Drouhin, the owner of the distillery, didn't even bottle it until it was forty years old in 1998, and I bought it about 5-6 years ago. My recollection is that this particular vintage was 70% Calvados apples and 30% pears, blended together. It's a very rustic, rough style brandy – not quite grappa level, but not particularly elegant, though, that may have been influenced by the previous wine's elegance. The pear flavors show through more than the apple, it has some nice floral notes. It was surprisingly lacking in complexity versus what I remember from having tasted it prior to buying it. Perhaps this is how Calvados fades…?