"I think that I shall never see a billboard lovely as a tree. Indeed, unless the billboards fall, I'll never see a tree at all."

– Ogden Nash
Buenos Aires – The city of Buenos Aires has declared war on billboards, with the intent to remove some 60% of them, roughly 40,000, from the various barrios, calling it "visual pollution". While I agree in principle that billboards on an in general basis are nothing more than an eyesore, I have to admit I would miss (should this ever actually come to pass) the amusement that some of them engender.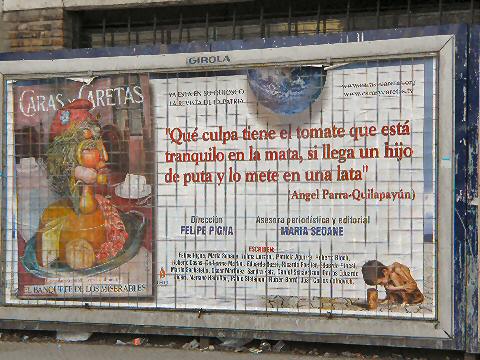 Caras y Caretas
(Faces and Masks) is a local weekly that often has eye-catching adverts, like this one for its issue devoted to the global (and in particular local) food supply crisis, with a quote (oddly attributed to "Angel Parra-Quilapayún" – Ángel Parra is a Chilean folklorist who is part of the
Nueva Canción
movement, and Quilapayún is a sextet within the same movement, and while they've appeared together, they are separate) that roughly translates as "What fault does the tomato have, sitting quietly on the vine, if some son of a whore comes along and shoves it in a can".
Indeed.
In other news, recently the Lucchetti pasta company introduced its
Tirabuzones con Salsa de Queso
– the local version of mac' and cheese. Now, having grown up with a fair amount of the blue box version thrown in here and there as quick and easy side dishes to dinner, and for many years using the same as a late night snack when getting home from bar-hopping or working late, I have an admitted fondness for the… crap. We all know it's not real mac' and cheese, and given the time, I'd much rather put together the real thing. But, it's a convenience, and it's strangely addictive. So I thought I'd give the Lucchetti a try, as the Kraft stuff isn't available here. Let's just say I took a bullet for the team. Really, you don't have to try this stuff out. The pasty, insipid greyish sauce that coats the corkscrew pasta (a claimed three portions per box, you've got to be kidding, it didn't fill one soup bowl, but then, thankfully…) like Elmer's glue is about as tasty. Even salt and pepper didn't help.