"Mind you, that's not to say presentation is everything. At the end of the day, it really doesn't matter how nice your coffee machine is. What counts is the quality of the service that you offer."

– Peter Bolton-King, chief executive of the National Association of Estate Agents
Buenos Aires – I turn to my Roget's Thesaurus… entry 674.17… superb, super [slang], superexcellent, supereminent, superfine, exquisite, magnificent, splendid, splendiferous, tremendous, immense, marvelous, wonderful, glorious, divine, heavenly, terrific, sensational; sterling, golden; gilt-edged or gilt-edge [both informal]; of the highest type, of the best sort, of the first water, as good as good can be, as good as they come, as good as they make 'em [informal], out of this world [slang]. Okay, quite a few of those are well over the top, so to speak, and truthfully, the word that came to mind was the title of this post, exquisite. A visiting friend from New York was in and we'd headed to a restaurant that my friend Alex, of Terroir has been recommending for a couple of months now. I hadn't gotten there. Silly me. Alex is good with food. We entered the converted old brownstone that is now puratierra, 3 de Febrero 1167, in Belgrano, 4899-2007, and found ourselves to be the first to arrive (at nearly 9 p.m.) for the evening meal.
It's tempting to just pick an illustrative photo, but would it be the cute little amuse bouche of bondiola… or the non-photo-ed trio of dips (hummus, carrot-grapefruit, vegetable cream) for the various freshly baked breads…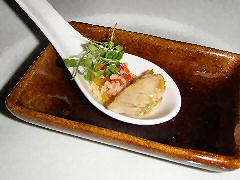 …or perhaps the tender as butter seppolini (baby squid) swimming happily about with their braised vegetables…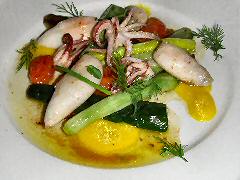 …or maybe the oozing fresh burratta perched atop its tomato compote and tagged with slices of roasted beets…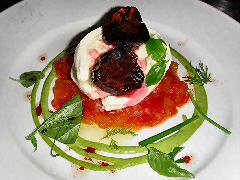 …or, better yet, the main courses, a succulently moist chicken breast, cascading with finely diced bits of zucchini and black olives in a bit of a garlicky foam…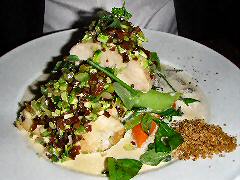 …or the perfectly grilled piece of corvina (sea bass) atop its roasted tomatoes, carrots, fennel…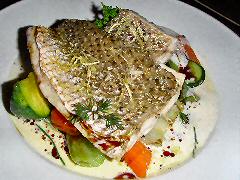 …no, wait, the desserts, that would be it, the bitter chocolate gelato with a trio of sauces – caramel, coffee, and cocoa, with scattered bits of sweetened cocoa nibs…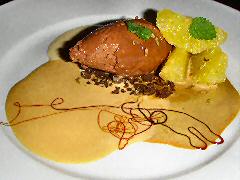 …or maybe the coconut and white chocolate soup with a scoop of fresh raspberry sorbet and dots of different herb and spice oils….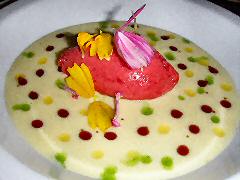 Better yet, the attentive, friendly service. Or the nicely lit, handsome room. Or the cozy, comfortable feeling of just sitting there and enjoying a glass of well priced wine off their well selected wine list.
Or perhaps, just to note that it was easily one of the top three meals I've had in Buenos Aires over the last three and a half years. [And, before you ask, Maat and Urondo are the other two of those three.] Definitely a special occasion place, as it's a bit pricey – with a bottle of moderately priced wine it ran us 240 pesos for two – but worth every centavo (that my friend spent, since he, thank you Allan, picked up the check).