"There's nothing wrong with entertainment, of course, but perhaps our celebrity chefs should learn the first rule of good dining: even the finest food leaves a sour taste if you eat it every day. So move away from the camera, go back to your kitchens, and come back when we can stomach you again. It might take a while."

– Hugh Wilson, Why we've had enough of celebrity chefs
Mendoza, Argentina – So, on to the plates, the food, the meat of the matter. Where's the beef? That was the question that seemed to come up time after time… okay, we only had two lunches and two dinners offered up, but it seemed that one by one, the star chefs flown in for the Masters of Food & Wine event had opted to share their skill with seafood. Mendoza's not exactly a big beach community, and from what I was hearing, people were really wondering why virtually no one was taking on creating something spectacular from local ingredients. Instead, the chefs chose to have items flown in, and showcased various vegetables and seafood, and yes, some meats, like goat or lamb, that simply aren't part of the local fare. Now, in some ways, that's not a bad thing, and there's no question there were some tasty dishes, and we all had the option to simply go out to a local restaurant instead and gnaw our way through an asado. But I think it would have been far more interesting to see what these far flung kitchen mavens could have done with, say, the theme of "reinterpreting local cuisine" in their own styles rather than just bringing in their own stuff.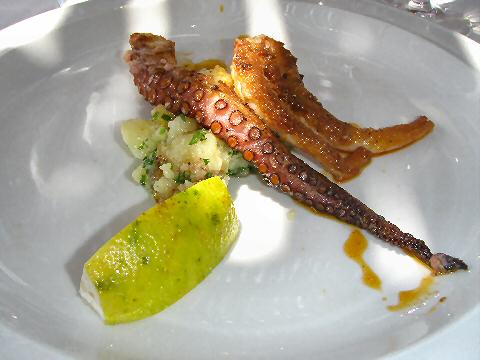 With the numbers of people involved, we were split up on the various winery tours and such, so at either of the two lunches or the first evening's meal (not counting the night of the opening cocktail party, where, had I not filled up on hors d'oeuvres, I probably would have lit out for a local restaurant, silly me), everyone was at one winery or another being treated to the fare of one chef or another. My first lunch was at Nieto Senetiner, where chef Paola Carosella, a
porteña
chef who moved to Sao Paolo, Brasil to open a restaurant, and was named 2004's Best New Chef, took the light, seafood based route. Lunch opened with what was essentially a crabmeat and potato omelet with some salad (
"grilled king crab with local farm fresh egg and roasted tomatoes"
, maybe it started with those, but its not an evocative description of the final dish) – tasty, though soggy – clearly having been made far earlier in the day and simply warmed for service (something which I later found out was true about almost all the food served – the wineries didn't have the facilities for them to cook multicourse meals like these, so all prep work and much of the cooking was done back at the Park Hyatt, then the food was transported and either finished or reheated onsite). The second course was her real winner – a couple of grilled octopus tentacles – perfectly tender on the inside and lightly crunchy and smoky on the outside, served with warm potatoes and lemon – though, an odd choice to have two dishes in a row atop potatoes. The followup of a scoop of goat's cheese with candied squash and dried out fennel bread was uninteresting, and the peach, plum, and mascarpone tart to finish could have been from a local pastry shop.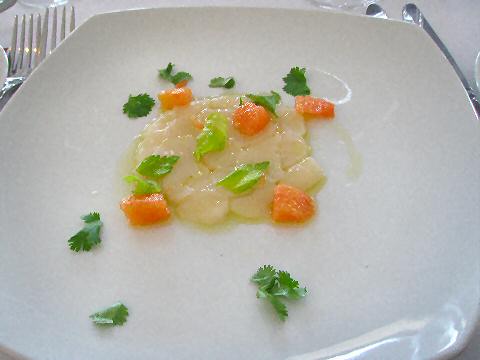 On the next day, lunch was a duo of presentations at winery Septima, from chefs Brian McBride of the Blue Duck Tavern (Park Hyatt hotel restaurant in Washington, DC) and Adriano Kanashiro of Kanu (Park Hyatt hotel restaurant in Sao Paolo). McBride led off with two courses – this simple, though fresh and tasty, spread of fresh scallops with grapefruit segments and cilantro, drizzled with a little olive oil – not exactly earth shattering fare, but pretty. He followed up with a grilled shrimp and green bean salad that was interesting, though served at room temperature, which somehow just wasn't right – either hot or cold please… and that was actually the case with all four dishes served at this lunch – all room temp. Kanashiro had a nice reinterpretation… or mild twist perhaps… on a classic miso cod – a piece of grouper topped with bits of cooked squid, wakame seaweed, and the whole thing floating in a bowl of miso tinged
dashi
(bonito broth). Had it been hot, this could have been the best course. He finished us off with a banana and chocolate springroll accompanied by some chopped pineapple in syrup and a twist of vanilla and green tea ice creams – at least the latter weren't room temp, though the springroll was…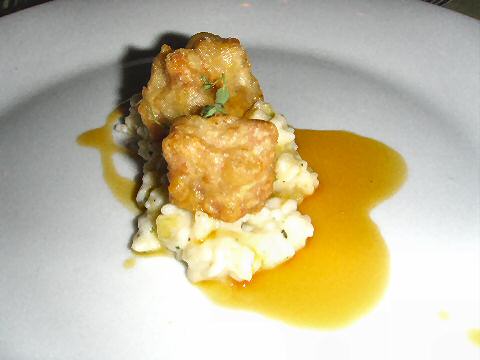 Most foodies have heard of chef Michelle Bernstein, a former dancer turned chef who gets regular raves for her food at her restaurant Michy's in Miami. She turned out what for me was the best course of the evening at the final night's "Gala Dinner" (actually, the best dish I tried all week) – a six-course… well, if you count that the hour of passed canapé (and yes, singular, one type of canapé – pickled scallops on toast with flower butter – for an hour, offered up by steadily more frustrated waiters as people simply stopped eating them after a couple of rounds)… and "petits fours and bonbons" that were offered up at the end of the eve. So really, it was a four course meal that led off with a salmon ceviche ravioli that was interesting, flavorful, and smaller than the canapé – "elf food" as it was put by someone at our table. On to the dish I loved, a sweetbread beignet with caramelized vinegar and a sweet potato risotto – just plain delicious – what a great idea, a deep fried doughnut filled with poached sweetbreads… Moving on to the "show", where two star Michelin chef Nicolas Le Bec basically had roasted some lamb, and then they put on a big production of slicing it at the front of the room, to fanfare and music, which just created ridiculous delays – the dish was to be served with red pepper and eggplant purees according to the menu, but instead came with self serve tureens of mashed potatoes. Who knows? I talked with one of the chefs, Germán Martitegui, who oversees the kitchens of Casa Cruz and Olsen here in BsAs, who said they were required to submit their menus over four months ago, and then even if they made changes to the dishes, which almost all of them did, nothing was changed in the printed materials from the original submissions.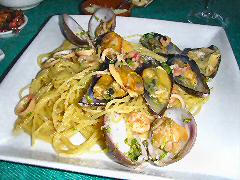 You might have noted that I left out dinner on one of the nights – I simply wasn't up to the whole hoopla. We'd finished lunch at Nieto Senetiner at 4:15, gotten back to the hotel at 5:00, and were due to head out to dinner at Navarro Correas at 8:00. While the chef was Martitegui, I figured I can try his food here at either of the places, and, as it turned out, rightly predicted that dinner wouldn't get started until about 10:00 or later, and the group wouldn't get back until 1 or 2:00 in the morning. Instead, I wandered a bit around the Plaza de la Independencía area right outside the Park Hyatt, which in the evening gets busy with a lot of open air theater and shows; I dropped in on the guys who run The Vines of Mendoza, a combination tasting room (with the largest selection of wines by the glass in Mendoza if not all of Argentina – 93 at the moment), and consulting service for folks interested in starting their own vineyards. We hung out for awhile, and they recommended a casual, no-ambiance Italian spot a block away. So a bit later I found my way to La Albahaca, Espejo 659, a block behind the Hyatt, where I had a simply odd meal. [Closed]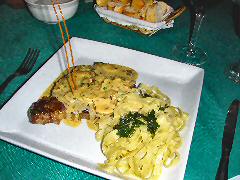 The guys had recommended the bife de chorizo, more or less a boneless porterhouse, accompanied by the grilled fresh asparagus and shaved parmesan. Sounded great, and I asked the waiter if I could get a half-portion of one of their pastas, something lighter, to start – he conferred with the chef, and showed up a bit later with spaghetti and shellfish – actually quite good, if perhaps a tad too al dente on the pasta, but with a great broth and olive oil drizzled over it all, fresh shellfish, and a huge amount for a half portion. He then returned and said that it turned out they didn't have any asparagus, so the chef asked if I'd mind if he substituted another grilled vegetable – no problem… except on arrival, it was the steak (cooked perfectly, I'll admit, and quite tasty on its own), but it was smothered in a mushroom cream sauce, and accompanied by… more pasta, topped with some unknown crunchy blackish something – I think it was deep-fried sage leaves. It was simply too heavy of a dish for a hot summer night, and although a really good mushroom cream sauce, just not what I was looking for. I kind of toyed with it, ate most of the steak, having scraped the sauce to the side, and left the pasta. The waiter asked, I expressed what I thought, but, c'est la vie – and no, while it was clearly a completely different dish, it wasn't a major upcharge. The food was good if not what I'd envisioned, indeed the place has no real ambiance (it's all a sort of glowing vermillion color, with pine green trim and plastic tablecloths), but they have a balcony on the upper floor, and tables out on the sidewalk (where I sat), which gets you out of the room and into people-watching mode. Oh, by the way, those two strange orange antennae sticking out of the steak? Deep fried spaghetti strands. Yeah, ummm…