"The number e is one of the most important numbers in mathematics, alongside the additive and multiplicative identities 0 and 1, the imaginary unit i, and π.

– Wikipedia
Buenos Aires – Sometimes, you just have to feed that inner intellectual, the nerd, the geek, the schoolkid who actually studied. Or at least I do, but then, I grew up as one of those. It was a natural for me, when contacted by a group of business students here on a several month study program, to offer up a dinner based on something in the readin', writin', 'rithmetic world – and since the date, February 7, is, as we all know, the day when math folk everywhere celebrate the mathematical constant e. Now, like π (pi), it's one of those numbers that goes on ad nauseum, but the important part when it comes down to the festivities, is that it starts 2.7…. February 7… oh, those wacky math geniuses (just wait until March 14… 3.14… and our Pi Dinner). Now, what does one serve for the annual Day of e? Why, things that start with the very same letter…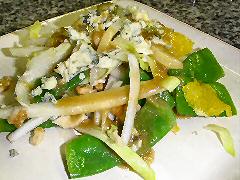 And so, we began our Evening with an Ensalada de Endibia y Ejotes – a salad of endive and green beans – though, of course, not just that, but blanched flat green beans, julienne of crisp endive, juicy segments of oranges, toasted walnuts, and crumbled roquefort cheese, all tossed up in a dijon, balsamic and tarragon (Estragón) dressing. Not the fanciest salad on the block, but certainly something more than the ubiquitous lettuce, tomato, and onion salads that show up on every local menu, with a side offering of corn oil and red wine vinegar, cheap olive oil on request, balsamic, likewise. Interestingly, it became the subject of conversation for a short while – in the U.S., we're used to a variety of salad dressings being available in restaurants, or at least pre-made, tasty vinaigrettes, and salads arriving already dressed so you don't have to work at the table. It's one of those little cultural differences that is quite present for those who dine out.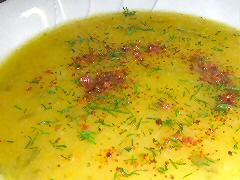 Taking some liberties with the naming of dishes, as was necessary to keep in theme, we have an Estofado de Eneldo y Enebro, which is slightly stretching the point, an estofado being a stew while this is really a soup, but hey, it's in the same family, and the base of the soup is potato, though, the two flavorings listed play a strong part – dill and juniper. This is a "country style" potato soup – lots of diced potato, carrot, celery, garlic, and onion, cooked down until lightly caramelized, then simmered away in vegetable stock with a large spoonful of juniper berries. The whole thing pureed, and then lots of fresh dill added at the time of service. And, just because, well, bacon makes everything taste better… right? … some crispy bacon that was then processed into crumbs got itself somehow sprinkled over the top of the soup.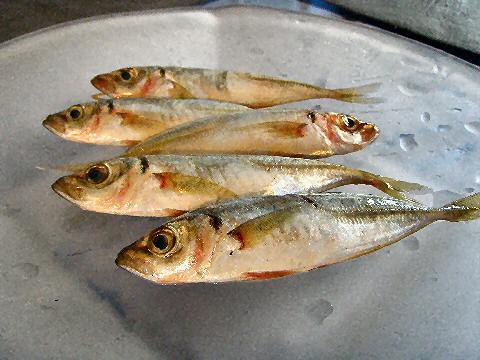 Aren't those just the prettiest little fresh mackerel you ever saw?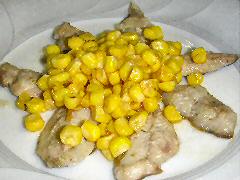 I knew I wanted a fish course, and although here in Argentina mackerel are referred to as either jurel or surel, there are places in the world where Escombros Enmarinado con Esquites comes out meaning marinated mackerel with… well, esquites doesn't have a direct translations – it's fresh corn cut from the cob, toasted in butter and chilies (I used guajillo chili powder that I brought back from my recent trip), along with epazote – a Mexican herb and another "e" – and then tossed with fresh lime and lemon juice. Yum. Best part of the dinner I think. I filleted the mackerels and marinated the fillets in a mix of white wine, apple cider vinegar, wasabi, honey, salt and pepper, and then broiled them, skin side up so the skin crisped and the fish cooked through (very quick actually, the fillets are really tiny).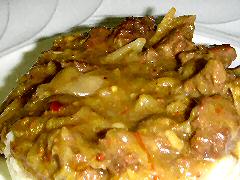 If we were to want to be technical, this is a minor twist on my favorite beef rendang. But we don't want to be, so this was Echalotes y Espinazo Enchilados, or, shallots and espinazo (which is stew beef that surrounds the spine) in a chili sauce. It's a definition. I followed pretty much the same recipe as in the original post, but with the different cut of beef, and a lot more shallots, left whole to stew down – it was an idea I got from a vegetarian cookbook I was flipping through that had a shallot and asparagus rendang (which, had asparagus been in season, I might have just made right from the recipe). I had also, by chance, picked up some fresh okra, which just came into season, and sliced up a handful into the stew mixture which gave it a nice, almost gumbo like consistency. Served atop jasmine rice.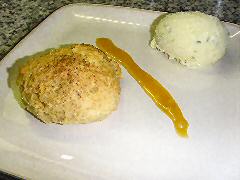 And finally, taking some major license, both intentional and not, we come to our postre. The scone, or Escón was easy, and I was thinking about the apple tart and tarragon ice cream from Almanza, and thought of making an apple scone – 2 cups pastry flour, ¼ cup sugar, 2 teaspoons baking powder, ½ teaspoon baking soda, ½ teaspoon salt, ¼ cup of diced butter, a grated apple, ½ cup of milk – all mixed together, dolloped on a baking sheet, sprinkled with cinnamon and sugar, and baked. On the intentional license, since H's aren't pronounced here, I went for 'Elado, or gelato of tarragon – Estragón. Here's where the unintentional came in – my vegetable and herb supplier stuck rosemary in my order, not tarragon, and I didn't notice until it was too late to get it exchanged, and nobody here in the neighborhood had fresh tarragon. Now, the two herbs have related flavors – in that sort of anise/licorice family, though rosemary is far more intense. So I cut way back on the amount and the time it was infusing into the milk for the gelato, and it worked out well, though tarragon would have been a better match with the apple scones and, of course, I lost my last "e". The gelato: 2½ cups of milk, ½ cup of sugar, warmed until the sugar dissolves, added a handful of chopped rosemary leaves and let it infuse for about ten minutes. Then tempered and beat in 6 egg yolks, cooked until it properly coated the back of a spoon, strained it, mixed in a teaspoon of vanilla, chilled, processed in the ice cream maker, and voila. A drizzle of caramel sauce in the center was really there more for effect than anything else, though it, of course, adds its own flavor into the mix.
Now, how can you resist our upcoming π dinner?