"There is a vulgar belief in Gloucestershire and other counties, that Rosemary will not grow well unless where the mistress is 'master'; and so touchy are some of the lords of creation upon this point, that we have more than once had reason to suspect them of privately injuring a growing rosemary in order to destroy this evidence of their want of authority."

– John Lindley, Professor of Botany, in The Treasury of Botany, 1866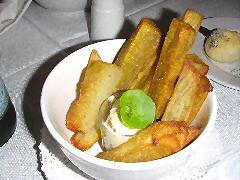 Buenos Aires – … Rosemary! Actually, Adesso si Rosmarino, Pasaje Schiaffino 2183, in Recoleta, behind the Palais de Glace, 4806-5646. The name translates (and hence the title of this column) as "Now… Rosemary". Brought to us by the brother and sister team that run my favorite little sandwich shop in town, Florencio, Chef Maria Laura is now dedicating her time at their new venue, with, I gather, her long time assistant running the kitchen back on the hill. The new spot is a far cry from the old, very sleek and trendy, lots of etched glass, cream colors, wood, white tablecloths, good glassware. Even a sommelier. At lunchtime, no less. No question they're catering to a different crowd – this is the heart of Recoleta, and everything's designed around impressing. It also makes more of an impression on your wallet, with appetizers that run in the mid-$20s and main courses from the high $30s to low $40s. We ordered a little bowl of thick, and perfectly cooked yam fries with a wasabi cream dipping sauce to snack on while perusing the menu…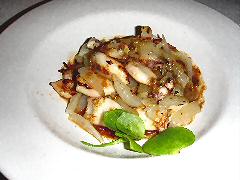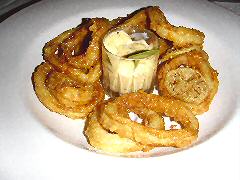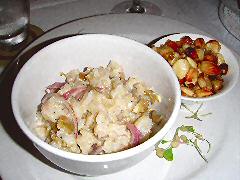 On to the appetizers, and a nice array – a lot of the menu leans towards seafood and vegetables. Mixed thoughts on what we had – absolutely spectacular grilled chipirones, or baby squid, served in a slightly sweet and tangy tomato, caramelized onion, and oil marinade. Fried squid rings were nice and crispy on the outside, tender on the inside, but pretty much flavorless, as if the batter had no seasoning – the tartar sauce on the side was decent, though also underseasoned. A weirdly disappointing ceviche of mixed white fish and cockles – the fish and shellfish pristinely fresh, tossed with nice slices of red onion and salt, and, as best I could tell, nothing else… really. I'd have thought that they forgot to put the citrus on, but the fish had clearly "cooked" through, still, there was virtually no acidity to the dish – I almost get the feeling that the fish was cured in sweet Key lime juice rather than the more citric Persian limes – and definitely no "heat" – ceviche needs something a little picante as well, or herbs, or… something? On the side, really, about the best cancha, or salted toasted corn – in this case from a purple corn – I think I've ever had.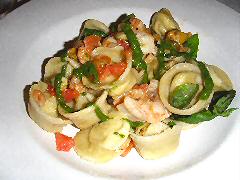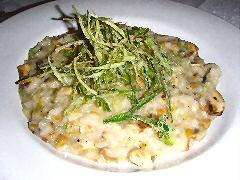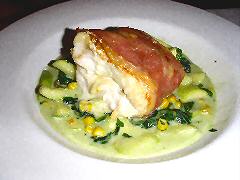 The main courses fared better – consistently delightful. A dish of cappelletti pasta, clearly homemade, filled with rich, creamy, slightly sweet mascarpone cheese and a mix of tomato, basil, arugula pesto, shrimp and mussels was absolutely delicious, and a huge portion that we weren't even able to finish. Likewise the dense mushroom and vegetable risotto, great flavors, perfect consistency… though way too much of it. Personally, I'd cut back slightly on the size of the portions and lower the prices a touch. A beautiful fillet of abadejo, or pollack, wrapped in bacon and served atop a wonderful little creamy braise of zucchini, corn, and greens was cooked dead-on, and the flavors all balanced. Too full for dessert, we finished up the meal with a round of good coffees.
Overall – beautiful room, attentive and friendly service. Food, for the most part excellent, with a couple of under-seasoned dishes, in particular the ceviche, where I think she simply took avoiding hot spices to cater to local palates too far – if you don't think your customers will appreciate spicy food at all, don't serve dishes that require those sorts of spices. My bet is, a touch of picante and some herbs wouldn't have bothered anyone. Pricey, but not really for the quality and/or the neighborhood. Nice wine list – they're even serving the Sur de Los Andes reserve wines as their by-the-glass selections – and quite reasonably priced as well. Definitely a spot we'll be back to.