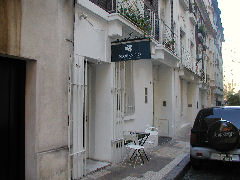 Buenos Aires – I hate finding hole in the wall type restaurants that I really like. It always presents me with a dilemna. Do I blog about the place and risk having it overrun with folk who flock there to check it out, or keep quiet and keep it all to myself? In the end, I always write about it – after all, I wish the owners the best of success, most readers won't actually run to the place, and even of those who do, some percentage will not find the same charms that I have in a teeny tiny sort of place. Victor sent me an e-mail telling me he'd heard about a new little bistro with only four tables, a menu that changes daily, and by reservation only, in a small passageway behind the British Embassy.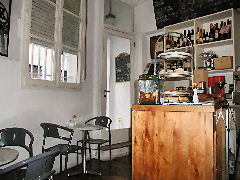 Yesterday lunch found us at Florencio, Francisco de Vittoria 236, in Recoleta. First, it's not quite a passageway, it's a short but regular cobblestone street. It is more or less behind the British Embassy – at least it's on the next street over from the back of the embassy. It's not new, it's apparently been there for 2½ years, in fact they're thinking of moving to a larger sized restaurant, because it is small, though has six tables (five inside, one on the sidewalk), each of 2-3 seats, for a total of 14 spots. It's not by reservation only at lunchtime (Monday through Saturday), but is for dinner (Tuesday and Friday only). The core of the menu is posted on a blackboard above an array of shelves selling various artesanal jams and teas, plus there's a daily specials board posted out front of the door which does change daily. It's charming, it's cozy, it's inviting, and totally captivating. It filled up within minutes of our arrival, plus folk who came in to get takeout – they do quite well it seems. Lots of British accents – guess being by the embassy is a big plus.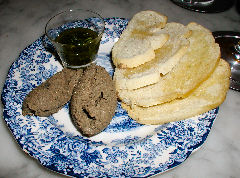 Chef Maria-Laura (I hope I got that right) and her brother run the place with great passion for what they're doing. She, in fact, can wax passionate about what she does for such long stretches that you begin to fear she will faint from lack of oxygen. But I love that – and the passion shows in the care that goes into producing simple but quite remarkable food. I can't speak for the dinner dishes, which are apparently quite different – and I'll be going back to check them out – but at lunch it's mostly in the sandwich, tart, salad, and pastry range. We started off with a basket of fresh breads – in fact, Maria-Laura makes all her own breads, roughly a dozen different types, every day. That's dedication to your product in a restaurant that has fourteen seats! We ordered a plate of the pate de higados y hongos, more or less a double scoop of excellent chopped liver and mushrooms, served with slices of freshly made and toasted white bread and an herb, garlic, and olive oil dressing. Yummy! Not Second Ave. Deli yummy, but the best substitute I've had here.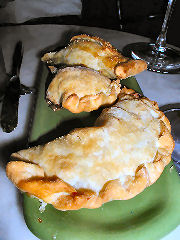 From there we moved on to a trio of empanadas that was one of the specials of the day. Again, she makes her own dough for the empanadas – light, flaky, buttery, almost like a puff pastry, quite different from the usual here. The first of the trio was stuffed with a melange of roasted vegetables, finely diced, tossed with fresh herbs, and quite good. The second, a teeny little triangle (I do wish it had been a little larger, it was hard to split) filled with a very rich mix of wild mushrooms – possibly even a little overly rich, though I still loved the flavors, it might be better bigger and cut with a little potato or something similar. The last, my favorite, and absolutely wonderful filling of sauteed veal, onions, and hard-boiled quails' eggs. What a combination of flavors!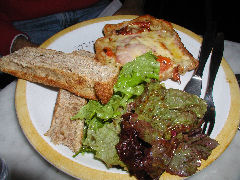 This was probably my favorite thing that we had at lunch. A tarta de jamón natural, it was a thin, delicious pizza-like crust, topped with prosciutto, arugula, confited tomatoes, and a couple of different cheeses. The flavors were very intense, it was perfectly cooked, and I'd go back there in a heartbeat for another. She wanted us to sample another of her breads, so she sent out a couple of slices of a whole-wheat, cinnamon and walnut focaccia that had just come out of the oven. More bread? Sure, why not! It was great.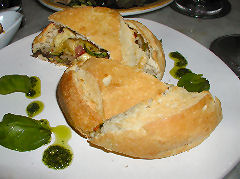 Our second main plate was the pan casero relleno, or stuffed homestyle bread. I have slightly mixed thoughts about this one. The filling was excellent – a mix of various roasted vegetables – a totally different mix from what was in the empanadas – inside a hollowed out pan casero. The bread itself was excellent. The combination was too. But, there was a bit too much bread for the filling. What we ended up doing was taking the top half of the bread off and eating the filling with just the lower part, which had also soaked up the juices from the vegetables. I'm not sure how you could do something like this differently, other than perhaps just to leave the top off, but that sort of ruins the look and feel of the dish.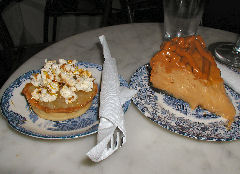 Yes. That's popcorn. I saw Maria-Laura's assistant come out of the kitchen carrying a small tray of these and asked about them. He said they were apple tartlets with popcorn and caramel. Her brother told us they were a new experiment she was trying, in fact we'd be the first to taste one. It was good, a nice tart apple tart, with a delicate crust, and indeed popcorn, drizzled with just a bit of hard-crack caramel. It wasn't an immediate hit with me – I think it needs a little work – maybe tossing the popcorn with the caramel so that it's more like caramel corn. I'm not sure. Something about it just didn't combine quite right. Then again, I'm not a popcorn fan. There, I just admitted it. The other, however, was spectacular. A thick cheesecake – I'm guessing ricotta, with dulce de leche actually being part of the cheesecake batter rather than just as a topping. And it was also a topping. And it had just come out of the oven, so it was warm and creamy. Need I say more?