"I was once married to a woman who could eat anything and tell you what was in it: the most complicated recipes. Her memory of taste – now that's what I call memory!"

– Morton Feldman, Composer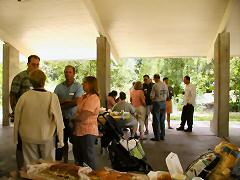 Ann Arbor, Michigan – So, the reunion was a rollicking success, as we predicted it might be. Now, for those who didn't catch the earlier post, the very quick version – last year was my 30th high school reunion, which neither I, nor many of my classmates, attended. Our reunions are a little impersonal, just based on having had a graduating class of 654 people – when I attended the 20th reunion, I think out of the 130 or so who attended, I probably actually knew a dozen people – others were familiar, but I simply hadn't interacted with them during school beyond a casual hello or a nod in the hallway. So, the suggestion of a reunion of those of us who grew up together in two neighborhood subdivisions and attended grade school, junior high school, and high school together, came up, it was an idea whose time had come – and so, our 38th grade school reunion was born. The day started off with a visit to the elementary school, which has been vastly expanded since our day, despite declining enrollment given Michigan's economy.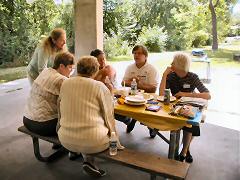 Many things have been fixed up, their are computers and A/V equipment in every classroom – all proper modern improvements – but overall, the place had pretty much the same feel as when we went there – in fact they renovated the school in addition to expanding it, and the renovations were aimed to preserve the look. The biggest changes were the grounds – in our time in school, it had a small playground, which quickly faded into a giant mud field and then a pond and small nature center – the last has turned into a full scale small forest, things we helped plant decades ago are now overrunning the place (the center was a creation that we put together in response to Ladybird Johnson's beautification programs – prophetic given her death this month), and the mud field is not planted over with grass and playground equipment. After the tour, we moved on to a local park and picnic shelter where we munched on things like 6′ subway sandwiches, chips, crudité platters, and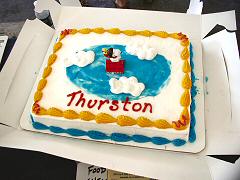 a cake with "our" mascot – don't ask why back around 5th grade our school voted for Snoopy to be the mascot, and our colors to match the U of M's, blue and gold – we stuck with them for our cake – the new colors are blue and grey and the mascot is the blue heron. About 35-40 people showed up, including a few spouses, though most folks didn't come with family. I have to admit that one of my two best friends from grade school on through college, I simply didn't recognize when he came up and said hello. How embarassing is that? I don't know if he was just trying to make me feel better, but he claimed that had he not seen my photos on my blog he never would have recognized me… The afternoon continued on to the late hours, and then I joined a couple of friends from those days for a nice Thai dinner.
The next day, I got together with another group of friends – for a brief period during college I was an EMT and then a paramedic – in fact, part of the first group of certified paramedics in our area… my license number was 81 for the state! A few of us who had worked together in those days – the days of competitive private ambulance services – hooked up for an afternoon of nibbling on snacks, drinking, and swapping war stories. Another fun day of catching up and seeing where folks have moved on to, hearing about others who hadn't been able to make it and what they were doing.
On to a bit of food and memories… not surprisingly, back in the day, especially as college students, we lived on things like burgers and pizza. For the former, everyone knew there was one, and only one, place to go – Krazy Jim's Blimpy Burger. founded in 1953 with the motto "Cheaper than Food". It was a burger lover's dream – you picked how many patties you wanted, from 1 (about 1.5 ounces of daily, freshly chopped meat) to 5… officially, but you could add more as you cared to. You picked your type of bun, cheese, and other toppings… I had a standard order, and, of course, I had to meet up with an old friend over lunch and give it a try again – a triple with provolone, hot peppers, and grilled onions… deep fried mushrooms on the side and an Orange Crush. I recalled it being a truly superb burger, back in the day… I have to admit, I don't know if it's simply changed over time (I gather the original Krazy Jim isn't involved or at least not on a daily basis anymore), but it was simply not that good – pretty much just a flavorless grease bomb.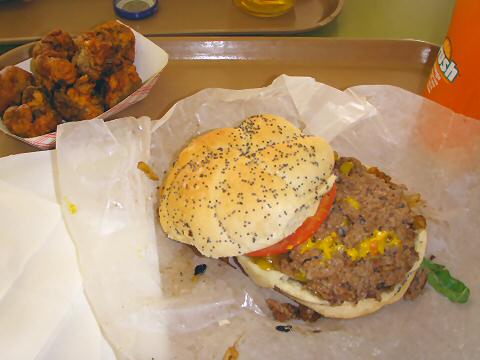 For pizza we had many choices… there was the Cottage Inn, a very popular place to order from, with quite good, kind of chewy pizza; there were, of course Little Caesar's and Domino's… the latter having been founded in our area, though I don't believe the original store still exists, but I don't know for sure… there was the Olympia, or Olympus… which was open 24 hours a day and located right in the center of campus… and therefore a much needed delivery option during all-nighters… despite the fact that we were convinced they cooked their pizzas by putting them raw in the box and then dumping a bucket of boiling hot oil over them – they'd arrive with the boxes literally dripping and sagging, you'd open them up and the pizza would be floating in oil… and then, at some point, there was Bell's – the "Greek pizza" – which I recalled having this amazingly fresh tasting tomato sauce with lots of herbs and garlic, and a rich, buttery crust that was somehow different… we never knew how, but it was simply delicious. You know what, it still is, and I still don't know what they do to the crust…