Tea is the language and art of hospitality."

– Inés Berton, Tealosophy
Buenos Aires – I once went to afternoon tea at some fancy hotel in London, and I know I went once or twice over the years at different hotels in Manhattan – I recall The Plaza having a nice one. But that's about it. Normally, for me, tea is a solitary pleasure – a cup here and there, whether brewed from bag or loose leaf, to be sipped while watching television or seated in front of the computer doing whatever it is I may be doing at that moment. It's not something I normally spend much time thinking about, and certainly even less talking about, so when the opportunity came up to write an article for the upcoming Time Out issue on "taking tea" in Buenos Aires, I jumped at the chance. It gave me the opportunity to get out there and try a few spots, from neighborhood tea shops, a five o'clock tea at the Hotel Alvear, a bastion of formality and tradition, to the opportunity for a long conversation with the passionate and effusive Inés Berton, owner and master tea blender of the local Tealosophy shop.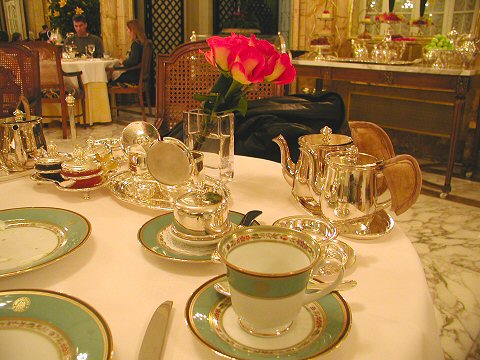 Now, afternoon tea – not high tea, which is more of a meal taken at the dining table – at the Alvear is something that any visitor to Buenos Aires ought to take in. It ranks up there in the people (read, porteña) watching world with things like Café Tortoni or a polo match. It is elegance personified. We headed off late last week – dressed up a tad, after all, it is the Alvear, though not everyone apparently goes by that dictum – to take our tea. We knew we were in for a bit of a splurge, but the menu listing tea at 55 pesos for the basic tea with sandwiches and pastries still gave us pause (65 pesos if you want a kir royale served with your pastries). And then our waiter told us we could only select one tea to share… we asked if we could select two different teas, he said yes, though it would be quite a bit of tea, and an added charge (14 pesos)… at that point you'd think that two reasonably bright individuals would have figured it out, but no, not until the bill came did we realize that it's a flat charge for the table – with one pot of tea, and then a series of trays of first, finger sandwiches (excellent!), then small savory and sweet pastries (good), followed by a rolling pastry cart with a large selection of tarts and cakes (we just couldn't). And therefore, the extra charge for a second pot of tea, and, a much better deal than we'd initially thought. There's sufficient tea for 2-3 people, and more than sufficient sandwiches and pastries.
I highly recommend the hotel's own blend (put together for them by Inés), a delicious black tea with delicate flavors of almonds and wildflowers; or the Blue Earl Grey, scented with both bergamot and lavender, which will leave you never willing to sip what normally passes for Earl Grey again…
I'm told by sources local that it's also worth checking out the 5:00 teas at the Cesar Park, the Park Hyatt, and the Claridge hotels… so they may just be getting some visits in the late afternoons.