The air soft as that of Seville in April, and so fragrant that it was delicious to breathe it."

– Christopher Columbus, explorer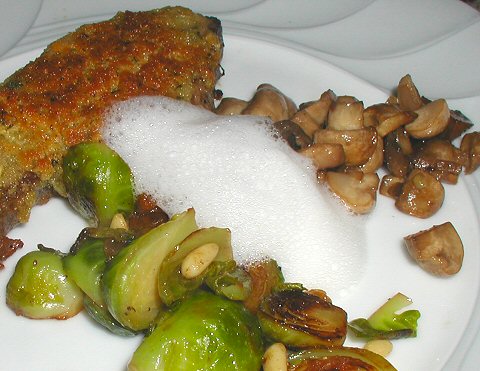 Buenos Aires – I know, you've been waiting for it. It's not like I could take a class in various techniques and not try them out here and there. No worries that I'm suddenly going to stop serving our usual fancified home cooking though – at most these things will show up as touches, garnishes, mere ephemera. I had the opportunity to play around a bit the other night when we hosted a small private dinner. The owner of Sur de Los Andes winery wanted a place to showcase some of his wines to a small group of food and wine journalists (no pressure there, right?), and having been to Casa SaltShaker a few times, thought it would make a nice, relaxed venue in which to do so. A four course meal, the first three planned around five of his wines (okay, so he came with seven wines, and they were different from the ones we discussed, but we made it work), and full license to come up with anything that would both complement his wines, but also keep the writers' interest.
I decided that I'd go with some things that I've done in the past for at least a couple of the courses, things that I like the way they turn out. You've seen my little shrimp, potato-zucchini mash, and banana guacamole dish – I used fresh scallops this time instead of shrimp, and since good, mature avocados are not in season right now, decided on a different sauce – settling on my fire-roasted tomato sauce (recipe in that same dinner), though making it without the hot pepper, and using a reduced sherry instead of reduced red wine. The second course was a a fairly quick and easy mole sauce with chicken that I make at home when I'm in the mood – it's not a real traditional, long cooked mole with all sorts f seeds and nuts pounded into a paste – it's a mix of sesame seeds, onions, garlic, ancho chili, nuts, chocolate, cinnamon, and salt, all blended with some olive oil in the blender and then cooked for about an hour over low heat. Usually I make this with turkey and carrots, which work well, this time I went with chicken and carrots, but separate the carrots out in long strands like spaghetti, blanched, and laid out like a nest underneath the chicken and some couscous (I don't know, I just used couscous).
But then, for the main course, I knew I wanted to do something with beef. This was where his big gun wines were going to be shown. I started thinking about that lamb and wasabi dish that we'd done the first night of class, and from there it all sort of came together. I used lomo, or beef loin, and instead of wasabi, I had some fresh horseradish roots around, so grated those into the crust mixture (really just breadcrumbs, butter, the grated horseradish, and some salt), browned the beef, let it cool, spread the crust on it, and threw it under the broiler (I left it in slightly long after it was browned, just "resting" with the heat turned off, and the beef cooked more than I would have liked, but not overdone. I sauteed some mushrooms until they were lightly browned; I blanched some brussels sprouts and then sauteed them with pinenuts and raisins, and then… did he really do it? … yes, a foam. An air. It was a nearly last minute decision, I just suddenly thought about the idea, and I had more horseradish around, so why not a bit of horseradish air atop the dish as a garnish? And it worked – it actually added a nice spicy note to the vegetables in particular (the beef already had the horseradish in the crust), and looked kind of cool. And when I said "horseradish air", everyone suddenly seemed to be paying attention. Go figure.
For dessert, it was my "lamington" cupcakes, from our Australia dinner – I like those…
So there, I've made my first "air". Now back to our regular programming…