"Be discreet in all things, and so render it unnecessary to be mysterious."

– Arthur Wellesley, 1st Duke of Wellington
Buenos Aires – It's no small thing to have a pair of boots, a city, and a steak named after you, especially when you've had to change your name to get there, and everyone thought you'd never amount to anything. But, Arthur did it. It's especially odd that he has a steak, and a fancy one at that, named after him, since he was the complete opposite of a gourmet, taking no interest in food other than for sustenance, often living on just cold meat and bread. For me, however, Beef Wellington is a favorite dish – essentially a beef tenderloin, or eye filet, coated in paté, topped with duxelles (reduction of mushrooms and shallots), and wrapped in puff pastry. Of course, I'm going to take some liberties with the dish by the time we get to that part of the evening…
Last evening was well attended – for a change over recent weeks, we were fully booked. A mix of locals, a couple of whom had been here before, some travellers who got to us via TripAdvisor, and a couple who were sent by friends back in New York – literally having landed at the airport here a few hours earlier – we were their first evening out in Buenos Aires! The menu started off with a chilled gazpacho. For spring and summer, how could there be anything better? My gazpachos tend to be sort of thrown together – based on tomatoes, cucumbers, and peppers, but from there… well, this one was 6 seeded, chopped tomatoes, 3 seeded, diced cucumbers, 2 seeded, chopped yellow peppers, most of 1 finely chopped rocoto pepper, 3 minced cloves of garlic, a minced 1″ cube of ginger, ¼ cup of red wine vinegar, ½ cup olive oil, a handful of chopped basil, salt, and black pepper. Mix it all together and let it sit at least overnight in the refrigerator to blend the flavors and soften the vegetables a touch.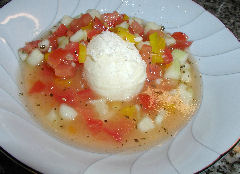 But, of course, I couldn't leave well enough alone. I mean, there's nothing wrong with a pristinely fresh gazpacho. But, I couldn't. I had this idea about adding a dollop of sorbet in the center. But what sorbet? A small bit of pureed gazpacho perhaps? No, something to add some zip and zing, and of course a hint of "fusion" into the mix. A kaffir lime and olive oil sorbet. That's the ticket. Boil 1 cup water & 2/3 cups agave nectar until dissolved. Off the heat add 12 kaffir lime leaves and 1/4 of a chopped rocoto pepper (reserving the rest for the gazpacho above). Add the juice of two limes and one lemon, 1/8 tsp salt, 1/2 teaspoon of sesame oil and 2/3 cup of good olive oil. Let steep and cool to room temperature, then chill in the refrigerator for several hours, and churn in an ice cream maker with one beaten egg.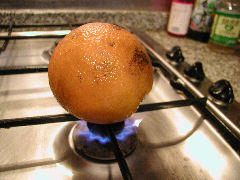 Next up, as you might recall, I've been playing around with some cured fish. Originally planned as a salmon gravlax, it turned out that one of last night's guests was allergic to salmon, so I decided to try something different. I found some nice fat gatuzo fillets. While the process is the same as in the link above, the cure is a trifle different. First, the fish isn't near as oily or thick as salmon, so only about 24 hours was needed to completely cure it. Second, I went with a somewhat simpler flavoring.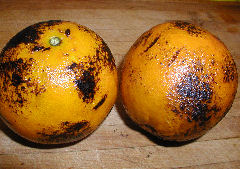 I'm not sure why, but it popped into my head that "burnt orange" would be an interesting flavor with the gatuzo. So, caramelizing the peels of a couple of oranges became the first order of business. That, some chopped cilantro, and a splash of triple sec for the liqueur were the "inner" coating; the outer was a mix of light brown sugar and coarse salt. Then scrape the coating off, rinse lightly, and slice into thin slivers. I served the fish atop a dandelion green salad dressed with a mustard-orange dressing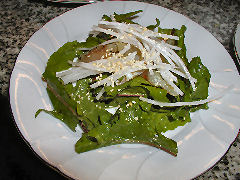 (the juice from the two burnt oranges, ½ teaspoon mustard powder; 1 teaspoon salt, equal volume of olive oil to the juice). Some finely julienned daikon and toasted sesame seeds topped the display. I liked the dish a lot, but I noted that only about half the folks who were here ate the fish, so perhaps it wasn't as good as I thought it was.
On to the pasta course, initially planned as papardelle, though I've been using that quite a bit recently. I had this idea, however, to lightly cook the pasta in advance, then coat it with roasted garlic paste, roll it up in a coil in a small baking dish, ladle a little sauce around it, and then bake it until the pasta got lightly browned and the sauce was all bubbly.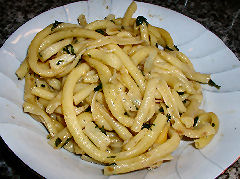 But, the best laid plans… my two neighborhood pasta makers were both out of papardelle, and I'd forgotten to specifically ask them to save some for me. However, one of them had some delicious looking bucatini that had just been made, so I grabbed a few pounds of that and revised my plans. The sauce is very simple – brown butter (about two sticks of butter until lightly browned), then add about ½ cup of roasted garlic puree, whisk together well, and then at last minute add several cups of chopped arugula and a little salt. Toss the finished pasta with this sauce and top with some smoked gouda cheese. That works…
Okay, back to that Beef Wellington. All I'm going to admit to is starting with the basic idea. Start with ojo de bife, cut into thick steaks and cook to medium rare with a little salt and pepper. Let them cool. Meanwhile, make a duxelles of shiitake mushrooms and shallots, but I'd decided that instead of paté I was going to use some of the sweet chinese sausages that I'd found recently in chinatown. Cook those all together with a little sweet red wine and then puree coarsely.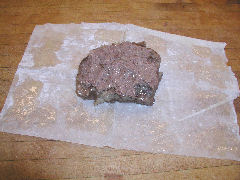 From there it was easy – coat one side of each steak with the puree and set it in the center of a rectangle of lightly buttered strudel dough (or filo dough, but I couldn't find any, and I think the strudel dough ended up working better anyway).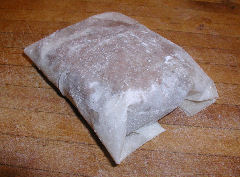 Fold it up like a blintz – now, the puree covered side is on the bottom – set that in the center of another rectangle of dough and fold it the same way, the puree is on top, you've got a nice double layered dough.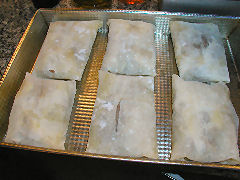 Let sit until ready to cook, then bake in a hot oven until all golden brown – the steaks, depending on how thick, will cook to somewhere between medium and well done, but be basted by the puree ingredients.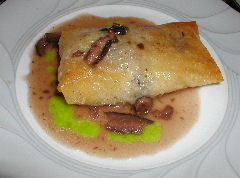 The sauce was a reduction of a beef and mushroom stock with some sliced shiitakes and a bit of sweet red wine. It was finished at the last moment with a mounting of butter and flour whisked in while it was boiling. A little sauce spooned over the "wellingtons" and then a drizzle of some freshly made chive oil. I'm not sure whether Arthur Wellesley or whomever the chef was that invented the dish would approve, but no one at table seemed to mind. Only minutes before I'd hear mutterings about people getting full, but these were half gone before I had a chance to announce the dish!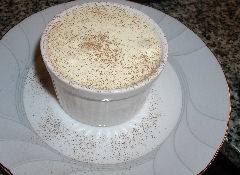 Dinner finished off with a white chocolate and pear mousse. I started with an idea from Maury Rubin's excellent Book of Tarts… on the bottom of the ramekins I put some diced fresh pears. The topping is a mousse made from half chilled white chocolate ganache (12 ounces of white chocolate and 2¼ cups of heavy cream) and half whipped cream made from 2¼ cups of heavy cream infused with the skins from the pears for several hours. Let it set in the refrigerator for a few hours, then dust with cocoa and cinnamon and serve.