"We're a little more sophisticated. It's just different. We have stuff like clam goo on the menu."

– Frank Slutsky, Restaurateur, Bethlehem, Pennsylvania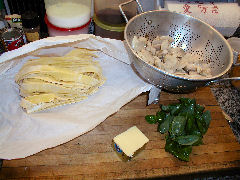 Buenos Aires – I'm becoming convinced that there's some sort of tenuous thread that floats through the ether and connects various chefs in different ways. We've all seen it happen for no apparent reason – suddenly a couple or several or many chefs, all in different places, start experimenting with the same ingredient, or technique. Maybe it's the internet, I don't know. All I know is that yesterday, I couldn't get the idea of making something with brown butter out of my head, and I spent the day playing with various ideas in my mind that gradually came together. Then, this morning I get my usual postings from some of my favorite blogs, and Aki and Alex, over at Ideas in Food, apparently spent the day playing with brown butter as well. No question we went completely different directions – they tend to go for truly experimental, offbeat combinations, though interestingly, in this case, rather than heading down their oft-traveled molecular gastronomy route, they went for a brown butter consommé, and are now figuring out what to do with it.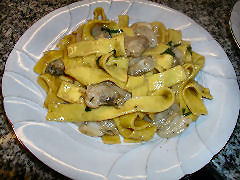 My dish came together more or less by chance – I was walking by one of the better fish stores in town and they were offering up a mound of fresh clams, already removed from the shell, at 28 pesos a kilo. With a half kilo in a bag, and then I spotted some fresh basil (I was looking for fresh tarragon, which came to mind as a good match, but couldn't find any). By the time I passed our new fresh pasta store in the neighborhood (much better than the one I'd been using, and they'll make things to order if I want), and somehow, some nice egg pappardelle sounded perfect. At home, I went about as simple as could be – browned the butter, added the clams, some salt, and white pepper, cooked them through, and tossed in some shredded basil at the last minute. Henry looked at it with a horrified expression and tasted just a teeny bit… then promptly ate two plates of the stuff. It needs something to emphasize the nuttiness of the brown butter – either some actual chopped nuts, maybe hazelnuts – or maybe this is a place to play with a better version of the buckwheat pasta I tried out this weekend, with the buckwheat just as a flavor accent rather than the main flour component. I still think tarragon would have been better.