"Come quickly, I am tasting the stars!"

– Dom Pierre Pérignon, 17th Century Benedictine monk who is credited with the the idea of blending various vintages and vineyard selections while making Champagne (not, as widely believed, with the invention of sparkling wine or the methode champenoise in general) along with other innovations; this quote may or may not have actually been his, there's some evidence that it was made up by the Moët & Chandon Champagne house as part of a 19th Century advertising campaign for its flagship sparkler, the eponymous Dom Pérignon
Since yesterday was ostensibly the birthday of Dom Pierre Pérignon, it seemed something related to Champagne, or at least sparkling wines, was in order. I considered just coming up with an array of sparklers to accompany some sort of Louis XIV dinner, but good Champagne is hard (and pricey) to find here, and the dinner would have been prohibitively expensive. Instead, and since my focus is more on the food, I decided to incorporate sparkling wine in some form or another into each dish. While sometimes the bubbles are a part of the consistency, it's more that sparkling wines have unique flavor profiles that add something different from cooking with white or red wine. Part of it, I'm sure, is the higher acidity found in most of them.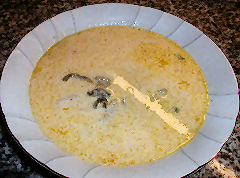 I started the evening off with a fairly classic soup – an Oyster, Champagne, and Brie soup. Now, the most famous place I know of that served a soup similar to this was The Brown Derby. I doubt, somehow, that they invented the recipe, but who knows? I found most of the recipes that I saw to be a bit heavy sounding – a ton of brie, too much flour, butter, and cream. So I lightened it up a bit, and I also dropped the "classic" cayenne pepper in favor of the smokier chipotle pepper, which is both more my style and I thought a more interesting match for the oysters. The soup starts with a simple light roux, to which is added some vegetable stock and the liquid from the oysters. That's all simmered together a bit to slightly thicken. I added a bit of cream, some milk, and the chipotle pepper at that point and continued cooking to meld the flavors. Then some green onion. The classic recipe calls for the onion more as a garnish, but I felt the raw green onion flavor would be too dominant, so I let it cook into the soup. At the end, I took the soup off the heat and added half a bottle of champagne and the oysters – letting them just cook in the heat of the soup, and letting the champagne retain both a little effervesence and its alcohol. Some salt to taste, and the soup was pronounced maravilloso by our guests!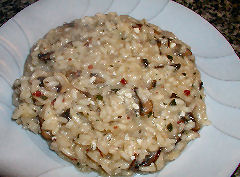 A decade ago, I catered a dinner for my dad's 60th birthday party, and one of my favorite parts of the menu was an oyster mushroom and champagne risotto. It was quite good, even though at the time I wasn't all that great at risotto-making. I've gotten better, and you may have noticed I tend to make different risottos fairly often. I wanted a more earthy flavor in this, especially as the weather has been cold and called for something a bit hearty. So I made this with portobello mushrooms, some fresh sage, a little jamón serrano, and, of course, another half bottle of champagne! In this case the champagne gets added as the first liquid, before starting to add the stock to continue cooking the risotto – so the alcohol pretty much cooks off, but the thing it adds is that tang of acidity – as the first liquid that gets incorporated into the rice grains, it's very present in the flavor of the rice.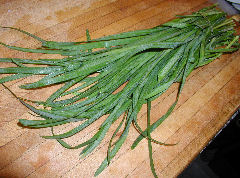 These are garlic chives. You might have seen them in your closest Chinatown, it's interesting, I rarely see them anywhere else, even in the best of markets. It's surprising, because they're so flavorful, and combine notes of chives and garlic beautifully. They also make a nice choice for the weekly Herb Blogging event. I had seen a recipe for "champagne sausages and mustard sauce" that sounded intriguing. Initially I was going to more or less duplicate it, and then decided I wasn't going to do anything of the sort, I was just going to take the title and run with it.

I wanted to give it a more Asian fusion twist. So I decided on a Chinese five-spice veal sausage, and for the sauce, my friend Patricia Yeo provided her apricot mustard dipping sauce, which I modified by using peaches and adding some rosé champagne.
Five-Spice Veal Sausage Patties

Sausages:

3 pounds of veal shoulder
2 eggs
¼ cup of rosé champagne
½ cup of chopped garlic chives
2 teaspoons Chinese five-spice mixture
2 garlic cloves
1 tablespoon salt (roughly)

Sauce:

A dozen dried peaches
¼ cup of chopped garlic chives
½ cup of rosé champagne
1 teaspoon crushed szechuan pepper
salt to taste

Remove as much of any fibrous material from the veal as you can, and any large chunks of fat – you want to leave some fat to keep the sausages juicy. Process everything together in a food processor (or grind the meat in a sausage grinder and then incorporate the other ingredients). Saute up a small piece of the mixture just to test the seasoning – adjust as needed. Form into small patties and refrigerate for at least an hour to firm them up and drain off some of the excess blood. Reconstitute the peaches in simmering water until soft. Puree with the other ingredients until smooth, but thick. Adjust the consistency with more or less champagne, or a little of the liquid from simmering the peaches. Add salt to taste. Saute the sausages in a little oil until cooked through, serve with the dipping sauce.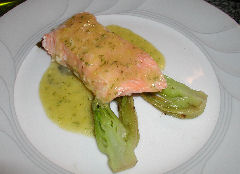 The main course was, despite the oohs and ahhs that came from the tastebuds of last night's diners, the easiest to prepare. The salmon is skinned and deboned, cut into serving portions, and wrapped in foil or parchment with a sprinkling of coarse salt, a splash of champagne, and a splash of olive oil. It's cooked at low heat (roughly 160°F) for about 45 minutes, so it cooks through but stays juicy, and doesn't brown. The sauce is the simple white miso-egg yolk sauce, tamago-no-moto, that I've mentioned a few times recently, with the addition of chopped fresh dill and grated ginger, and substituting champagne for the lemon juice. The pak choy, or Chinese cabbage, is blanched in advance, and then sauteed just before serving in a little olive oil with some dried mango powder and szechuan pepper. I sauteed them whole and then split them in half so that they didn't fall apart into a lot of separate stalks.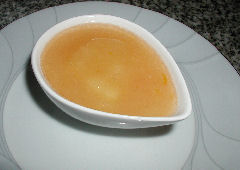 Finally, we finish off with a classic of northern Italian refreshing desserts, the sgropino. I made a fresh lemon and orange sorbet (1½ cups each of water and sugar, dissolved, and then chilled – an equal amount of lemon and orange juices (4 lemons, 2 oranges), along with the grated zest from them – and then processed in the ice cream maker). When ready to serve, the sorbet is blended (blender, high speed, just for a moment) with a shot of grappa, and some champagne (rosé in this case, mostly for color). It can be served in a bowl or a champagne glass or a martini glass. It's a nice sort of combination dessert and after dinner drink all in one.
Wines:
Soup – Saint Clement Brut – a simple, light, dry, minerally sparkler from Mendoza. I used the same to finish off the soup so that there was, hopefully, a nice matchup going on.
Risotto – Viniterra Pinot Grigio 2005 – as mentioned last week, I'd enjoyed this Pinot grigio quite a bit, and I thought it had enough aromatic quality to pair off against the earthiness of the mushrooms and sage.
Sausages – Sur de Los Andes Bonarda 2005 – I wanted something with a bit of spice to it, and this Bonarda, which I serve quite often, seemed to fit the bill.
Salmon – Familia Zuccardi "Textual" Marselan 2003/4 – I thought a bolder, but smoother red would be a nice finish, and this hybrid grape (Grenache and Cabernet) is one of my favorites, and it seemed to work quite well.
Other wines, brought by guests:
Contino Rioja Reserva 1996 – traditional style Rioja with lots of smoke and leather and black cherry fruit. Really excellent, though could have used some time to open up in advance, as at the time it was popped, the alcohol was a little dominant. I left some in a glass for about half an hour and the fruit opened up beautifully.
Bodega Sur Infinito Malbec 2003 – the new top wine from Bodega Sur (the Sur de Los Andes above), and the wine producer was a guest last evening, for his second visit, along with his U.S. importer. The wine is a bold, rich, somewhat oaky (new oak) modern style Malbec. Quite well made – often the fruit in some of these new oaked Malbecs isn't sufficient to standup to the barrel process, but here it works.