Buenos Aires – It's bad enough that the song Zip-A-Dee-Doo-Dah from Disney's Song of the South is stuck running through my head for the last 20 hours. It's worse to realize that I actually know all the lyrics. I know how the song got there. I had lunch yesterday at Mítico Sur, the "Mythical South" [Now called Breoghan's, with an expanded menu but the same owner and chef], Pasaje San Lorenzo 389 in San Telmo – from there it was only a small series of logical leaps to the movie and the song. I noticed several interesting looking restaurants during my brief tour of the pasaje a couple of months ago, and since I was in the neighborhood yesterday, decided to check at least one of them out. I made a good choice in picking this one.
Mítico Sur is a small bar and restaurant dedicated to the food and wine of Patagonia. It's rustic, with all sorts of wood beams, and bar tables made of old barrels, and photos of the Patagonian countryside tacked to the wall. The staff are friendly and helpful, eager to explain things about the ingredients – and, even, when I particularly liked one of the cheeses I tried, which turned out to be not available here, offered to check out getting some for me. It seems that the owner of the restaurant is friends with a family in Patagonia who make this organic cheese. Once a week, they take some over to the bus station and give it to the bus driver headed to Buenos Aires. Someone from the restaurant meets him here, pays him for the cheese and a little something extra for his efforts, he takes the money back to Patagonia, where the following week he exchanges it for more cheese… They're supposed to let me know if I could tack on an occasional order for an extra wheel of the stuff!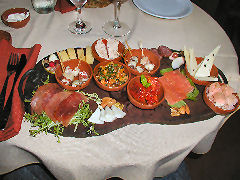 The menu starts with a couple of pages of tablas, or platters of charcuterie and cheeses. They're offered in a full portion for four people or a half portion for two. My waitress assured me that if I wanted to try one, I'd be able to handle it solo – subject to not ordering anything else. She was right – it was a large wooden platter just packed with all sorts of goodies – this one is the grand-daddy of the platters, the Quimey, which is named after an area in the Chubut province of Patagonia. Three different kinds of cheese – the aforementioned organic cow cheese, and two delightful goat cheeses, one semi-aged, the other spiced with whole black peppercorns. Trout served two ways – slices of smoked, and little cubes of poached with more goat cheese. Deer served in little roulades with another cheese, plus made into salami, and also a paté. Wild boar also in roulades as a comparison, and a thin sliced prosciutto version. Piping hot escabeche of mussels, stewed in herbs, garlic, and oil. Plump, olive oil soaked sun-dried tomatoes. Nuts. Fresh Patagonian fruits – including gooseberries, blueberries, and strawberries (though I'm kind of wondering about those given that it's winter time and Patagonia is a bit colder than here…).
I'm glad I didn't order anything else, she was right, it was more than enough for one person. Other offerings include a variety of salads, pastas, and sandwiches, all made with similar products, plus other versions of the tablas, or even make your own versions by ordering individual items. I found it amusing, and sad, when two tables seated near to me began with "don't you have any regular Argentine food" (these were locals, not tourists), and when informed about the specialties of the house, a party of six ordered four plain green salads, and two plates of pastas – without sauce – because "we just want regular food, not that spicy stuff". It wasn't spicy, just different, but they'll never know. The other party, a single, decided to take a chance and ordered pasta with one of the "native" sauces – which turned out to be a simple tomato sauce with lots of fresh herbs and olives. Not exactly falling into the bizarre category.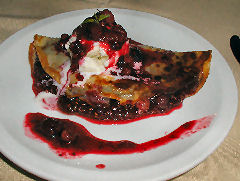 I decided I could manage some dessert and a cup of tea. The former, my waitress recommended highly the crepes with a compote of various berries and red fruits – absolutely delicious. I don't recall the helado flavor topping it – but something in the generally fruity style. The tea, a cup of rosa mosqueta, a specialty of the region – rosehips. Quite nice and a good match with the dessert. After all, coffee isn't grown there – the one non-Patagonian product on the menu – a blend of Colombian and Brazilian – so I had to go with one of the teas. I await hearing about my wheel of cheese.